- Monnit's low-cost, reliable sensors provide an immediate Return-On-Investment by saving thousands of dollars in costly repairs -
Kaysville, Utah – Feb. 2, 2011 – Monnit Corporation (www.monnit.com) announced today a strategic partnership with Florida based ICARE WIRELESS (Indoor Climate Alerting & Reporting Emails) to resell and install its wireless sensors to commercial property management companies across the United States.
ICARE Wireless has already sold and installed sensors to critical acclaim in fifty-seven buildings owned by one of the largest commercial property management companies in southeastern Michigan.
"We recognized a tremendous need for a wireless sensor that could help our commercial property management clients monitor everything from frozen pipes and boiler failure to water leaks and open doors," said Paul MacDonald, CEO of ICARE.  "We did our research and were blown away by Monnit's ability to provide everything we want and need from a wireless sensor.  Our first client installation was initially for twenty-one buildings and when the sensors detected three separate instances of boiler failure within the first two weeks saving them thousands of dollars in costly repairs, our client instantly realized the tremendous Return-on-Investment (ROI) and immediately ordered sensor networks for thirty-six more buildings."
These boiler failure instances include:
A four-story office complex that had a boiler failure over a weekend. Monnit's wireless temperature sensors immediately detected and alerted the maintenance staff that the temperature had dropped below a specified temperature. By the time the maintenance staff arrived at the building the indoor temperature had dropped to 34 degrees. If the staff had not been notified the building would have dropped below freezing and more than likely plumbing would have burst due to frozen pipes. Instead they were able to avoid the damage and fix the issue allowing employees that work at the office building to return to a warm office on Monday.
Two separate instances were caught at a warehouse where heat failure allowed the temperature to drop to a level where the fire suppression system could freeze and potentially burst. These instances were caught immediately by the Monnit wireless temperature sensors and the maintenance staff was alerted in time to fix the heating issue before any damage occurred.
In addition to ICARE, Monnit is providing its sensors to a number of other industries through strategic partnerships, including the North Carolina Sheriffs Department and Kesgro Kwekers.
North Carolina Lieutenant Sherriff Don Barber and his team are using Monnit's temperature sensors in their K-9 Unit, specifically for transport vehicles, patrol vehicle kennels, outdoor kennels and dog collars.  Each year more than 50 working dogs in the United States suffer some form of heat related casualty either from heat exhaustion or freezing from cold temperatures.
Barber has been a K-9 trainer and handler for more than 14 years and for the past 4 years has been working with a German Shepherd named Pia.
"Pia is my partner and she's become a member of my family and it's comforting to know that when we're not together I can have the entire police force watching out for her wellbeing," said Barber.  "Just the other day, I got off duty and was showering when I heard my cell phone receive a text message and then a call.  It was dispatch calling to let me know that my car temperature had registered over 100 degrees and that I needed to check on Pia to make sure she was okay.  I had let her out of the car before showering and had her in her home kennel but I took great comfort knowing that precautions are being taken to protect her."
Kesgro Kwekers  based in the Netherlands is one of the largest providers of tomatoes in Germany. The company currently uses 80 temperature and humidity sensors within its three greenhouses (70 acres total) to provide its customers with fresh produce in the most environmentally friendly way while minimizing the use of power and energy.
"Monnit's wireless sensors allow us to map our greenhouses and gather valuable data and insight into how they are performing," said Martin Van Der Hout, Manager Energy and Technique. "We are able to gather more reliable and flexible measurements using Monnit's wireless sensors. This helps us make fewer assumptions and minimize mistakes when balancing the temperature and humidity in our greenhouses. These improvements have allowed us to grow healthier crops with a higher yield, while also lowering our energy input."
Monnit's wireless sensors are designed to detect and monitor every function critical to business or personal life, including, the presence of light, water, humidity, temperature, movement and distress.
"We know there is a great need to notify people when their assets may be in trouble or need attention whether it's detecting water on a bathroom floor, a temperature spike in a freezer or cooler, a door or window being opened or left open or a furnace or blower not operating properly," said Brad Walters, Founder and CEO of Monnit. "What's exciting about this market is the potential is limitless.  I tell people all the time that if they come up with a need we can create a sensor to accommodate their need and we can do it for such a low price that you can't afford not to have a sensor monitoring what's most important to you."
For more information about becoming a strategic partner or reseller of Monnit wireless sensors, call (801) 561-5555 or visit, www.monnit.com.
Additional Resources:
Facebook: http://www.facebook.com/monnitsensors
Twitter: https://twitter.com/monnitsensors
About Monnit Corp.
Monnit is a leader in the design and manufacture of turnkey, self-installing, low cost wireless sensor solutions targeted at the commercial, industrial and consumer markets. Monnit's sensing solutions are designed to be easily installed and used by anyone wanting to remotely monitor information and activities, including: access, presence of water, light, temperature, humidity, and vibration in or around structures, machinery, and various environments.
PR Contact:
Matt Moulton
(801) 561-5555
mattm@monnit.com
We came across an interesting article discussing the increased use of wireless sensors in home appliances.
"The home wireless sensor networking (WSN) market is approaching the inflection point," says ABI Research principal analyst Jonathan Collins. "WSN communications are already making inroads into the home market and that uptake is set to gain momentum as wireless sensing shifts from a bespoke home automation luxury to a more mainstream option."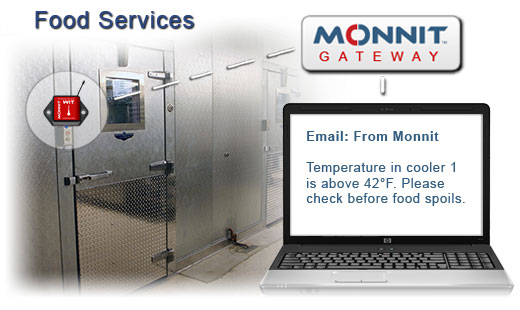 You have invested a lot of time and money in your food preparation business. A lot of that investment is from the purchase and operation of your food storage freezers and coolers, as well as the food that you keep stocked in them. What would happen if there was an extended power outage or a malfunction with one of your coolers when nobody was there to check it? How much food could you lose, and how would that affect your ability to prepare meals for your loyal customers?
With Monnit WIT Wireless Temperature Sensors you can have 24/7 monitoring of your freezers and coolers and enjoy the piece of mind that comes from knowing you will be immediately notified if the temperature is the slightest bit above your set threshold. You can also add multiple people to your notifications, so your maintenance or repair person can be notified immediately as well. You can avoid costly food spoilage and potential freezer damage by catching issues quickly before the issue has a chance to escalate.
When dealing with battery powered wireless sensors, there are a many factors that can affect the life span of the battery. We have compiled a list of useful tips to help you understand wireless sensor power management and improve the life of your wireless sensors' batteries.
Battery Power Options
Monnit provides a great wireless sensor product with a small footprint, allowing our sensors to be placed inconspicuously so they do not draw attention. In order for us to achieve this small footprint, our standard wireless sensors are powered by a CR2032 coin cell battery. The provided coin cell battery provides 225 milli-amp hours (mAh). If you require a longer battery life for your application, we currently provide a AA battery option for our wireless sensors that provide 3,000 mAh (~10 times the battery life).
Frequency of Transmissions
How frequently your wireless sensors transmit (heartbeat) can have a severe impact on the life of the battery. A Monnit WIT wireless sensor with a standard coin cell battery transmitting once an hour will last approximately 2-4 years depending on environmental conditions. If you want to preserve the battery life of your wireless sensor, set the heartbeat (transmission interval) as high as your specific application will allow for.
Temperature Conditions
Batteries are electrochemical devices which convert chemical energy into electrical energy. Extremes in temperature can cause the chemical characteristics of the battery to change, causing the battery to burn power faster when hot or not generate enough current when cold. In order to maximize the battery life of your wireless sensors, keep them as close to room temperature as possible (°60 F - °70 F).
Radio Interference and Transmission Retries
The radio transmission of your wireless sensors is a two part process. The sensor transmits its data to the Wireless Gateway Transceiver then listens for a reply transmission to acknowledge that the signal was received. When there is a significant amount of radio noise or interference, your wireless sensors may have to transmit longer in order to send and listen through the interference. If the signal is not received and acknowledged, the sensor will try to transmit again until it receives a successful response. Both of these issues can have an impact on battery life. Monnit wireless sensors operate on the 900MHz frequency that is less crowded than the popular 2.4GHz and higher frequencies, so you already should expect less interference using Monnit WIT Wireless Sensors. To ensure optimal performance of your sensors and batteries, try to avoid areas that have an excess of radio interference from other devices.