Product Description
Monnit wireless humidity sensors allow you to monitor the relative humidity of the air within a room or enclosure. Ideal for monitoring humidity within greenhouses, industrial spaces, museums, saunas and humidors. They can also be used for residential applications such as controlling mold, mildew or dust mites.
&nbsp

Product Features
Scientific grade sensor.
+/- 3% accuracy (between 10% - 90% RH).
* Actual range may vary depending on environment.
** Battery life is determined by sensor reporting frequency and other variables.
What does this wireless sensor's data look like in software?
What's in the box?
Wireless Sensor
CR2032 - Coin Cell Battery
Mounting Hardware
Humidity Sensor Specifications

Accuracy
± 3% under normal conditions ( 10% - 90% RH )
RH Operating Range
0 – 100% RH
RH Response Time
8 sec ( tau 63% )
Weight
3.7 oz.

Coin Cell Specifications

Battery Type
Replaceable 3.0V Coin Cell Battery
Dimension
1.775 in x 1.04 in x 0.785 in
Max Operating Temperature
-20°C to +60°C (-4° to +140°F)
Optimal Battery Operating Temperature (Coin Cell)
+10°C to +50°C (+50°F to +122°F)
Supply Voltage
2.0 - 3.6 V (Single CR2032 Coin Cell Battery)
Device Range
250 - 300 ft. non-line-of-sight device range*
Battery Life
At 1 hour heartbeat setting, coin cell battery will typically last ~ 1-2 Years. **
Enclosure Technology
Monnit PinchPower™ Wireless Sensor Enclosures
Enclosure Material
ABS

900 MHz Specifications

Operating Frequency
900 MHz Operating Frequency
Certifications
Complies with Part 15 of the FCC Rules. (FCC ID: ZTL-RFSC1)
Complies with Industry Canada standards. (IC: 9794A-RFSC1)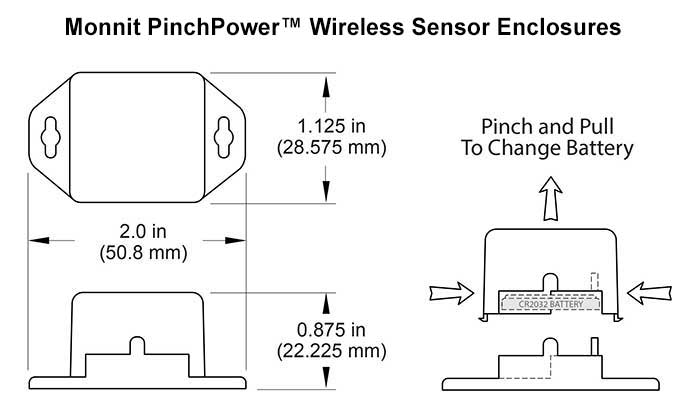 Suggested Application Uses for This Sensor
Greenhouse temperature and humidity monitoring
Agricultrual environmental monitoring
Art gallery and museum environment monitoring
Humidor monitoring