Product Description
Monnit wireless accelerometers can be used in a host of applications where knowing impact, vibration, inclination, etc. is required.
The wireless accelerometer - G-Force max & avg sensor samples at 800 Hz over a 10 second period, and reports the measured MAXIMUM value for each axis in g-force and the AVERAGE measured g-force on each axis over the same period, for all three axes. This sensor reports in every 10 seconds with this data. Other sampling periods can be configured , down to one second and up to 10 minutes*. The data reported is useful for tracking periodic motion. Sensor data is displayed as Max X: 0.125 Max Y: 1.012 Max Z: 0.015 Avg X: 0.119 Avg Y: 1.005 Avg Z: 0.007.
&nbsp
These accelerometers do not "stream" continuous data. Please reference the data sheet for further information.
Product Features
Measures G-Force Max & Avg
4096 count/g Sensitivity
* Actual range may vary depending on environment.
** Battery life is determined by sensor reporting frequency and other variables.
What does this wireless sensor's data look like in software?
What's in the box?
Wireless Sensor
CR2032 - Coin Cell Battery
Mounting Hardware
Accelerometer Specifications

Sensitivity
4096 count/g
Sensitivity Range
+/-2 G, +/-4 G, +/-8 G
Measurement Accuracy
±2.5 % (Force: X, Y, Z)
Minimum G Force to Turn On/Wake Up
0.050 g - 0.100 g
Bandwidth for Data Measurement
800 Hz
Weight
3.7 oz.

Coin Cell Specifications

Battery Type
Replaceable 3.0V Coin Cell Battery
Dimension
1.775 in x 1.04 in x 0.785 in
Max Operating Temperature
-20°C to +60°C (-4° to +140°F)
Optimal Battery Operating Temperature (Coin Cell)
+10°C to +50°C (+50°F to +122°F)
Supply Voltage
2.0 - 3.6 V (Single CR2032 Coin Cell Battery)
Device Range
250 - 300 ft. non-line-of-sight device range*
Battery Life
At 1 hour heartbeat setting, coin cell battery will typically last ~ 1-2 Years. **
Enclosure Technology
Monnit PinchPower™ Wireless Sensor Enclosures
Enclosure Material
ABS

900 MHz Specifications

Operating Frequency
900 MHz Operating Frequency
Certifications
Complies with Part 15 of the FCC Rules. (FCC ID: ZTL-RFSC1)
Complies with Industry Canada standards. (IC: 9794A-RFSC1)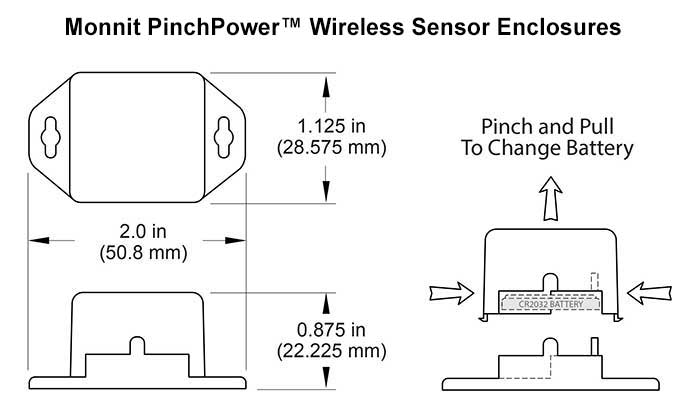 Suggested Application Uses for This Sensor
Inclination and vibration testing
Assembly line monitoring
Orientation sensing
Smart machines, smart structures and smart materials
Impact load sensing