Product Description
Monnit wireless accelerometers can be used in a host of applications where knowing impact, vibration, inclination, etc. is required.
The wireless accelerometer - G-Force max & avg sensor samples at 800 Hz over a 10 second period, and reports the measured MAXIMUM value for each axis in g-force and the AVERAGE measured g-force on each axis over the same period, for all three axes. This sensor reports in every 10 seconds with this data. Other sampling periods can be configured , down to one second and up to 10 minutes*. The data reported is useful for tracking periodic motion. Sensor data is displayed as Max X: 0.125 Max Y: 1.012 Max Z: 0.015 Avg X: 0.119 Avg Y: 1.005 Avg Z: 0.007.
Notes:
&nbsp
These accelerometers do not "stream" continuous data. Please reference the data sheet for further information.
Product Features
Measures G-Force Max & Avg
4096 count/g Sensitivity
* Actual range may vary depending on environment.
** Battery life is determined by sensor reporting frequency and other variables.
What does this wireless sensor's data look like in software?
What's in the box?
Wireless Sensor
CR2032 - Coin Cell Battery
Mounting Hardware
Accelerometer Specifications

Sensitivity
4096 count/g
Sensitivity Range
± 2.0 g
Measurement Accuracy
± 2.5 %
Minimum G Force to Turn On/Wake Up
0.050 g - 0.100 g
Fastest Update Interval/Heart Rate in Any Configuration
1 Minute Sampling Rate: 500 Samples/Sec.
Current Consumption
0.7 µA (sleep mode)
2mA (radio idle/off mode)
2mA (measurement mode)
25mA (radio RX mode)
35mA (radio TX mode)
Bandwidth for Data Measurement
800 Hz

Coin Cell Specifications

Battery Type
Replaceable 3.0V Coin Cell Battery
Dimension
1.775 in x 1.04 in x 0.785 in
Max Operating Temperature
-20°C to +60°C (-4° to +140°F)
Optimal Battery Operating Temperature (Coin Cell)
+10°C to +50°C (+50°F to +122°F)
Supply Voltage
2.0 - 3.6 V (Single CR2032 Coin Cell Battery)
Device Range
250 - 300 ft. non-line-of-sight device range*
Battery Life
At 1 hour heartbeat setting, coin cell battery will typically last ~ 1-2 Years. **
Enclosure Technology
Monnit PinchPower™ Wireless Sensor Enclosures
Enclosure Material
ABS

900 MHz Specifications

Operating Frequency
900 MHz Operating Frequency
Certifications
Complies with Part 15 of the FCC Rules. (FCC ID: ZTL-RFSC1)
Complies with Industry Canada standards. (IC: 9794A-RFSC1)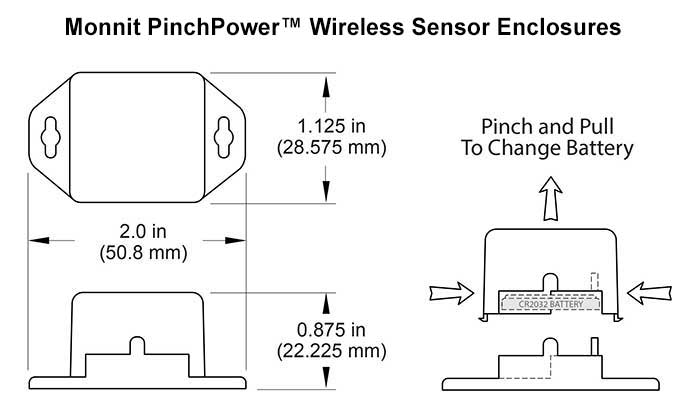 Contact us for volume quantity purchases of RoHS compliant product.
Suggested Application Uses for This Sensor
Inclination and vibration testing
Assembly line monitoring
Orientation sensing
Smart machines, smart structures and smart materials
Impact load sensing