Product Description
Monnit wireless pulse counters can be integrated with up to four, dry contact or mechanical switch and closure devices to count the number of actuations occurring within a given time frame for each input.
Product Features
Counts the number of pulses in given time frame. (User can set to aggregate pulses, or set to report each pulse as an individual event.)
Support for up to four separate inputs.
* Actual range may vary depending on environment.
** Battery life is determined by sensor reporting frequency and other variables.
What does this wireless sensor's data look like in software?
What's in the box?
Wireless Sensor
CR2032 - Coin Cell Battery
Mounting Hardware
Pulse Counter Specifications

Maximum Count
4294967296 (32 bit number)
Input Voltage
0 to 15 Volts DC
Detection Wires
High Impedance (2-Wire), 3 ft. length
Counter Operation
Positive and / or Negative Edge Pulses
Compatibility
Open Collector NPN Switches (Passive) Mechanical Switches (Passive) 0-15V Driven Source (Active)
Weight
3.7 oz.

Coin Cell Specifications

Battery Type
Replaceable 3.0V Coin Cell Battery
Dimension
1.775 in x 1.04 in x 0.785 in
Max Operating Temperature
-20°C to +60°C (-4° to +140°F)
Optimal Battery Operating Temperature (Coin Cell)
+10°C to +50°C (+50°F to +122°F)
Supply Voltage
2.0 - 3.6 V (Single CR2032 Coin Cell Battery)
Device Range
250 - 300 ft. non-line-of-sight device range*
Battery Life
At 1 hour heartbeat setting, coin cell battery will typically last ~ 1-2 Years. **
Enclosure Technology
Monnit PinchPower™ Wireless Sensor Enclosures
Enclosure Material
ABS

900 MHz Specifications

Operating Frequency
900 MHz Operating Frequency
Certifications
Complies with Part 15 of the FCC Rules. (FCC ID: ZTL-RFSC1)
Complies with Industry Canada standards. (IC: 9794A-RFSC1)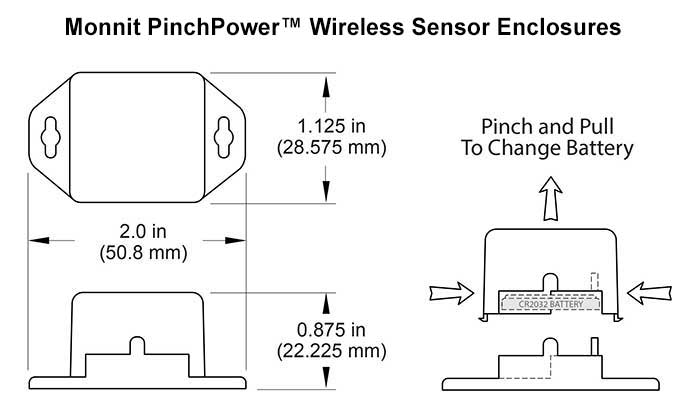 Suggested Application Uses for This Sensor
Turn Style Counter
Count number of actuations