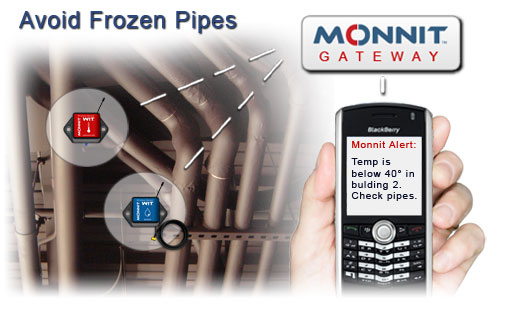 This past month we have been receiving a lot of calls requesting our wireless temperature and water sensors for use in both commercial and residential properties to help minimize the potential for damage due to frozen water pipes.
Did you know that when water freezes it expands putting pressure on pipes, valves, tubing, and hoses. The result is often costly and very time consuming to fix. In a matter of minutes a one-eighth inch crack can release 250 gallons of water and disrupt your life in ways you never imagined. It is always smart to insulate pipes that are exposed and where possible, turn off water lines and drain pipes that are not in use. However, these precautions are not always feasible and do not always work.
So, how can you make sure that your pipes don't reach freezing temperature? How can you know if there has been a water pipe break? Using Monnit's affordable wireless temperature sensors and wireless water sensors allows you to monitor the temperatures of your water pipes and know immediately if there is a broken pipe leaking. Place these sensors in your basement, attic, crawl spaces or even outdoor areas to know exactly what the temperature is. There are no wires to worry about, and the setup process is amazingly simple. « View More Information.
Enjoy the winter season without worrying about the potential damage of broken water pipes.