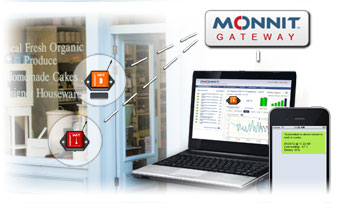 No matter the size of your business, it is critical to understand things as they happen! Whether monitoring a refrigerator temperature to avoid food spoilage or monitoring doors and windows for unauthorized access, it is important to know immediately. Monnit wireless sensors provide an easy-to-use, robust, remote monitoring solution that alerts you immediately if something is wrong.
Using Monnit WIT wireless sensors provides peace of mind when it comes to knowing if any conditions come up at your business. We recommend using Monnit's affordable wireless open/closed sensors to monitor doors and windows for un-authorized access. We also recommend using Monnit's wireless temperature sensors and Monnit's wireless water sensors to monitor for potential temperature and water damage.
Protect Your Business Investment with Monnit Wireless Sensors!