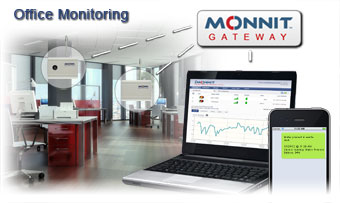 Managing office and commercial buildings efficiently, yet cost effectively is challenging. Whether it's a large or small office Monnit has a reliable, wireless, remote monitoring solution that can easily work with your companies existing Wi-Fi networks.
Monnit's affordable WiFi Door/window sensors and motion sensors can be used to monitor for unauthorized access. Water sensors can detect plumbing leaks around water heaters, faucets and toilets.Temperature sensors can track HVAC systems for efficient operation, helping you lower operating costs associated with heating and cooling. All Monnit wireless sensors come with Free basic online monitoring, allowing you to view sensor information anytime from anywhere. Receive instant notifications via email or SMS text if a set sensor condition is met or exceeded.
« Learn More About Monnit Wi-Fi Sensor Solutions for Office Monitoring
Ensure that your office building is being maintained properly by using Monnit wireless sensors.