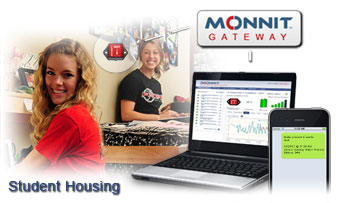 Managing student housing units efficiently, yet cost effectively is challenging. There is plenty to worry about without having to spend time and money to manually monitor areas of a building that could be monitored by sensors. Monnit has developed a low-cost wireless sensor solution for monitoring buildings and properties on college or university grounds.
Use Monnit Wireless Sensors for:
Monitoring boiler temperature output and pump motors.
Monitor HVAC systems for proper temperature operation.
Detecting plumbing leaks and/or pipe breaks in colder weather.
Detect sewer line back-ups.
Track access to building areas.
Monnit provides a low-cost, reliable, wireless monitoring solution that allows you to track and receive alerts for the following types of applications:
All Monnit wireless sensors come with free basic online monitoring, allowing you to view sensor information anytime from anywhere. Receive instant notifications via email or SMS text if a set sensor condition is met or exceeded.
« Learn More About Monnit Wireless Sensor Solutions for Student Housing
Keep your students safe and warm by using Monnit wireless sensors.