Getting the best range from your sensors can require a bit of trial and error. In this Tip, we discuss resetting your sensor network to assure your system is operating on the most optimal RF frequency in your region, giving you the most range possible.
Prior to Monnit shipping your wireless network, your sensors are tested in our lab. This means we form and operate the network in-house. Upon set-up, the sensors and gateway lock onto the most clear RF channel for our facility and begin communicating. The next time the sensor network is plugged in (presumably when you are installing the sensors), your network is still locked onto the same channel that was optimal in our test facilities. However, that may not be the optimal channel for YOU in YOUR location. Thus, we recommend you reset the network prior to deploying the sensors. This will help you achieve the best range for your sensor deployment.
For Gateways Using iMonnit Online Software
Login to your iMonnit account at www.imonnit.com
Click on "Manage" on the main navigation.
Click the "Edit" button (pencil icon) for the gateway that you want to optimize.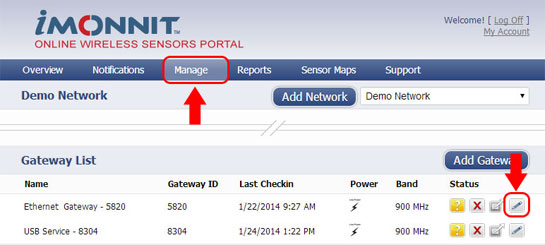 Click the "Reform" link.
Click "Save" to exit the edit screen.
Insert batteries into the sensors, or wait for the sensors to check in again.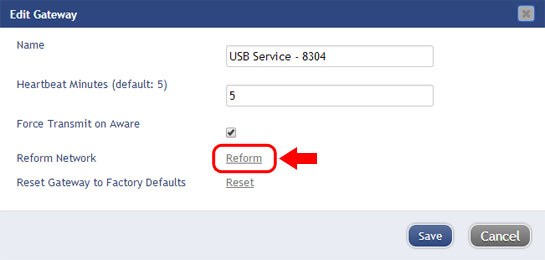 For USB Gateways Using iMonnit Express Software
Start the iMonnit gateway software.
Insert the USB dongle and wait for the network to go active.
From the "Actions" menu select "Reform Network".
Insert batteries into the sensors, or wait for the sensors to check in again.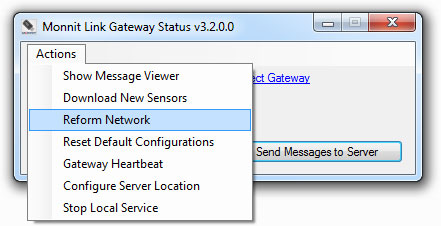 Your sensor network will now operate on the most optimal RF channel available in your area.