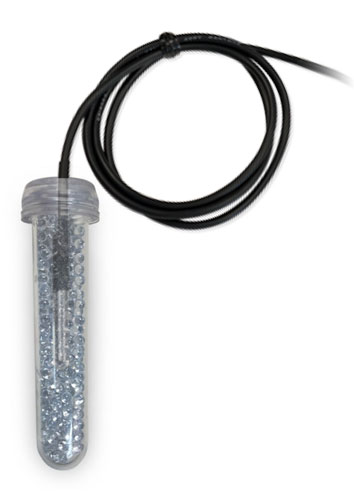 Today, Monnit introduced a new product for buffering temperature fluctuations for sensor readings within cooler and freezers. In typical cold storage applications, there are momentary fluctuations in temperatures that may caused by standard operations such as defrost cycles, opening of doors, and fans circulating air. The temperature buffer uses 3mm glass beads to slow the response time of the temperature sensor allowing more accurate temperature data to be captured and prevent false alerts from being sent. This is a highly recommended accessory for every cold storage application and can be used with any Monnit wireless temperature sensor with probe.
Focused on simplicity, Monnit Wireless Sensors can be setup, gathering data and notifying users of concerns in just a few short minutes. Monnit currently provides over 50 unique wireless sensor types for measuring temperature, humidity, door and window (open/close), motion, water, activity, dry contact and a variety of other conditions that are critical to businesses.
All Monnit wireless sensors include free basic iMonnit online sensor monitoring, which allows for customization of sensor operation and reviewing sensor data from any web enabled device, such as computers, tablets or smart phones. The system can also send notifications via text, email or voice call if user defined conditions are met or exceeded.
Monnit wireless sensing products are FCC, IC and CE/ETSI certified, and have been proven to comply with the essential performance, safety, and environmental requirements set by law around the world. For more information on Monnit's low cost monitoring solution, call (801) 561-5555 or visit www.monnit.com.