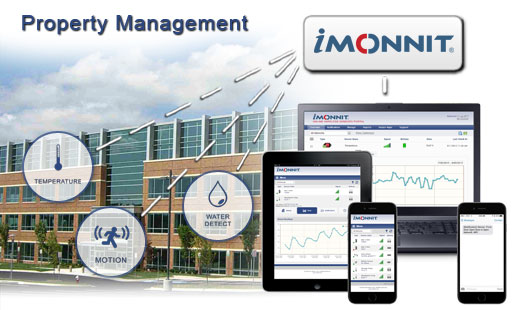 Every successful property manager has common traits that got them ahead in the industry:  they notice problems, and they find ways to fix them before everyone else. Because they are assertive, not complacent, in solving problems, their business is more efficient, reliable, and profitable. If you are looking to get ahead in today's highly competitive industry, then you will need to do the same and Monnit can help.
Problems Facing Property Management
Managers of hotels, commercial properties, residential properties, and foreclosed properties, have all experienced the same problem: monitoring properties is expensive. Every year, there are billions of dollars in losses due to property damage, mechanical failure, theft, energy waste, and more.
In the past, these problems were difficult to solve. If you didn't hire expensive maintenance teams to do regular, manual checks on every facet of a building's infrastructure, problems were inevitable. Thanks to the Internet of Things, everything has changed.
The Internet of Things (IoT):  the network of physical objects ("things") embedded with sensors, software, electronics, and network connectivity, which enables them to collect and exchange data.
The IoT Solution
The Internet of Things enables people to monitor and track various conditions in any environment. Previously, available solutions were expensive and difficult to use.  This has since changed with Monnit's affordable remote monitoring solutions, which make it easy to monitor multiple aspects of your facilities, from anywhere, at any time.
Example: In the United States alone, the annual cost of water damage is over 2.5 billion dollars. Whether from a frozen pipe bursting, water heater breaking, or just a simple toilet or faucet plumbing issue, water damage is likely to occur if not caught quickly. Generally, the cost of treating and repairing water damage is about $10 to $15 per square foot on average. If you are a property manager, you know how quickly these costs can add up. Wireless temperature sensors can alert you if the temperature falls below freezing and water detection sensors can alert you the moment a water leak is detected.
Strengthening Your Competitive Advantage
"They say you never know when disaster will strike. Well now we do! Monnit's remote monitoring system is such a valuable tool when it comes to protecting our buildings and everything in them." – Leroy R., Property Manager
Problems from property damage, HVAC system failure, etc. can not only affect your bottom line, they can harm the reputation you worked so hard to build. You can save time and money by using a system that automatically monitors your facilities, and focus on what matters most: growing and improving your business. With a Monnit remote monitoring system in place, you add significant value to your property and ensure peace of mind for your clients, without breaking the bank.
Why It Matters
According to the IBISWorld Property Management report, "The property management industry is highly fragmented, so it is important to have a strategic plan to differentiate property management businesses from competitors." Remote monitoring systems are still relatively new, so most property managers still don't know about them, or just haven't implemented them yet (primarily because they haven't found a cost-effective solution to meet their needs). As a result, you have the unique opportunity to enhance your competitive advantage and become a leader in your industry.
Monnit Solutions for Property Management Include:
Prevent water leaks that lead to costly damages
View Wireless Water Detection Sensors »
Avoid pipe freezing, maintain optimal temperatures for machinery, and more
View Wireless Temperature Sensors »
Prevent unauthorized access by monitoring motion near entrances, open spaces, and more
View Wireless Motion Sensors »
Receive alerts if a door, window, etc. was left open or closed
View Wireless Open-Closed Sensors »
Track energy consumption
View Wireless AC Current Meters »
Monitor lights in parking lots, garages, etc. to avoid hazards that lead to costly litigation
View Wireless Light Detection Sensors »
Monitor HVAC systems, with a bundled solution
View HVAC Monitoring Kits »
Conclusion
The Internet of Things provides an enormous opportunity to protect your facilities, attract customers, increase profits, and scale your business. Now you have a better understanding of how you can use Monnit and the Internet of Things, to be a competitive force in today's market.
The Monnit Remote Monitoring System is the most intuitive, reliable, and cost-effective solution on the market. For more information, visit our website.
"We searched for a reliable solution and found it with Monnit. Now we know anytime there is an issue with one of our buildings! We started out using these on our boilers and pumps, but they are so useful and affordable that we've started adding them across our campus for other things we want to track." – Carl S., Facilities Manager