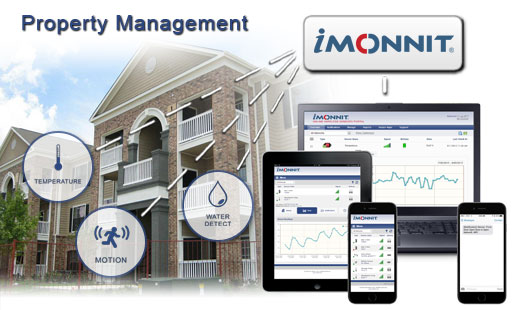 A lot of things can go wrong when it comes to property management. Older apartment buildings always seem to have leaks, power consumption varies based on the season, and there are always people coming and going. These potential problems are compounded when there is not a dedicated property manager on-site to track and respond to issues. Want to be a landlord who can be everywhere at once? Monnit has the solution for you!
Unfortunately, Monnit does not create a sensor which forces tenants to pay rent on time. However, there are many things to keep an eye on while managing an apartment complex or remote office facility. A few of these would include temperature, power usage, and water leaks. Any issues arising from these readings being too high or too low could create serious issues. On top of the inconvenience caused to your tenants, repairs of this nature are very costly. Monnit wireless sensors are designed to send an alert to your phone via text and/or email to help avoid a little water leak turning into a major catastrophe.
What about some of the other things you can remotely observe through iMonnit? You might have thought about being able to track CO, air-humidity levels, or detect when a person enters an area that they shouldn't be in, but never had the means to do so. Monnit already provides over 50 unique types of sensors and has the ability to custom engineer any idea you can think of. In addition to this, iMonnit (our secure online monitoring software), allows the user to create a layout specifically tailored to his/hers needs. Up to 100 wireless sensors can communicate with our secure cloud platform through 1 wireless gateway. Gateways transfer data through either an existing internet connection or using cellular data for locations without internet access. Simply choose which sensors you would like to add to your property and rest assured that you will know about issues as soon as they happen.
Bottom line, property management is all about providing a comfortable space for your employees or tenants while limiting any risk associated with large expenses. Properties are expensive to run and even more expensive to fix. Being able to monitor a variety of applications in real-time to prevent losses or damage will give you peace of mind. A property manager who is able to respond to issues in a timely manner, or even before an incident occurs is going to be invaluable to the people who call that place home.