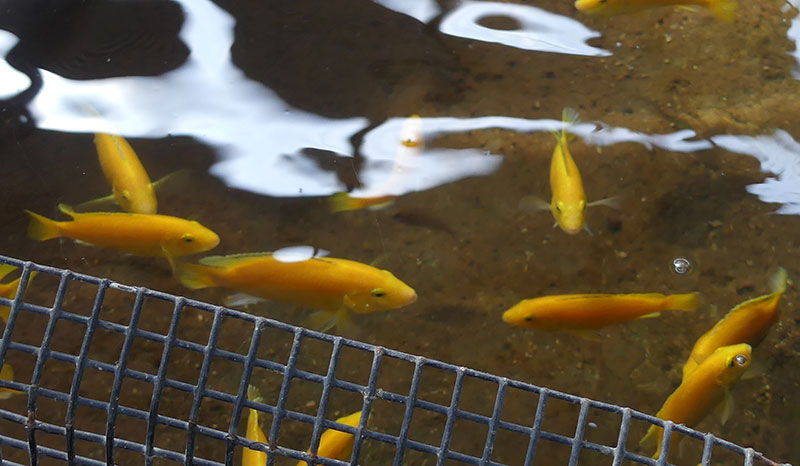 Monnit wireless sensors have a wide range of applications and can be installed in any environment. The internet of things can be used in any industry, there is no limit to what an IoT network can monitor in your environment. Should there happen to not be a standard version of the product you are looking for available, our engineering department can create a custom solution for your specific needs. One recent customer Monnit was introduced to is a fish hatchery in Salt Lake City, Utah that needed sensors for monitoring water temperatures. While their solution was not custom engineered, there were some specific atmospheric conditions to consider.
Josh with Crystal Springs Fisheries uses 180-degree geothermal water from a 1000' well to breed and grow exotic fish which he then sells all over the world. The only potential issue is the geothermal water supplied from the 1000' well requires piping to remain running and equipment to ensure proper temperatures. Due to the constant running water, there is much higher humidity inside the greenhouse compared to the dry outside air and Josh's old temperature monitoring system was not able to remain functioning in these conditions.
There were a couple of hurdles to jump for this solution, and Monnit was able to set Josh up with a complete network for both his hatchery and store for around $1,000. Monnit's water temperature sensors come with a three-foot probe and are able to record temperatures from -40°F – 257°F (-40°C – 125°C). This allowed Josh to place a temperature sensor directly where his well water exits the ground at 180°F and not have to worry about equipment damage or failure. Monnit also provided Crystal Springs Fisheries with a IP65, NEMA 4X, CE rated, sealed, and weatherproof housing capable of withstanding the high humidity levels.
Monnit creates sensors which are able to adapt to any company's specific environment. Whatever your application may be, Monnit sensors will be able to track and record data. The real benefit of our system is not only the data generated, but the ability for users to set up custom notifications based on environmental conditions. For example, Josh will receive a text message on his phone should the water temperature drop below safe levels for his tropical fish. Monnit wireless sensors are not just a passive data collector, our technology will alert you of potentially dangerous conditions allowing for a quick response. For a fraction of the cost of repairs or damaged inventory, Monnit wireless sensors and secure cloud networks keep an eye on your home or business 24/7.