How to Use a Wireless Analog Voltage Sensor
Keywords: Installation, Voltage Sensors, Wiring
---
Summary:
The following steps will demonstrate the correct way to hook up wireless analog voltage sensors to the power source you would like to monitor. It will also show you how to change the sensor's data display in the iMonnit Online Monitoring System.
---
When hooking up a wireless voltage sensor please follow these instructions;
Connect the red wire from the Monnit voltage sensor to the positive side of the power source you are monitoring.
Connect the black wire from the Monnit voltage sensor to the ground or negative side of the power source you are monitoring.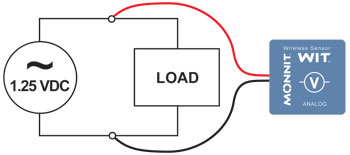 Setting up your sensor application in the iMonnit Online Software.
Log into your iMonnit online account.
Select the analog voltage sensor you are working with from the sensor list. (You should see the data in volts as the default.)
Click the "Calibrate" tab.

From the calibration screen you can calibrate your sensor, or transform the data into a custom
format for your application.
Set the custom application values for the low (0 Volt) and high (1.25 Volt) readings.
Enter your custom application's unit type in the "Label" field.
The External Sensor Power Options are available to provide current or voltage from the analog voltage sensor. The maximum voltage that can be provided is that of the battery (2.7-3.1 VDC) and the maximum current that can be provided is 10 mA.
The Read Delay is the length of time that must elapse before the processor reads the input voltage. For more information on power options, contact Monnit Support.
When you are finished making changes, click the "Calibrate" button.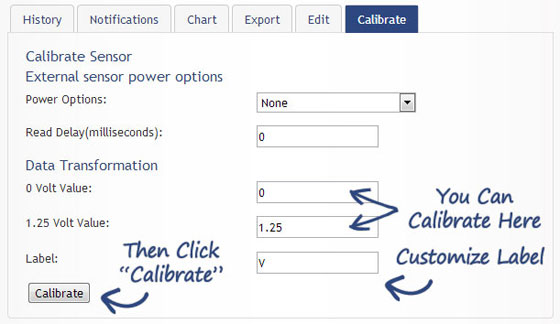 After clicking the calibrate button, click on the "History" tab to return to the sensor readings screen.
You should now see the data in your custom format.
For more information on using Monnit wireless sensors, visit the support section of our website.
---
---