Using Monnit Battery Health Sensors
Keywords: battery health sensors, installation, sensor use, connecting battery, wiring
---
Summary:
The following article is meant to give to give some suggestions for installing and using the Monnit Wireless Battery Health Sensors. For product documentation and additional help visit www.monnit.com/support.
---
Monnit Wireless Battery Health Sensors are analog voltage meters designed to measure battery voltage at specified intervals and wirelessly send the voltage readings to iMonnit, the online sensor monitoring system. Monnit battery health sensors can measure battery voltage up to 48 VDC.
Perfect for monitoring;
• Car batteries
• Boat batteries
• RV batteries
• Motorcycle batteries
• Lawn mower batteries
• Solar battery banks
• And many other battery applications...

When hooking up a wireless battery health sensor please follow these instructions;

• Ensure that battery being connected is rated at 48 VDC or less.
• Remove sensors battery(ies) prior to connecting to monitored battery.
• Connect the sensors red wire to the "positive" side of the battery.
• Connect the sensors black wire to the "negative" side of the battery.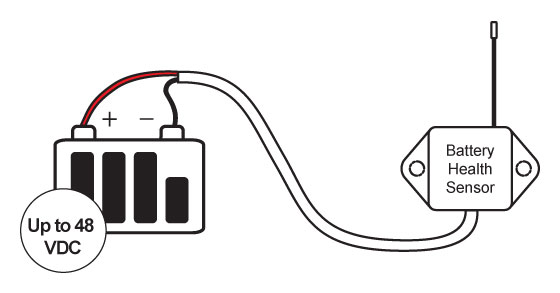 Once the sensor has been successfully connected to the battery, you can insert the sensor battery(ies) to power up the device. Check that the sensors information is being received in the iMonnit software.

If sensor data is not being received, make sure that the MonnitLink gateway is powered on and that your sensor is within wireless range of the gateway.

Learn more about Monnit wireless battery health sensors »
For more information on using Monnit wireless sensors, visit the support section of our website.
---
---