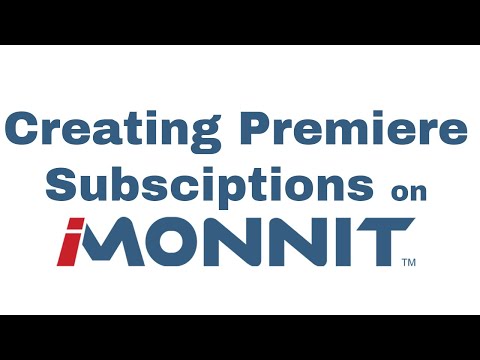 Adding an iMonnit Premiere Subscription
---
What is iMonnit Premiere?
iMonnit Premiere is a 12 month software subscription for your wireless sensor network. Upgrading your iMonnit account to iMonnit Premiere enhances your account with additional advanced features for a minimal annual cost. There are key differences between the free iMonnit Basic account and an iMonnit Premiere account. This article will provide details on these features and advise how to upgrade your free Basic iMonnit account to iMonnit Premiere.
For information on renewing a subscription, see the following article: Premiere Subscription Expiration/Renewal
---
Summary of Steps to Upgrade a free Basic iMonnit Account to iMonnit Premiere
Log into the iMonnit Online Sensors Portal.
Confirm you have the permission for "Can Access Billing Pages".
Link an existing Monnit.com store account, or create a new store account.
Select the Settings tab in the left-hand sidebar.
Select the Purchase Premiere button.
Select the appropriate Premiere subscription for the number of sensors currently added your account.
Select the Checkout button.
Confirm the subscription is correct, and select the Purchase button.
Key Features of iMonnit Premiere
10 minute minimum Heartbeat (120 minutes with a free Basic account)
Unlimited Users (1 user for free iMonnit Basic account)
Access to the Sensor Mapping tool
Access to the iMonnit REST API and WebHooks
Access to Advanced Settings for sensors
Access to Advanced Notifications
Conclusion
The features of iMonnit Premiere provide a rich feature set for exceptional value. To access the iMonnit Premiere product page on the Monnit.com store page, visit the following link. /products/software/imonnit-sensor-management-software/.
Feel free to contact Monnit Sales at info@monnit.com for pre-sales inquiries, or support@monnit.com for technical inquiries.