Adding Sensors on the Local Interface
Keywords: sensor, sensors, local interface, gateway,
---
Summary:
Guide to adding sensors offline on the local interface
---
Description: The local interface is an alternative way to adjust settings on your gateway offline. Sensors must be registered to a gateway to be operable. The local interface is only accessible offline and on a desktop computer. If this is your first time setting up a gateway to access the local interface please review the article Gateway Local Interface Setup.
Open a web browser and enter "192.168.100."

Lights on your gateway will turn solid green when this connection has been established.
Click the Wireless Network Configuration tab.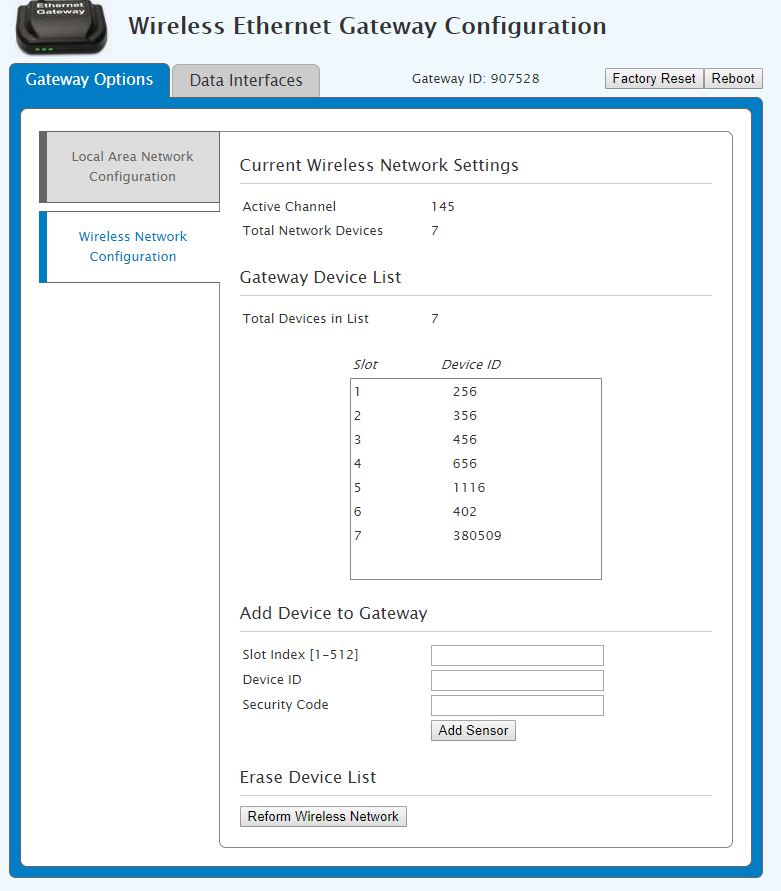 The first section you'll see is the Current Wireless Network Settings. This section will show you the Active Channel and Total Network Devices (Sensors) on your gateway.
The next section is the Gateway Device List. You'll see the total number of sensors on your gateway and which slots they are active in. Every sensor has a unique Device ID and has its slot.
The final section is Add Device to Gateway. This is where you will add the information for your new sensor.

Slot Index [1-512] – Your gateway has 512 slots available to assign a sensor to. Refer to the above table to see which slots already have sensors assigned to them. Enter a slot not already occupied by a sensor and continue to the next field.
Device ID - The Device ID is a unique number located on each device label. It will be labeled as "ID" on your Monnit® sensor.
Security Code - A security code will be all letters, no numbers. It can also be found on the barcode label of your Monnit® sensor.
Click the "Add Sensor" button.
Navigate up to the top right corner of the page and select the "Reboot" button.
Your gateway will reboot. Your new sensor will be added to the list of devices.
You've added a sensor! Repeat the above steps any time you need to add another sensor in the future.
---
---