Gateway Local Interface Setup
Keywords: Local Interface, gateway, ip,
---
Summary:
Guide to bypassing the online portal and setting up the local interface on a gateway.
---
Description: If using iMonnit® is not an option, you can set up your gateway and sensors offline through the local interface. Using the local interface requires you to hook the gateway up directly to your desktop computer using an ethernet cable. You will not have a connection to the Internet during this process.
Connect an Ethernet cable to the gateway and PC. It is recommended that you turn off your Wi-Fi to prevent network interference.
Plugin the gateway to a power outlet.
Press and hold the Action button on the back of the gateway as the device starts. The three lights on the front of the gateway stand for Network Service, Internet Servers, and Sensor Data. All the lights should flash green, then it is safe to release.

Holding the action button down for too short of a period will not allow the gateway to boot properly. If this happens, unplug the device and repeat the above steps.
Releasing the Reset button will put the gateway in local configuration mode.
All three lights will turn red or green.

The lights will flash green once every second as the gateway attempts to resolve the Ethernet Link State.
The lights will flash green every second the gateway attempts to resolve IP addresses with the host PC.
The lights will flash green every second when the gateway waits for valid web traffic.
Once the PC has set up the direct network, open a web browser and enter: "192.168.100.1"

Lights will turn solid green when this connection has been established.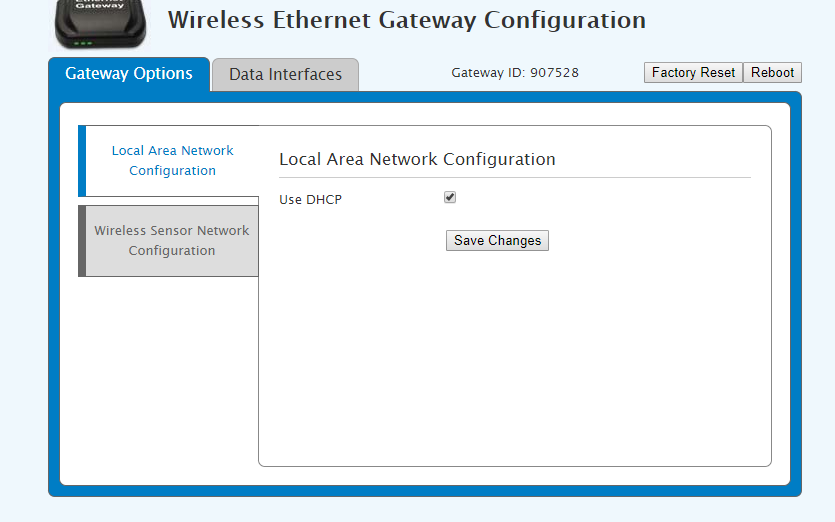 The Local Area Network Configuration page under the Gateway Options tab will be the first page you see.

From this local interface, you can configure a variety of settings for your gateway. Some of the things you can do from here include setting a static IP address, enabling local SNMP or Modbus interfaces, adding sensors to gateway whitelist, and changing the gateway heartbeat.
Once settings have been saved, you will need to reboot the device for them to take effect. This can be done by pressing the Reboot button on the screen in your web browser or by disconnecting the gateway from power and restarting the device.

You now have full access to the local interface. Repeat the above steps anytime you need to make changes to your gateway configuration.
---
---