Getting Started - Gateways
Keywords: imonnit, gateway, gateways, sensor, sensors, interface, setup, local area network,
---
Summary:
Getting started guide to activating gateway interfaces on iMonnit.
---
Description: Gateways receive information from the sensor then relay information to the server in periodic "heartbeats." Monnit® makes five different types of gateways: Cellular, International Cellular, Ethernet, USB, and Serial Modbus Gateway. All gateways require an active iMonnit® account in order to be operational. Gateway settings can be accessed on iMonnit or in the offline local interface. For more information on using the local interface, see Gateway Local Interface Setup.
Find Gateways in the main navigation page.
A list of all the gateways registered to your account will display. There should be at least one gateway registered to your account in order for your sensors to be active.
NOTE: If you have yet to register a gateway this page will be blank. See Getting Started – Registering Devices for tips on how to add a gateway to your account.
Select one of your gateways from the list.
There will be a series of tabs allowing you to view the status of your gateway and make changes.
A.
History
– This will be the first page to display. With a list of data received from previous heartbeats. If there have been any alert states in the past, they will show up here.
B.
Actions
– This will display a list of all the actions you have under this gateway. If you have not assigned any actions to this gateway, the page will be blank. For tips on how to set an event, see Getting Started – Actions for more information.
C.
Edit
– If you would like to make changes to your gateway network connection, you can do so here under the Settings section.
D.
Sensor List
– Here you will see a list of sensors registered to the gateway. If there aren't sensors registered to the gateway, the list will be blank.
Gateway Interface Activation
Find Gateways in the main navigation page.
Select one of the gateways from the list.
Choose the Edit tab.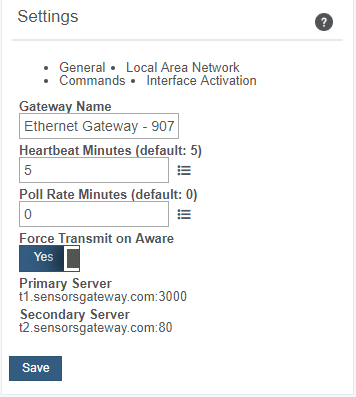 Find the Settings section.
There will be four subsections:

General – The general information for the gateway includes its name, heartbeat interval, poll rate and assigned servers.
Local Area Network – The Local Area Network incudes the ability to switch your network IP address from DHCP to Static.
Commands – This is where you can adjust the Reform Network and Reset the Gateway to Factory Defaults.
Interface Activation – This is where you will go to switch on the interfaces for SNMP, Modbus, and Real Time.
There may be others listed depending on which interfaces are active.

Select Interface Activation.
Toggle the switches to activate one or all of the following interfaces.
SNMP Interface – SNMP (Simple Network Management Protocol) compiles information from a variety clients. This is especially helpful if you have multiple gateways for devices that need to communicate with the gateway. Monnit gateways can manage up to four clients. For more on the SNMP Interface visit the article SNMP Interface Configuration.
Modbus Interface – Modbus TCP (Transmission Control Protocol) is the Modbus RTU protocol with a TCP interface that runs on Ethernet. This allows blocks of binary data to be exchanged between computers. TCP is responsible for making sure all data is correctly received. For more on the Modbus Interface visit Modbus TCP and Modbus TCP Configuration.
Real Time Interface – Real Time TCP is different from Modbus TCP in that it deals with guaranteed deadlines for receiving information. For more on the Real Time Interface visit Real Time TCP Configuration.
Pick the "Save" button.
The activated interface(s) will be added to the subsection list.
Repeat these steps any time you need to access the gateway settings on iMonnit.
---
---