Getting Started - Sensors
Keywords: sensor, imonnit, gateway, heartbeat,
---
Summary:
Getting started guide for sensors and changing the heartbeat interval.
---
Description: There are over 50 different wireless sensors available for everyday needs. All sensors must be registered to your account for them to be operational. Sensors communicate with the closest gateway through periodic heartbeats returning their status and alert states when there are issues that need immediate attention. All settings are configurable on iMonnit® by following the below steps.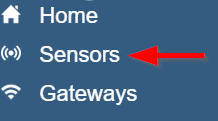 Find Sensors in the main navigation menu.

A list of all the sensors registered to your account will display.
NOTE: If you have not added any sensors, this page will be blank. For more information on adding sensors see Getting Started – Registering Devices.
Details – This page will show you a graph charting the status of your sensor. Here, you'll be able to view the recent readings, battery life, average signal, and a number of Aware vs Not Aware states.

History – A listing of the most recent readings on heartbeats and aware states can be found here.

Events - A list of events assigned to this sensor can be found here. If you have no events assigned to the sensor, this list will be blank. Instructions on setting up an event can be reviewed in the article.

Settings - Settings for the sensor can be adjusted here. Keep in mind the suggested heartbeat interval is 120 minutes.

Calibrate – If your sensor readings are offset, you can come here to recalibrate it to reflect actual readings.

Scale – Some sensors like temperature sensors have readings that are delivered on a scale. For example, if you have a temperature sensor, and need to change it from Fahrenheit to Celsius. You can do that here.
Changing the Heartbeat Interval
Heartbeat minimums are determined by the software you are using.
Find Heartbeat Interval under your settings.

Change the heartbeat interval time. Remember that this number is in minutes. The suggested setting is 120 minutes.

Select the "Save" button.














Repeat these steps any time you need to make changes to your sensor(s).
---
---