Notification (Alert) Snooze Function
Keywords: notifications, alerts, snooze, settings
---
Summary:
This article, will explain the process of setting the "Snooze" function for notifications (alerts) from the iMonnit online sensors portal.
---
Notifications are an integral part of a Monnit remote monitoring system. The system can alert you when a sensor detects certain conditions or if the battery power is getting low. In order to make it quick and easy to setup notification in iMonnit, notifications can be assigned to multiple sensors on your account. For example a single "Low Battery" notification can be applied to all sensors on your account or a single temperature condition alert can be applied to multiple temperature sensors, so you do not have to create a notification for each individual sensor.

When setting up a notification in iMonnit, there is a "Snooze" function which sets the frequency of alerts being sent from the system if the condition is met. This prevents the system from sending the notification too frequently, allowing the user to determine how often they want to be reminded if a sensor is triggering the notification. Recently we've made a change to the way notifications (alerts) are sent from the iMonnit online portal. Prior to this change, a notification used for multiple sensors would share the same snooze timer for all included sensors. When one sensor would send an alert, it would prevent any other sensors sharing the same notification from sending an alert until the shared snooze timer elapsed. Now you can determine if the "snooze" timer should be applied to all included sensors or each included sensor individually.
Setting the Snooze Function
By popular request we've set the default for all newly created notifications to "independently" snooze for each included sensor or device. If you have existing shared notifications on your account, they will currently be set to "Jointly" use the same snooze timer. To change this setting, click on "Notifications" in the main navigation menu, then click on the notification you want to change. From the "Notification Settings" tab you will see a section to set the Snooze function. Click the slider to switch the snooze timer from "Jointly" to "Independently" or vice versa. Once you've changed your settings make sure you click the "Save Settings" button at the bottom right of the window.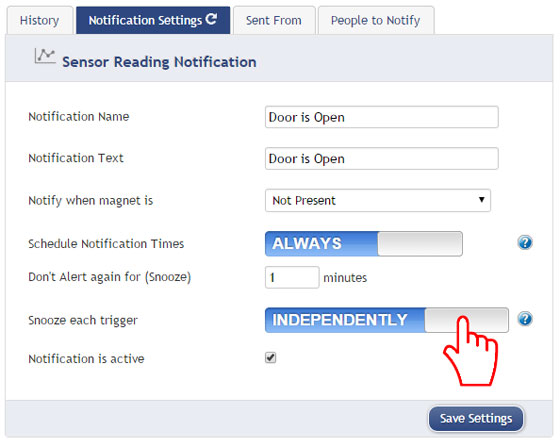 ---
---