Setting User Permissions in iMonnit Premiere
Keywords: user permissions, add users, user contact details
---
Summary:
One of the benefits of using the iMonnit Premiere online sensors monitoring software, is that it supports multiple user's for your account. How do you manage users if you have multiple sensor networks, or don't want every user to be able to see or edit certain sensor on your account. iMonnit Premiere allows for a variety of permission based settings for each user in your iMonnit account.
---
To get started you will need to login as the administrator of the iMonnit Premiere account at www.imonnit.com. Once you are logged in, click on the "My Account" link in the upper left hand corner of the screen.

From the Account page, scroll down to the "User's Section". From here you can create, edit or delete users from your iMonnit Premiere account. To create a new user, click on the "Add New User" button located on the right side of the screen. When creating the user, you will have the ability to give the user administrative rights for the account by checking the box at the bottom of the form. You can always customize exactly which permissions the user has later as well.
When you have added the additional user accounts you can customize their permissions by clicking on the users name in the list to view the user's details. From the details view, you have the ability to edit the user's information, contact details and contact preferences for notifications from the system. The last tab allows you to customize the permissions for the selected user.
The "Administration" section allows you to choose what permissions the user has for editing and managing devices and notifications on the account. To allow a permission, check the box next to it.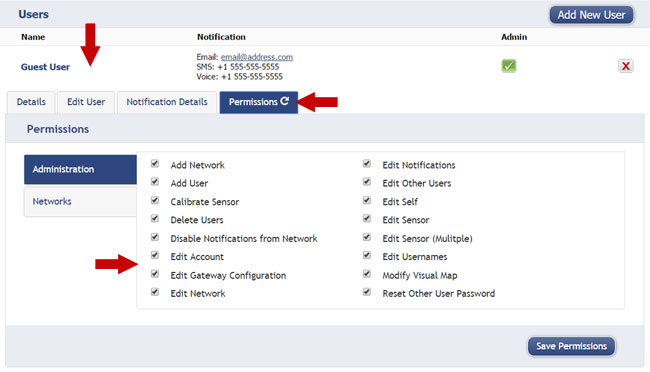 The "Networks" section allows you to choose which sensor networks on the account, the user is allowed to see or manage. To allow the permissions granted in the Administration section for any sensor network, check the box in front of the network name.

When you are finished making any changes to the user's permissions, be sure to click the "Save Permissions" button in the bottom right side of the window.
---
Related Articles
---