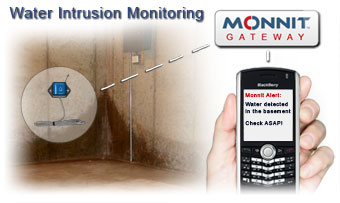 Water Intrusion Monitoring
Water intrusion can start small and remain un-noticed for some time. Even the smallest amount of water can ruin property as well as seep into walls and flooring causing structural damage and/or mold. There are numerous sources for water intrusion and with the winter months upon us, we can start to see fluctuations in temperatures which can cause a multitude of these issues.

The most common sources of water intrusion include:

• Roof leaks (both from age/wear and from snow and ice damaging roofing materials).
• Plumbing leaks and/or pipe breaks in colder weather.
• Sewer line back-ups.
• Flooding from outside of the building.
• Moisture intrusion through the building envelope.
Monnit provides a low-cost, reliable, wireless monitoring solution that provides immediate notification of water presence as well as monitor for variables that can lead to water intrusion.
All Monnit wireless sensors come with free basic online monitoring, allowing you to view sensor information anytime from anywhere. Receive instant notifications via email or SMS text if a set sensor condition is met or exceeded.
« Learn More About Monnit Wireless Sensor Solutions for Water Intrusion Monitoring
Keep your property safe and water damage free by using Monnit wireless sensors.