Having trouble viewing this email? View it in your browser.

USB Temperature Monitoring Kits

Monnit USB Temperature Monitoring kits are an easy and cost effective way to start monitoring the environment in your temperature critical applications. Everything you need is included with the kit, including free online sensor monitoring with text and email alerts.

As part of the March monthly web special, you can get an additional wireless temperature sensor for free with the purchase of the USB temperature monitoring kit (thats a $49 value for free).

Contents of the USB Temperature Monitoring Kit:

• 1 - MonnitLink™ Wireless USB Gateway
• 2 - Monnit Wireless Temperature Sensors
• 1 - Additional Monnit Wireless Temperature Sensor
(As part of the March web special)
• Coin Cell Batteries (included with sensors)
• Sensor Mounting Kit
(screws and double sided tape for all sensors)


In this issue

Updated Single Input Pulse Counters

Monnit has recently made some updates to single input - wireless pulse counters. As of February 2015, all single input pulse counters now include 3 software configurable filter settings (no filter, 4 Hz filter, or 40 Hz filter). Each filter is capable of filtering non periodic noise/ bounce based on the pulse width. For example, the 4Hz filter will count a pulse if the pulse width is longer than 250 ms, if the pulse width is shorter than 250 ms it may be filtered and not counted (see the technical documentation for more information). Monnit wireless pulse counters are capable of counting passive (open/closed switch) or active (up to +15 VDC) pulses.

The sensor can be set to send an alert through the iMonnit Online Sensor Monitoring and Notification System when a given number of pulses have been reached within a set time frame. Alerts from the iMonnit system are sent as they happen (in real time) via SMS text or email.

Single Input Pulse Counter Features:

• Counts the number of pulses in
given time frame, or aggregates
pulses in an ongoing accumulation.
• 3 filter settings: No filter, 4 Hz filter,
and 40 Hz filter.
• Capable of counting passive
(open/closed switch) and active
(Up to +15 VDC) pulses.
• Capable of counting the positive
edge, negative edge, or both
edges of a pulse.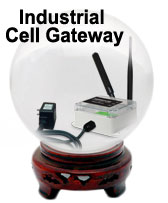 Let's take a look in our crystal ball to see what the future holds at Monnit?
Monnit's development team is always hard at work developing new wireless sensing products and enhancing our existing products based on customer feedback. We have been working hard on an industrial version of our Cellular Gateway that will feature a NEMA 4x rated enclosure that is water and dust resistant, allowing the unit to be used in industrial applications or outdoors. This new addition to the Monnit product lineup will be available in the very near future. If you would like to learn more about this product or be notified when it becomes available, please email us at sales@monnit.com.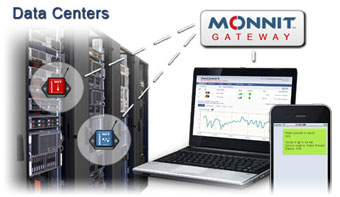 Monitoring Data Centers, Servers and Data Closets
Data centers, server rooms and data closets are full of expensive computers and networking equipment that are designed to operate within specified temperature and humidity ranges. Monnit wireless sensors provide a low-cost, highly reliable way to monitor these temperature critical environments.

With Monnit wireless sensors you can be notified immediately if any area of your data center becomes too warm, if humidity levels are too high or if there is any water detected under the subfloor. The system also tracks and stores your sensor data providing a detailed report as well as spreadsheet export functionality.
Monnit provides a low-cost, reliable, wireless monitoring solution that allows you to track and receive alerts for the following types of applications:
All Monnit wireless sensors come with free basic online monitoring, allowing you to view sensor information anytime from anywhere. Receive instant notifications via email or SMS text if a set sensor condition is met or exceeded.
« Learn More About Monnit Wireless Sensor Solutions for Data Center Monitoring
Ensure the proper environmental conditions are maintained in your
data centers by using Monnit wireless sensors.

by The WiSe Guys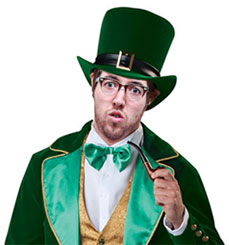 Troubleshooting Sensor Connectivity Issues
When setting up your wireless sensor network, there may be times when a sensor does not connect into the network. This tech tip will provide a few troubleshooting techniques that should get any non-communicating sensors working with your wireless sensor network.

1 - Check the battery.

• If not installed, install battery.
• If installed, check orientation and if it is fully seated.
• If installed, remove the battery for 60 seconds,
then replace.
• If installed correctly, try switching batteries with a
known working battery.

If the sensor is an Industrial Sensor, ensure the switch is in the "On" position.

2 - Check the distance from sensor to gateway:

• Commercial Coin Cell Sensors: Should be no closer than 3 to 5 feet and within 200 to 250 feet
non-line-of-site.
• Commercial AA Sensors: Should be no closer than 5 to 7 feet and within 250 to 300 feet
non-line-of-site.
• Industrial Sensors: Should be no closer than 7 to 10 feet and within 300 to 350 feet non-line-of-site.
• WiFi Sensors: Should be within 250 feet.

3 - Check that the sensor's radio frequency is compatible with the gateway's.

4 - Check that the sensor firmware version is compatible with the gateway's version.

5 - Check that the gateway is plugged into a working data connection and turned on.

6 - Check that sensor has been added to your sensor network and the gateway's sensor list:

In iMonnit:
• Click "View Gateways".
• Click the name of the gateway.
• Click "Sensor List" tab.

In Express:
• Click the "Sensors" tab.

If the sensors have been added to iMonnit Express, but are still not checking in:

For USB Gateways with iMonnit Express:
• Open Monnit Link Gateway Status.
• Click "Actions".
• Click "Download New Sensors".

For Ethernet Gateways with iMonnit Express:
• Press the control button (on the back of the gateway, you will need a pen, paperclip or other
long slender tool).

If the sensor still doesn't come online, please contact support via chat online, email to support@monnit.com.

You may also be interested in the following articles to ensure optimal performance of your wireless sensors and gateways.

• Optimizing Your Wireless Sensor Network
• How To Orient Antennas for Optimal Range


For more information on using Monnit wireless sensors, visit the support section of our website.

All trademarks are property of their respective owners. © 2015 Monnit Corp. All Rights Reserved.
Monnit Corporation / ph 801-561-5555 / www.monnit.com