Having trouble viewing this email? View it in your browser.

ALTA Ultrasonic Sensors

Monnit's new ALTA Ultrasonic Sensors can be used in a variety of applications for measuring distances between the sensor and objects in its path. ALTA ultrasonic sensors are imperviousness to target surface and color, and feature auto-calibration algorithms which allow them to adapt to variable environmental conditions and compensate for temperature and humidity effects. The ultrasonic sensors can also be calibrated through the iMonnit software for greater accuracy in distance measurements.

Typical applications include; liquid level detection, measurement between sensor and objects, and much more. ALTA commercial ultrasonic sensors are ready-to-use, easy to maintain, and designed to provide you highly reliable and fast measurements for both indoor and outdoor applications.

Learn More About Commercial ALTA Ultrasonic Sensors »
Learn More About Industrial ALTA Ultrasonic Sensors »

In this issue



New Monnit Thermostat

Monnit is excited to introduce our new thermostat. The Monnit Thermostat is designed specifically for remote configuration. It features an integrated motion sensor to auto detect if an area or room is occupied and can be set to enter an energy saving state when not needed. The thermostat will allow you to set a maximum and minimum temperature range for both occupied and non-occupied states.

This is a perfect solution for remote buildings which are typically unoccupied. The system will auto adjust comfort levels when personnel arrive and automatically return to normal when they leave. It is also great for corporate buildings, schools and churches to prevent random adjustments by unauthorized people as there are no manual adjustment buttons on the device.

Monnit Thermostats are Now Available!

Learn More About The Monnit Thermostat »

"As a facilities manager, I take pride in knowing that our guests have a wonderful experience at our resort. Having a heating issue on one of the coldest nights of the year is never a good thing. One of the best decisions we made was to install a Monnit remote monitoring system. We no longer fix things after they break down. We fix them before they break down!"
– James D., Facilities Manager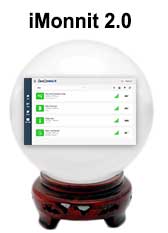 Let's take a look into our crystal ball to see what the future holds at Monnit
Monnit's development team is always hard at work developing new wireless sensing products and enhancing our existing products based on customer feedback. We have been working diligently on a new portal interface for the iMonnit platform. We would like to extend an invitation for early preview access in return for your feedback on the new portal. A few of the primary tasks we are working towards with this update are: more streamlined workflow and presentation of data, intuitive interface, full feature support for mobile devices, and a number of new features. Using the new portal does not require modifying any of your existing account settings, so you can switch between versions without losing any information. If you would like to request early preview access, simply complete the request form at www.monnit.com/forms/imonnit-preview-request.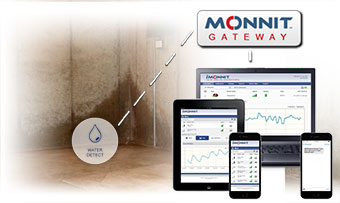 Water Intrusion Monitoring
Water intrusion can start small and remain un-noticed for some time. Even the smallest amount of water can ruin property as well as seep into walls and flooring causing structural damage and/or mold. There are numerous sources for water intrusion and with the winter months upon us, we can start to see fluctuations in temperatures which can cause a multitude of these issues.

The most common sources of water intrusion include:


Roof leaks (both from age/wear and from snow and ice damaging roofing materials).
Plumbing leaks and/or pipe breaks in colder weather.
Sewer line back-ups.
Flooding from outside of the building.
Moisture intrusion through the building envelope.
Monnit provides a low-cost, reliable, wireless monitoring solution that provides immediate notification of water presence and monitors for variables that can lead to water intrusion.
All Monnit wireless sensors come with free basic online monitoring, allowing you to view sensor information anytime from anywhere. Receive instant notifications via email or SMS text if a set sensor condition is met or exceeded.
« Learn More About Monnit Wireless Sensor Solutions for Water Intrusion Monitoring
Keep your property safe and water damage free using Monnit wireless sensors.


by The WiSe Guys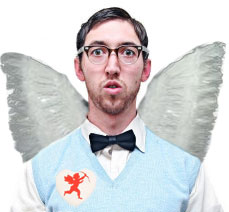 Did You Know That Monnit Has a Searchable Knowledgebase?
While we try to make our products as easy-to-use as possible, we know that sometimes things may not be as simple as expected and you might have a question about using your Monnit products. Monnit provides a searchable knowledgebase full of articles, links, videos and help files to assist you in using our products and software. To access the knowledgebase, simply open your browser and go to www.monnit.com/support or click on the "Support" link in the navigation menu from any page on the Monnit website.

The main page of the support area on our website is the searchable knowledgebase. From there you will be able to search for information and articles, as well as select from a list of quick areas such as documentation, downloads, FAQs and How-To-Videos. We've even supplied some links to our most popular support topics.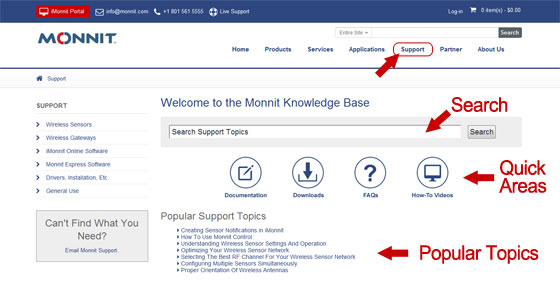 The documentation page contains quick start guides, user's guides, technical data sheets and several other helpful documents that can assist you in learning about and setting up Monnit products and solutions.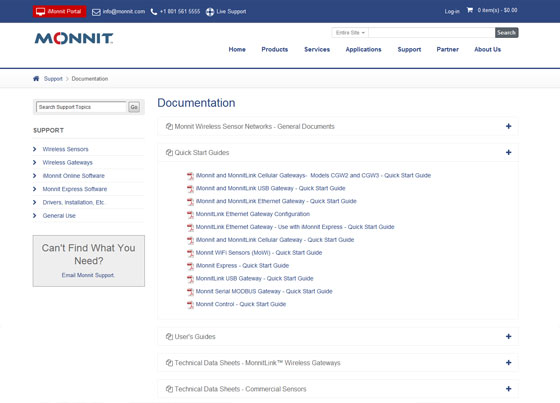 All of our knowledgebase articles are written to be easily understood and contain images (if appropriate) that aid in demonstrating the processes be explained. As most common issues are covered in our knowledgebase, we encourage you to use this tool prior to contacting a Monnit support representative.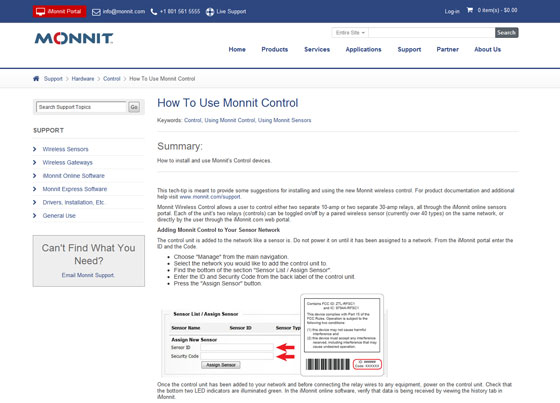 For more information on using Monnit wireless sensors and other products, visit the knowledgebase in the support section of our website.

All trademarks are property of Monnit. © 2018 Monnit Corp. All Rights Reserved.
Monnit Corporation / Phone: 801-561-5555 / www.monnit.com