FEATURED




Wettest. Winter. Ever.

Shelter your operations.




This winter, the Lower 48 states got 9.01 inches of rain and snow. Just this week, the National Oceanic and Atmospheric Administration (NOAA) declared it the wettest winter on record. To give you some perspective on that precipitation, December, January, and February yielded 2.22 inches more than the 20th century normal—that's almost 25% more rain and snow!

With all this moisture and the thaw imminent, you have a lot to be concerned about as a property owner or manager.

Preempt loss and downtime with detection that warns you when Mother Nature has invited herself in. Monnit has a full line of water sensors to warn you via text, email, or voice call when an H20 breech has occurred:

Water Detection Sensor


Detects water presence

When water is present, the sensor will immediately trigger a user alert (which can be received via text, email or voice call). The sensor can be configured to detect both the presence and non-presence of water.

Sample Applications

Weather-related facility monitoring
Water heater monitoring
Plumbing leak detection
Sump monitoring
Boat bilge monitoring
Reservoir level monitoring



Water Detection Rope Sensor


Detects the presence of water anywhere along the rope's length

When contact with a conductive liquid is detected, the sensor will immediately trigger a user alert (which can be received via text, email or voice call). The rope dries quickly allowing the sensor to reset for next use. Detection rope can be expanded up to 100 feet by simply clicking additional 10-foot sections of detection rope onto the end.

Sample Applications

Weather-related facility monitoring
Data center and server room water monitoring
Document retention center monitoring
Basement water monitoring
Plumbing leak detection
Boat bilge monitoring
Storage monitoring



Water Detection Puck Sensor


Detects water presence (water-tight design increases versatility)

This puck-form sensor has the same capabilities as the Water Detection Sensor with a probe, but offers additional placement options because the transmitter is integrated in a water-tight enclosure. When water is present, the sensor will immediately trigger a user alert (which can be received via text, email or voice call). The sensor can be configured to detect both the presence and non-presence of water.

Sample Applications

Weather-related facility monitoring
Water heater tank leak monitoring
Plumbing leak detection
Data center subfloor water detection
Water intrusion/flood detection
Crawl space water intrusion monitoring
Reservoir/tank level monitoring



Humidity Sensor


Monitors relative humidity

Returns relative humidity (RH) and temperature values and calculates dew point. All three data points are stored in iMonnit and can be reviewed or exported. Notifications can be set up through the online system to alert the user when defined thresholds have been met or exceeded. The sensor can also be used to control mold, mildew or dust mites.

Sample Applications

Weather-related facility monitoring
General weather and environmental monitoring
Greenhouse humidity monitoring
Agriculture environmental monitoring
Art gallery and museum environmental monitoring
Humidor monitoring







Have questions about preventing water intrusion? Have a unique application you need help with? Get in touch by calling us at 801-561-5555 or email us at info@monnit.com





In this issue
UPCOMING EVENTS
NFMT: The #1 Rated Facility Expo





A show dedicated to all things facility management, discover what you need to conserve resources, protect equipment, and optimize tenant comfort.

Visit us at booth 1621 in the Smart and Health Buildings Section of the Baltimore Convention Center. Explore our remote monitoring solutions that are trusted by facility pros at organizations ranging from prominent building services firms and lavish casinos to prestigious universities.

See you there!



RECENT NEWS
WEB SPECIAL
WHAT'S NEW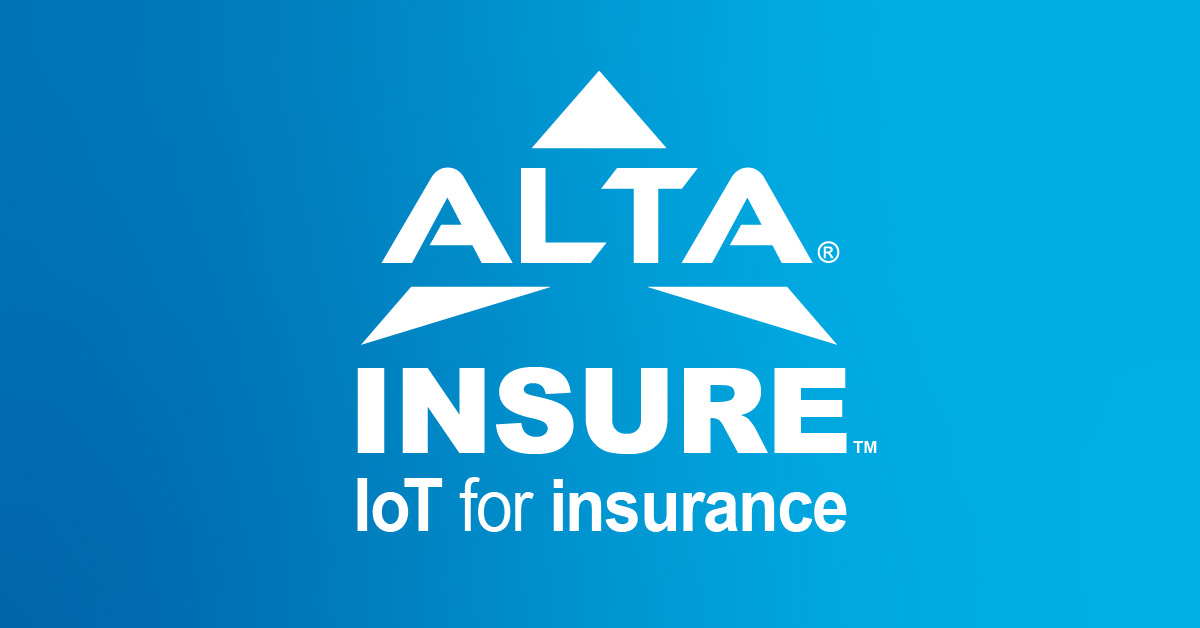 NEW: ALTA Insure—the Reliable Insurance IoT Solution

Greater data
+
more insight
=
lower loss ratio


The new ALTA Insure™ program provides insurers a competitive edge with enterprise-grade remote monitoring. Collected data gives savvy firms the insight needed to help lower loss ratio—and seize a tremendous advantage in an increasingly competitive market.

ALTA® Insure uses Monnit's award-winning ALTA wireless sensor platform to monitor assets or facilities, creating a more comprehensive loss-management solution that strongly differentiates insurers.
"Two things are imperative to a remote monitoring solution: the reliable collection of accurate readings and the secure transmission of those readings to the cloud for monitoring and alerts," said Monnit CEO, Brad Walters. "ALTA is the best solution to achieve both with the utmost simplicity, security, reliability, and economy."
A decade of insurance experience

ALTA Insure grew from Monnit's decade of collaboration with the insurance industry. Monnit's in-house capabilities and its understanding of insurers' needs allows ALTA Insure to be tailored to a firm through the IOTvantage partner program. IOTvantage enables business partners to private label ALTA Insure, and provides for customized kitting, product development, and saftware.

"From re-insurers to individual brokers, insurance loss prevention is all about low-cost, high-reward solutions," said Nick Mecham, Monnit Vice President. "We've proven ourselves and look forward to new partnerships."
Contact us at sales@monnit.com to learn about incorporating these new technologies.
WHAT PEOPLE ARE SAYING
"The reliability and flexibility of Monnit's long-range wireless sensors and notifications enable us to provide low-cost, customized solutions to virtually any facility operation or equipment function. It starts by listening to our customers discuss the problems they encounter. Our focus is on enabling our customers to monitor and receive notifications for equipment operation and security—including out-of-range and status notifications. Vending machines, car washes, and convenience stores are a few examples."
R.M. — Equipment and Property Management Solutions
LOOKING TO THE FUTURE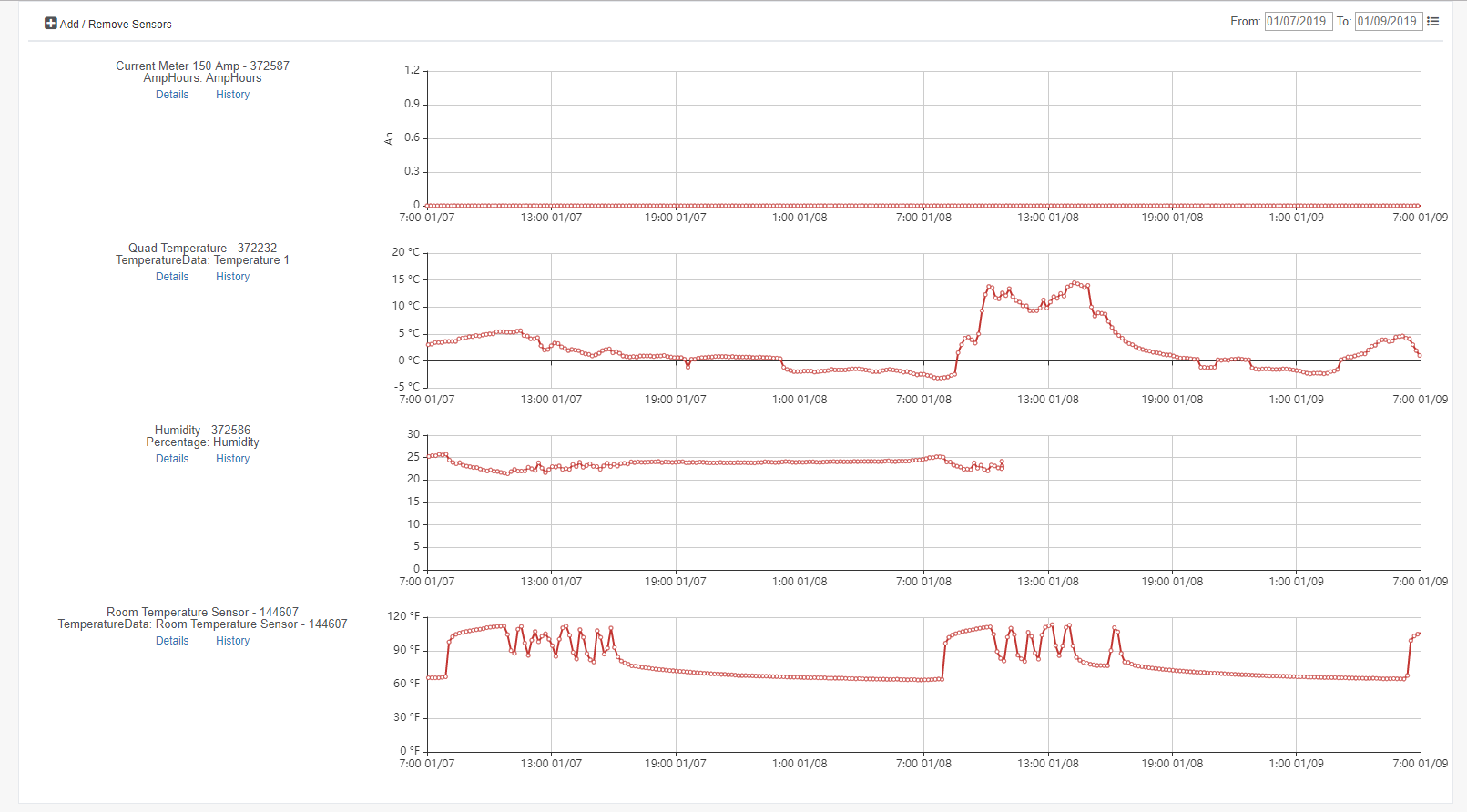 Get a bird's eye view—enlighten your analysis

A new graphical charting system is in the works that provides even greater accuracy and granular reporting. Users will be able to see multiple sensors' data on a single page within their dashboard overview. This will provide an at-a-glance view of multiple sensors and allow comparisons between dynamic data from multiple sensors.

And this is just the start.

Monnit's unique new interface will allow up to seven days' worth of data for various sensor data types. This multi-faceted reporting provides a new and simple way to track complex problems in any industry.

Want to learn more about this new tool or be the first to know when it's ready? Get in touch: info@monnit.com
Good vibes are coming your way

We're letting you in on a little secret that's about to become big news: Our advanced vibration meter release is imminent.

This turnkey sensor is engineered for a variety of diverse installations ranging from manufacturing machine health to those for the greater good, like seismic activity and civil infrastructure monitoring.

With a three-axis measuring system, the sensor uses an accelerometer to gauge g-force and determine vibration acceleration or acceleration peak, velocity, and displacement.

A single capture garners 250+ acceleration data points and generates vibration data based on a configurable measurement range. The most recent data points are then reported in each sensor heartbeat.

Sensor highlights include:
Multiple mounting options
A measurement range as short as 1 second
Available with or without a lead
Runtime indication by duty cycle
As part of the industry-trusted ALTA family, this new sensor offers a superior wireless range of 1,200+ feet, 12+ years of battery life, and bank-level encryption. The sensor is also future proof thanks to over-the-air updates from Monnit.
Stay in touch to keep updated about the launch: info@monnit.com
APPLICATION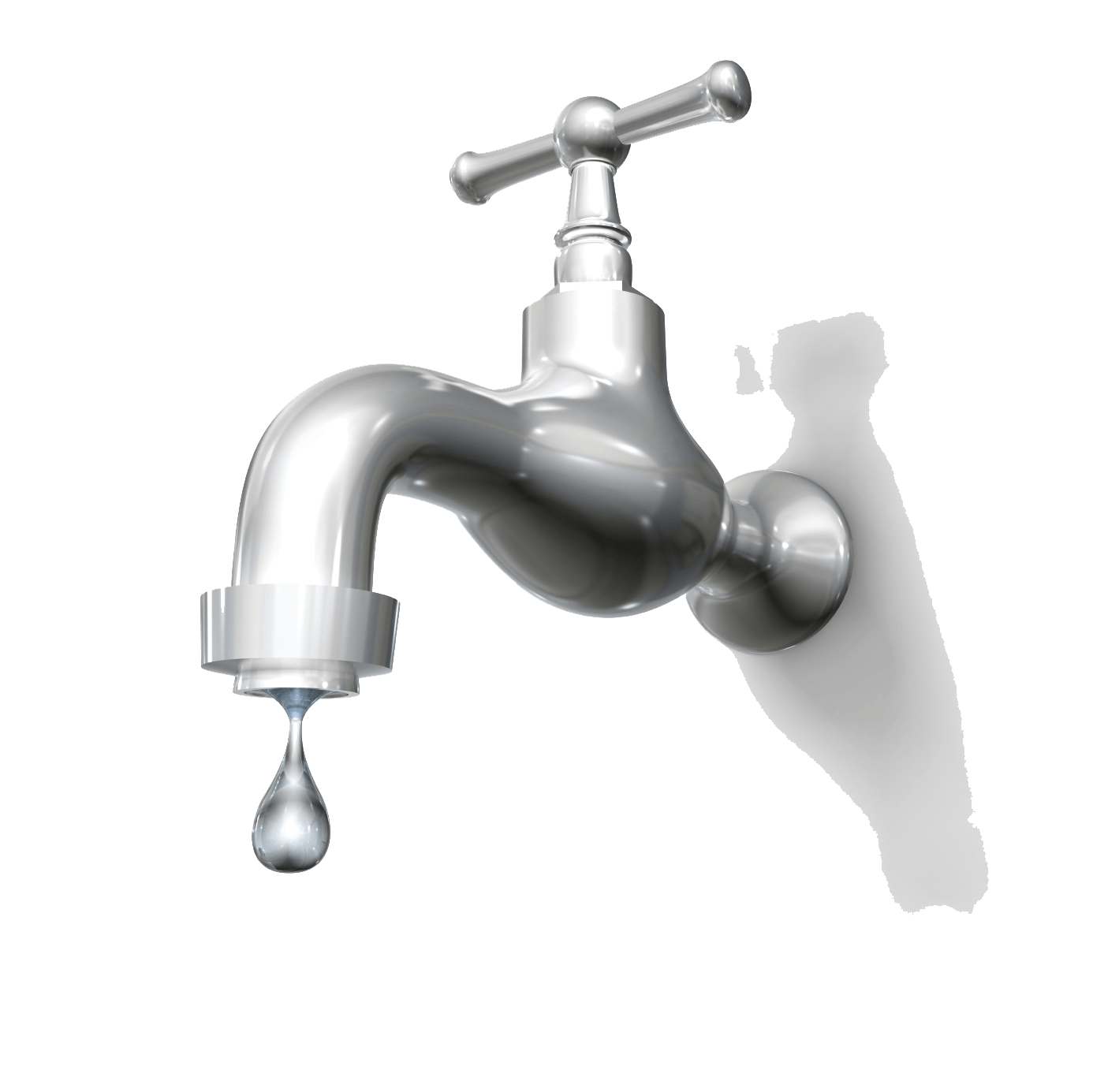 Prevent water intrusion with Monnit
Everything is running smoothly until you see the ceiling start to sag or the floor bubble up. Water intrusion can start gradually and go unnoticed, but left unchecked it is one of the ultimate destructors.

Even the smallest amount of water can ruin property and seep into walls and flooring—damaging structures and assets. There are numerous sources for water intrusion, and in the wake of the wettest winter on record, the effects of harsh weather and the winter thaw can cause many costly issues.
The most common sources of water intrusion include:
Roof leaks (both from roof age and weather damage)
Plumbing leaks or pipe breaks in cold weather
Sewer line backups
Flood waters from outside the building
Intrusion of moisture originating within the building
Monnit provides a reliable and feature-rich wireless monitoring solution—the product of a decade of IoT development. You can rest assured knowing you will receive an immediate notification of water presence or other signs that water intrusion is imminent. Here are some popular drop-in solutions that could save you from costly losses and downtime.
All Monnit wireless sensors include basic online monitoring and apps for Android and iOS—see your sensor info anytime, anywhere. Receive instant notifications via email, voice, or text if the conditions you have set are met or exceeded.
Protect your facilities and assets with Monnit Wireless Sensors.
Find out more—Monnit wireless sensor solutions for water intrusion monitoring
FREE WEEKLY WEBINARS

TECH TIP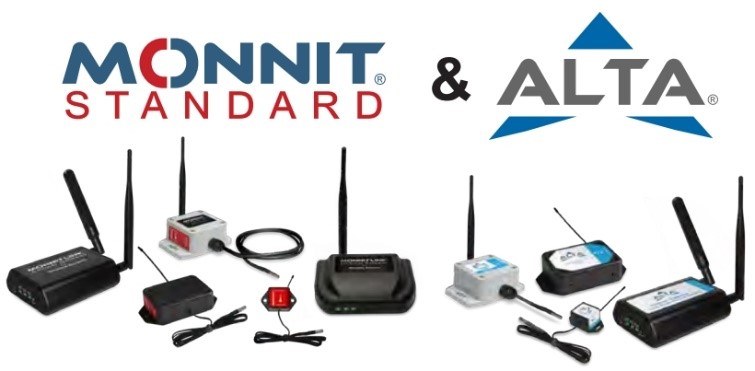 Monnit Standard, ALTA, and Wi-Fi: Choosing from a Trio of Remote Monitoring Solutions
Monnit proudly offers Standard, ALTA, and Wi-Fi versions of its sensors to satisfy diverse needs. And we want to ensure you pick the right type for your application(s). So, this month's Tech Tip briefly describes each type, its capabilities, and its application scope.

In order to get the best performance in any application or environment, Monnit always recommends the ALTA series of sensors. The ALTA sensor platform outperforms Monnit's other sensor lines, and in fact, performs better than most other competing sensor technologies. Additionally, the ALTA platform is where Monnit continues development efforts and will be compatible with the forthcoming long-range offering.

Below is a summary of Monnit's sensor lines as well as how they stack up against other competing RF technologies.



---
ALTA



The ALTA sensor platform is ideal for any application, be it a small installation monitoring flowers in a local flower shop, or large enterprise applications such as monitoring bearing temperatures in the world's largest cable and power cord manufacturing operation.

With the ALTA product line, users have access to over 60+ sensors including: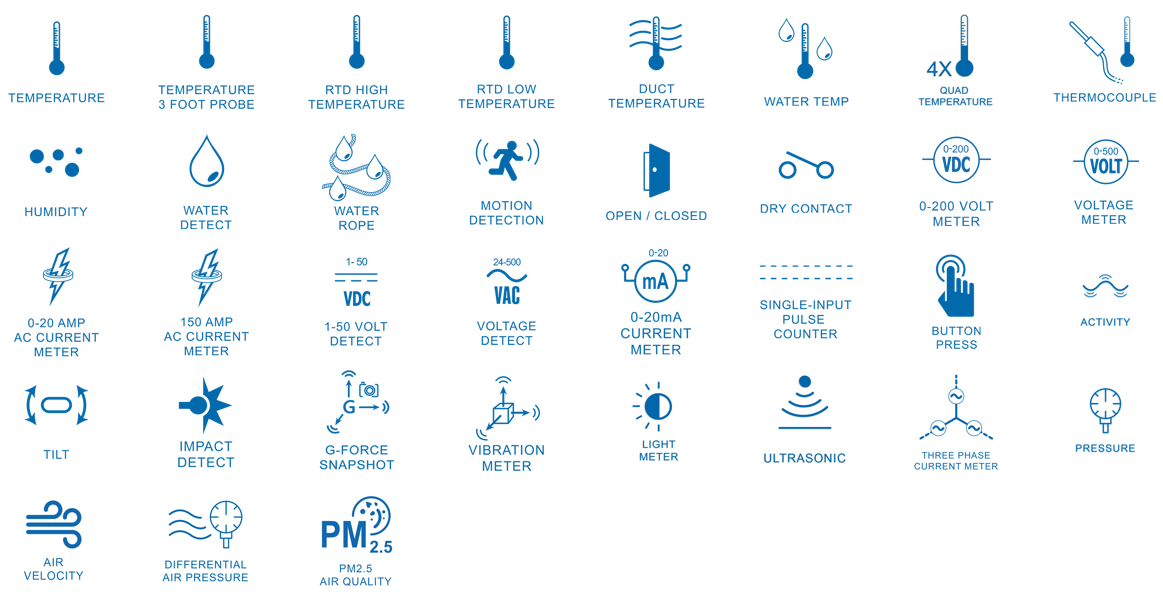 Most of the ALTA sensors are available in all three housing configurations: commercial coin cell, commercial AA battery, and industrial.



ALTA's features include the following:
Wireless range of 1,200+ feet through 12+ walls *
Improved power management for longer battery life ** (12+ years on AA batteries)
Encrypt-RF® Security (bank-level Diffie-Hellman Key Exchange + AES-128 CBC for all messages)
Frequency-Hopping Spread Spectrum (FHSS)
Improved interference immunity
Onboard data memory stores up to 512 readings per sensor: 10-minute heartbeats = 3.5 days; 2-hour heartbeats = 42 days
Over-the-air updates (future-proof)
Free iMonnit basic online wireless sensor monitoring and notification system to configure sensors, view data, and set alerts via text, email, or voice
* Actual range may vary depending on environment.
** Battery life is determined by sensor reporting frequency and other variables. Other power options are also available.


---

Monnit Standard



Our Standard products are the first generation of Monnit's low-cost wireless sensors. With a communication range of 250–300 feet in a building, this line of 50+ sensor types is best for those companies that don't need the extreme range of the ALTA products and are looking for the most cost-effective solution Monnit offers (sensors starting at $49).

Places where the standard Monnit sensors are deployed range from quick serve restaurants and C-Stores to remote huts monitoring millions of dollars in cellular networking and switching equipment.


Wireless Range: 250–300 feet (non-line-of-sight/indoors through walls, ceilings & floors) *
RF Communication: 900, 920, 868, and 433 MHz
Power: Replaceable batteries (optimized for long battery life, line-power and solar [select Industrial models only] options are also available)
Battery Life (at 1-hour heartbeat setting): **
Coin Cell > 2–3 years
AA battery > 4–8 years
Industrial > 4–8 years

* Actual range may vary depending on environment.
** Battery life is determined by sensor reporting frequency and other variables.


---




WiFi



MOWI Wi-Fi sensors are perfect for applications where you have access to a building's Wi-Fi network and only need to deploy 1-3 sensors. Given their focused mission, Monnit offers our low-cost MOWI Wi-Fi sensors in the 10 most popular types—ranging from temperature to activity detection.


Wireless Range: 100 feet (non-line-of-sight/indoors through walls ceilings and floors)*
RF Communication: 900, 920, 868, and 433 MHz
Power: replaceable batteries (long battery life, line-power and solar [select Industrial models only] options are also available)
Security: WEP, WPA, WPA2, Enterprise WPA, Enterprise WPA2
Battery Life (at 1-hour heartbeat setting): **
Wi-Fi > 1 year

* Actual range may vary depending on environment.
** Battery life is determined by sensor reporting frequency and other variables.

Monnit has the largest offering of wireless sensors on the planet.
Please contact us to discuss your applications and speak with one of our consultants who can help you pick the right sensors for your specific situation: Call us @ 801-561-5555 , or email us at info@monnit.com
.
LET'S WORK TOGETHER
---
All trademarks are property of respective owners. Copyright © 2019 Monnit Corp. All rights reserved
Monnit Corporation | 801-561-5555 | monnit.com