New Industrial Cellular Gateway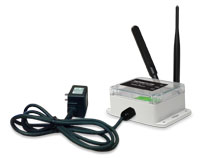 Industrial Cellular Gateway (CGW) is an advanced all wireless M2M gateway that enables fast time-to-market solutions for a wide range of M2M applications. The Industrial CGW allows your Monnit Wireless Sensors to communicate with the iMonnit™ Online Wireless Sensor Monitoring and Notification System via cellular transmission. This is the perfect solution for remote industrial locations where there is no existing internet connection and environmental conditions may be wet or dusty.
Industrial Cellular Gateway Features:

• Industrial, dust and weatherproof enclosure
• Available Cellular Technologies:
- Dual Band CDMA
- 3G UMTS
- 2G GSM/GPRS
• 50,000 sensor message memory
• Remote software upgrade capability
• Local status LEDs with transmission and online status indicators
• Mounting flanges for easy securement
• FCC and IC certified

Learn More About Monnit Industrial Cellular Gateways»

New Wireless Serial Data Bridge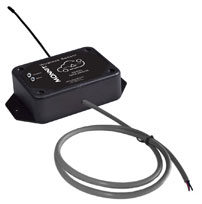 Monnit's new Wireless Serial Data Bridge is a bidirectional serial to radio device capable of transmitting serial data over its wireless communication link and delivering wireless data, received in the radio, out of its serial port. The Monnit wireless serial data bridge can be connected to any device equipped with a serial data port, to capture the data and transmit it to the iMonnit online sensor monitoring and Notification System. The data is stored in the online system and can be reviewed and exported as a data sheet or graph. User customization allows you to set notifications and alerts from the system based on data received from the device. The serial data bridge is also fully configurable via the iMonnit online software.
Wireless Serial Data Bridge Features:

• RS232 or RS485 interfacing
• Supports a variety of baud rates
• Supports 1 (24 byte) packet per second
• 3 ft. serial connection wire
• Mounting flanges for easy securement
• FCC and IC certified

Learn More About The Monnit Wireless Serial Data Bridge »