Having trouble viewing this email? View it in your browser.
Monnit Leaded
Temperature Sensor

The leaded wireless temperature sensor uses an external sensor probe to measure temperature with a wider thermal range than standard sensors. Perfect for fast changing, temperature critical applications such as coolers or heaters. User customization allows you to set notifications and alerts from the system to know immediately if the temperature is outside a specified range.

Leaded Temperature Sensor Features
• 3 ft. Wire Leads.
• Accurate to +/- 1°C (1.8°F).


In this issue

Pre-Order MonnitLink Cellular Gateways
For Resellers, OEMs and Volume Customers

The MonnitLink Cellular Gateway provides bi-directional communication to collect data from Monnit Wireless sensors and pass it along to iMonnit online servers. The cellular gateway is an integrated solution that combines quad band GSM/GPRS module, Monnit's RF APN, micro-controller and UART. The gateway is expandable and enables additional and customized features to be added.

Technical Information:
• Power supply: Linear power supply operating range of +7 to +12 VDC at 2 Amps. Battery back-up. External power connector with 110/220 V switching power supply.
• GSM Module: Quad-band GSM/GPRS engine that works on frequencies of GSM850MHz/EGSM900 MHz/DCS1800 MHz and PCS1900 MHz
• GPS: Included
• Antennas: Quad-band GSM antenna & RPSMA antenna connector for Monnit APN.

MonnitLink Cellular Features:
• No computer or existing internet connection required.
• Remote sensor networks are now possible.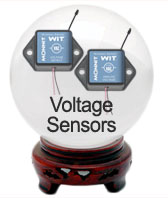 Let's take a look in our crystal ball to see what the future holds at Monnit?
Coming soon to the Monnit line of wireless sensors are two AC Voltage sensors. Both are capable of working on the standard 120/240 VAC power grid. The AC Voltage Detection Sensor is capable of detecting if power is present on a line or at a device while the AC Voltage Sensor is capable of measuring the amount of voltage on a powered line from 0 - 300 VAC. If you would like to be notified when these new sensors are available, please email us at devteam@monnit.com.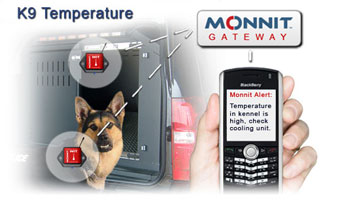 Monitoring the Temperature of Kennels and K9 Units
Your K9 units work hard, and are regarded as part of your team. Its a fact that we are seeing some of the hottest temperatures in history. With these heat waves, wouldn't it be nice to know that your K9 Unit and Kennel are at an acceptable temperature?
Monnit provides a solution for monitoring the temperature inside the vehicle kennel as well as on the dogs collar or harness. With Monnit Wireless Temperature Sensors you can be notified immediately if the cooling unit in the kennel fails for any reason or if the temperature around the dog is too hot. The system also provides a detailed report as well as spreadsheet export functionality. Make sure that your Best Friend and Team Member is kept safe by using Monnit wireless sensors.
Beat the Heat, with Monnit wireless sensors.

by The WiSe Guys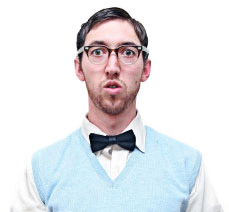 Proper Orientation of Wireless Antennas
In order to get the best performance out of your Monnit Wireless Sensors, it is important to note proper antenna orientation and sensor positioning. Antennas should all be oriented in the same direction, pointing vertically out of the sensor. If the sensor is mounted flat on it's back on a horizontal surface, you should bend the antenna as close to the sensor housing as possible giving you the most amount of antenna pointing vertical. You should make the antenna wire as straight as possible, avoiding any kinks and curving of the wire.

For optimum signal strength determine the height at which the majority of your sensors will be mounted at and position the wireless gateway at the same height. The sensor signal strength will reduce if the sensors are positioned higher than the wireless gateway. Also sensors should be at least 3 feet away from each other and the wireless gateway to function properly.

Correct Antenna Orientation
Antennas should all be pointing vertically and devices should be at least 3 feet apart.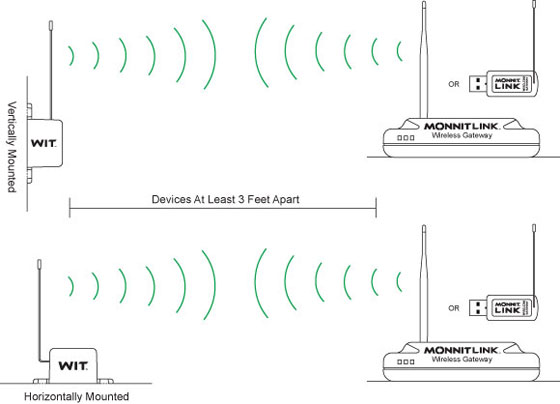 Incorrect Antenna Orientation
Antennas should not be pointing vertically and horizontally, and devices should not be closer than 3 feet.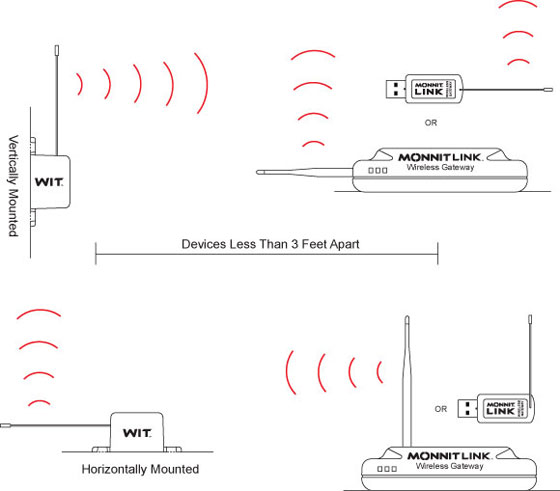 Incorrect Sensor Positioning
Sensors should not be mounted high with wireless gateways mounted low. Also, avoid positioning sensors or gateways on the floor.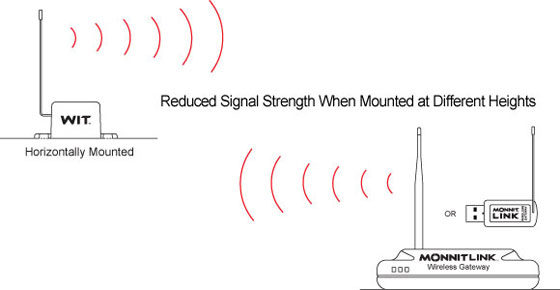 So remember, when placing your wireless sensors, antenna orientation is critical to reliable performance of your wireless sensors. For more information and guides on using your wireless sensors visit www.monnit.com/support/.
« Read Other Tech Tips from the WiSe Guys

All trademarks are property of their respective owners. © 2011 Monnit Corp. All Rights Reserved.
Monnit Corporation / ph 801-561-5555 / www.monnit.com