Having trouble viewing this email? View it in your browser.

Monnit Wireless AC Current Meters

Monnit's Wireless AC Current Meters measure the RMS current of an alternating current (AC) system by using a current transformer that wraps around the "hot" wire of a two wire (hot, common, ground (optional)) power system. The sensor reports minimum RMS current, maximum RMS current, average RMS current, and amp hours to the iMonnit system. The iMonnit system is capable of generating watt hour or kilowatt hour readings as well.

Features of Monnit Wireless AC Current Meters:

• Measures amp hours, max RMS current, min RMS
current, and average RMS current.
• 0-20 Amp and 0-150 Amp current transducers available.
• Capable of generating watt hour or kilowatt hour
readings using iMonnit.
• Data logging for accumulated amp hour readings.
• Can notify based on current levels or changes in
current levels.
• Simple and safe installation of current/power
measurement hardware, no rewiring required.
• Free and premium online monitoring with alerts via
SMS text, email or voice call.

Learn More About Monnit Wireless Current Meters»



In this issue



We've Moved To A New Location!

We are proud to announce that our company headquarters has moved to a larger and newly renovated office space with manufacturing and warehouse space to accommodate our continued growth. Monnit's new office is located at:

Monnit Corporation
3400 South West Temple
South Salt Lake, UT 84115

The move is effective immediately so all correspondence should be addressed to the new location in order to ensure receipt without delays.

"For our production processes, temperature is critical. A simple mistake, such as not shutting a door, can cause an entire batch to go bad. We have tried other products, but had issues with their reliability. Monnit sensors have been going strong for over a year now, and have never let us down. I can't recommend them enough!"
– Karl S., Production Manager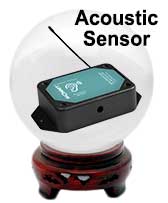 Let's take a look into our crystal ball to see what the future holds at Monnit
We are proud of the relationship we have developed with our customers and partners. These relationships allow us to continually improve and develop new products based on our customer's needs. The Monnit team has begun development of a new wireless acoustic sensor. The new acoustic sensor will be able to monitor and track the amount of ambient noise around the sensor. Notifications can be setup to alert the user if the noise exceeds a set level. If you would like to learn more about the development efforts of our team on this new product or to be notified when it becomes available, please email us at sales@monnit.com.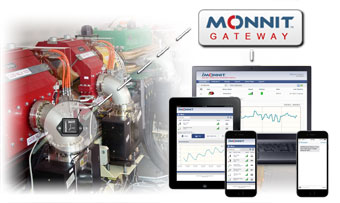 Monitoring Equipment for Preventive Maintenance.
Are you monitoring your machinery for predictive maintenance? Do you know how often your machinery is running and if it is running within its correct specifications? Deviations from specified parameters in vibration or temperature, if left un-checked, can cause expensive repairs and downtime.
Using Monnit Wireless Sensors for conditional monitoring allows maintenance to be scheduled, or other actions to be taken to avoid the consequences of failure, before the failure occurs. Monnit wireless sensor systems can monitor equipment to help you detect issues before they become serious and costly. We recommend using Monnit's affordable wireless activity timer sensors to track and monitor the operation of machinery or vehicles. We also recommend using Monnit's wireless temperature sensors to monitor operating and room temperatures.
Wireless monitoring solutions that allow you to track and receive alerts for the following types of applications:
Wireless Activity Sensors
Track and monitor the operation of machinery or vehicles.
Wireless Temperature Sensors
Monitor equipment operating temperatures.
Wireless Voltage Meters
Monitor voltage to equipment and machinery.
Wireless AC Current Meters
Monitor power draw and consumption of equipment to detect potential issues.
Average Cost
$400-$500 for a gateway and 4-6 wireless sensors.
Typical Setup Time
Less than 15 minutes.
Battery Life
Up to 10 years.
Benefit
Knowing instantly about issues with your food coolers.
Protecting your food from spoilage and temperature related issues. Peace of Mind!
All Monnit wireless sensors come with free basic online monitoring, allowing you to view sensor information anytime from anywhere. Receive instant notifications via email or SMS text if a set sensor condition is met or exceeded.
« Learn More About Monnit Wireless Sensor Solutions for Preventive Maintenance Monitoring
Detect issues before costly failures occur with Monnit Wireless Sensors!


by The WiSe Guys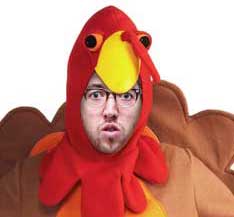 Setting User Permissions and Linking Multiple Accounts in iMonnit Premiere
One of the benefits of using the iMonnit Premiere online monitoring software is that it supports multiple users for your account. How do you manage users if you have multiple sensor networks, or don't want every user to be able to see or edit certain sensors on your account? iMonnit Premiere allows for a variety of permission based settings for each user in your iMonnit account.

To get started you will need to login as the administrator of the iMonnit Premiere account at www.imonnit.com. Once you are logged in, click on the gear icon in the upper right corner of the screen to access the account menu.

Setting User Permissions





From the account menu, select the "Users List" option. From here you can create, edit or delete users from your iMonnit Premiere account. To create a new user, click on the "Add New User" button located on the right side of the screen. When creating the user, you will have the ability to give the user administrative rights for the account by checking the box at the bottom of the form. You can always customize exactly which permissions the user has later as well.

When you have added the additional user accounts you can customize their permissions by clicking on the users name in the list to view the user's details. From the details view, you have the ability to edit the user's information, contact details and contact preferences for notifications from the system. The last tab allows you to customize the permissions for the selected user.

The "Administration" section allows you to choose what permissions the user has for editing and managing devices and notifications on the account. To allow a permission, check the box next to it.

The "Networks" section allows you to choose which sensor networks on the account, the user is allowed to see or manage. To allow the permissions granted in the Administration section for any sensor network, check the box in front of the network name.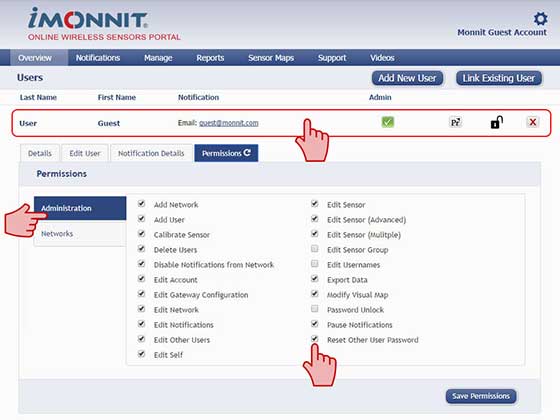 Linking Accounts Through Users

Any iMonnit Premiere account can support linking existing users. This feature allows users to view multiple iMonnit accounts when logged in, essentially linking accounts. To link the viewed account with an existing user on the system, click the "Link Existing User" button from the User's List page.





On the next screen, enter the user's email address, then click the "Add User" button.





The user will receive an invitation by email. The next time the user logs into iMonnit, they will now see a "Linked Account" section under the account menu. On the Linked Accounts page, any pending account invitations will show up with a yellow unlinked chain icon. The user will also see an accept button (thumbs up icon) and a decline button (thumbs down icon). By clicking the "Accept" button, the user will now have access to the shared account.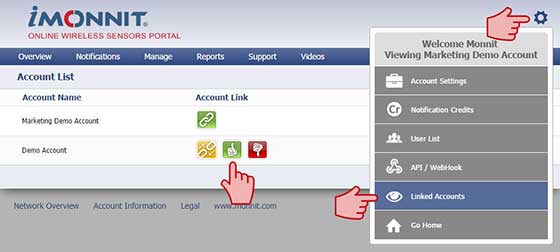 Once the account link has been accepted the user can access any of the linked accounts by selecting the "Linked Accounts" section under the account menu, and clicking the "View Account" button (grey eye icon) for any account they wish to view.





When the user is finished viewing the linked account and wants to return to their main account, simple select "Go Home" from the bottom of the account menu.

For more information on using Monnit wireless sensors and other products, visit the knowledgebase in the support section of our website.

All trademarks are property of their respective owners. © 2016 Monnit Corp. All Rights Reserved.
Monnit Corporation / Phone: 801-561-5555 / www.monnit.com