Having trouble viewing this email? View it in your browser.

Join Us In This Season of Giving!


"Trying to find the right solution for our customers was hard enough, but the fact that you let me brand it and sell it as my own is a game changer! Our customers really love these things! It sets us well above the competition!
I'm so glad we found you guys!"

– Tom R., California



New Wireless Vibration Meters!

Monnit's new Vibration Meters use an accelerometer to measure g-force on 3 axis and then determine speed and frequency. They can be set to only capture when a vibration occurs and sleep when no vibrations are present, or they can be set to measure at a given assessment interval regardless of whether a vibration has occurred. If set to always measure, the sensitivity can be further adjusted to filter out noise. The Vibration Meter will also report the duty cycle, or how long the sensor was measuring vibrations throughout the heartbeat.

Features of Monnit Wireless Vibration Meters:

• Reports data as speed (mm/s) and frequency (Hz) on all three axes,
and how long the sensor was measuring during the interval.
• Adjustable measurement methods: RMS, peak data only, and
absolute mean.
• Free iMonnit basic online wireless sensor monitoring and
notification system to configure sensors, view data and set alerts
via SMS text and email.

Learn More About The New Monnit Wireless Vibration Meters»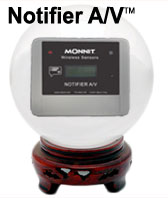 Let's take a look in our crystal ball to see what the future holds at Monnit
Monnit's development team is hard at work developing a new local alarm for wireless sensor networks. The Notifier AV is a local notification device that provides visual and audible alerts when a wireless sensor on your network is in an alerting state. The new device can be added to any existing notification on your iMonnit account as an additional way to be alerted of important conditions. The Notifier AV helps ensure that you are notified promptly when there is an issue that needs your attention. This new addition to the Monnit product lineup should be available in the near future. If you would like to learn more about this product or be notified when it becomes available, please email us at sales@monnit.com.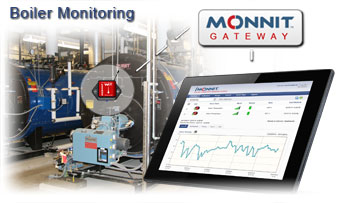 Using Wireless Sensors to Monitor Boiler Efficiency.
Boilers must maintain a certain temperature level for safe, reliable, and efficient operation. Overheating boilers may lead to damage and broken boilers decrease efficient output causing operational issues.
Boiler efficiency monitoring can help improve the performance and lifespan of your boilers. Monnit's wireless monitoring solution provides information about the performance, condition and operating efficiency of your boilers by using wireless sensors to monitor and track various aspects of boiler operation. This not only helps save operational costs such as fuel, but also provides alerts for proactive response to issues before they cause unpredicted shutdowns.

In environments that demand effective and undisturbed operation, your boilers need to maintain their best possible performance. We recommend using Monnit's affordable wireless temperature sensors to monitor and track boiler input and output temperatures. Wireless water detection sensors can help detect leaks in boilers and plumbing so you can know immediately if there is a broken pipe. Wireless pressure sensors can track output line pressure to ensure that no damage occurs to the boiler system in the event of overheating. There are no wires to worry about, and the setup process is amazingly simple.
Ensure your boilers are running efficiently with Monnit wireless monitoring solutions.
Learn More About Wireless Sensor Solutions for Monitoring Boilers »



by The WiSe Guys
Using Wireless Sensors with a Monnit
Wireless Range Extender.
Monnit's wireless range extenders and wireless sensors, allow for enhanced network communication. The new wireless range extenders can also be chained together to allow for even further range of your wireless sensor network. The following steps will demonstrate how to add wireless range extenders to your sensor network, and how that sensor network will function using the range extender(s).

Add a wireless range extender to your sensor network.
• Click "Manage" from the main navigation.
• Find the bottom section that deals with adding sensors.
• Enter the ID and security code on the back of the range extender.
• Press the "Assign Sensor" button.
• Repeat this process to add more range extenders to the network.

Before powering up the range extender and after it has been added to your network in iMonnit, you will need to update and push the sensor device list to the gateways in your network. The range extender gets it's sensor list directly from the gateway or repeater it is linked to. For a USB gateway, go to the Monnit gateway application/service and click "Download Sensor Updates". For an Ethernet or Cellular gateway, power cycle the device by unplugging it, waiting 10 seconds then plugging it back in.

After resetting the gateway, plug the range extender into an AC wall outlet. The range extender will have a green light when it has found the network. If the light is steady red, check the network, unplug it and try again. While searching for and validating a connection to a gateway or range extender on the network the LEDs will flash red/green, this process may take up to two minutes.

Communication path for sensors on a network with a range extender.
When using sensors with a wireless range extender, the sensors will automatically connect to a gateway with a reasonably strong signal strength (60% or greater for 900 MHz networks, 45% or greater for networks of any other frequency), if there is no gateway with a strong signal strength the sensor will connect to the repeater or gateway with the strongest signal strength. The range extender should be placed between the sensor and the gateway. If there isn't a gateway with a strong enough signal strength near the sensor the following scenarios apply: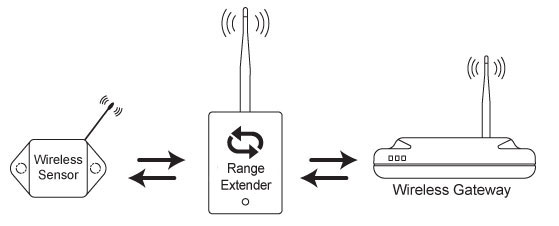 If the sensor detects a stronger signal from the range extender, it will connect to the range extender.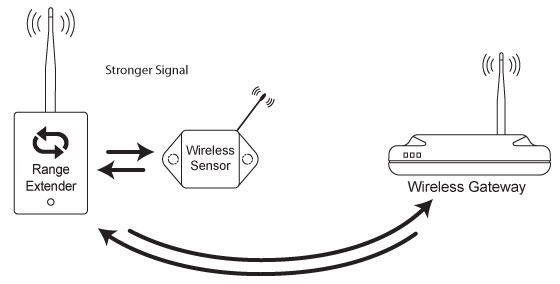 If the sensor detects a stronger signal from the gateway, it will connect to the gateway and ignore the range extender.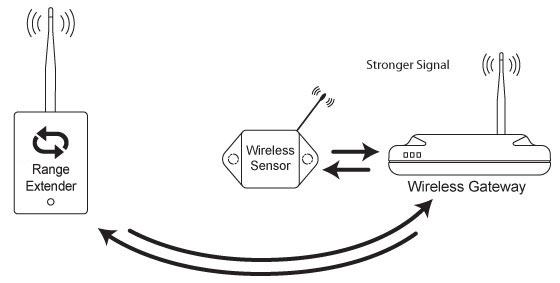 If the sensor network has multiple range extenders, the same principle applies. If the sensor detects the signal from one range extender is stronger than another range extender or gateway, it will connect to that range extender. The range extender on the network will function the same way, looking for the strongest signal of another range extender or gateway to communicate with.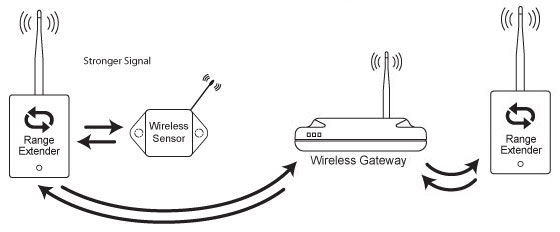 For more information on using Monnit wireless sensors, visit the support section of our website.

© 2015 Monnit Corp. All Rights Reserved.
Phone: 801-561-5555 / www.monnit.com