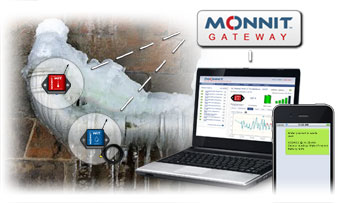 Using Temperature Sensors to Prevent Frozen Pipes and Water Sensors to Detect Plumbing Leaks.
As we have entered the winter season here in the United States, we receive many calls requesting our wireless temperature and water sensors for use in both commercial and residential properties to help minimize the potential for damage due to frozen water lines.
When water freezes it expands putting pressure on pipes, valves, tubing, and hoses. The result is often costly and very time consuming to fix. In a matter of minutes a one-eighth inch crack can release 250 gallons of water and disrupt your life in ways you never imagined. It is always smart to insulate pipes that are exposed and where possible, turn off water lines and drain pipes that are not in use. However, these precautions are not always feasible and do not always work.
So, how do you ensure that your pipes don't reach freezing temperature and know if there has been a break? We recommend using Monnit's affordable wireless temperature sensors to monitor the temperatures around your water pipes and wireless water detection sensors to know immediately if there is a broken pipe leaking. There are no wires to worry about, the setup process is simple and quick, and the you can monitor everything from any Internet enabled computer, tablet or smart phone.

Quick Stats:

Enjoy the winter months without worrying about the potential damage of broken water pipes.
Learn More About Wireless Sensor Solutions for Monitoring Frozen Pipes »