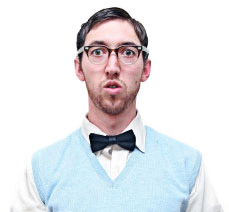 Using a Monnit Ethernet Gateway with iMonnit Express PC Software
With the latest Monnit Ethernet gateway firmware update and release of the latest iMonnit Express - PC software, Ethernet gateways can now be used to locally monitor wireless sensors on a computer without needing an Internet connection. In order to use an Ethernet gateway with the PC application, you will need to make sure that both the gateway and PC are connected to the same network, and configure the gateway to talk directly to the computer software instead of using the Internet.

Install and Activate the iMonnit Express Software

When you purchase the iMonnit Express software you receive an activation code. Visit https://www.monnit.com/support/downloads/ to download and install the iMonnit Express software. When you finish installing the software launch the program and click on "Configuration" then "Enter Key". Enter your key in the box and click "Activate".




Next you will need to add your Ethernet gateway and any sensors you wish to use with the software.

• Click on "Configuration" and choose "Add Gateway".
• Enter the Gateway ID and Code from the label on the bottom of your gateway.
• Click on "Configuration" and choose "Add Sensor".
• Enter the Sensor ID and Code from the labels on the bottom of your sensors.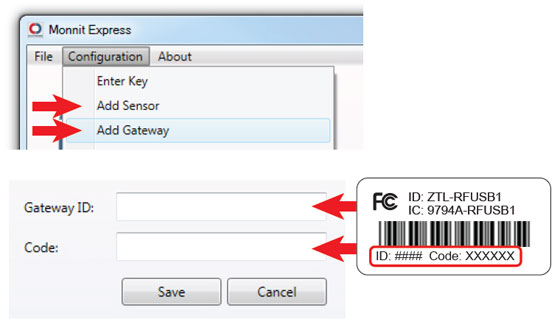 Configure the Ethernet Gateway

Before configuring the Ethernet gateway, you will need to identify the IP address of the PC you are using. In the iMonnit Express software, click on "About", then "Local IP Addresses" and make note of the IP address that your computer is using on your network.





• Connect the Ethernet gateway directly to the Ethernet port of your PC using a standard Ethernet cable.
• Plug in the power cable.
• While the gaateway is booting, press and hold the reset button on the back. All three lights will
flash red. Release the button and the device will enter local configuration mode.
• Open a web browser (e.g. Chrome) and go to 192.168.100.1. This should bring you to the
gateway configuration page.
• Click on the "Data Interfaces" tab.
• Enter the IP address from iMonnit Express into the primary and secondary server [URL/IP] boxes,
and use 3000 as the default communication port, then click "Save Changes".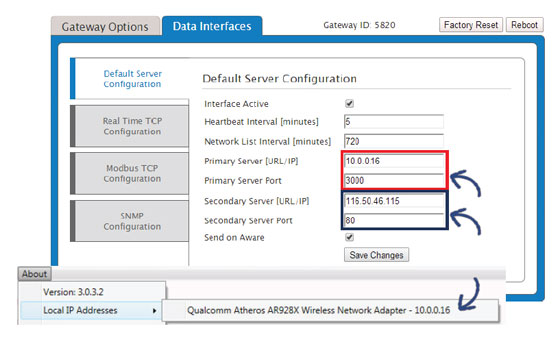 • When finished, click the "Reboot" button on the top right side of the page to restart the gateway.
• When the lights begin flashing on the gateway, you can unplug the it and disconnect it from
the computer.
• Connect the Ethernet Gateway to your local network router (needs to be the same network as
the computer running express) and power the device on.
• The lights will flash and go solid green when the gateway connects to the Monnit Express software.
• In iMonnit Express, check that the gateway status has changed to active.

You are now ready to insert batteries into your sensors and begin using the software.
For more information on using Monnit wireless sensors, visit the support section of our website.