Having trouble viewing this email? View it in your browser.

Monnit Control

Monnit Wireless Control allows a user to control two separate 10-amp or 30-amp relays, all through the iMonnit online sensors portal. Pair the control unit with a wireless sensor, and automatically control motors or electrical devices when a condition is detected by the sensor.

Monnit Control Features:
• Available with two separate
10-amp or 30-amp relays
• Pairs with a Monnit wireless
sensor for automatic control
• Relays can be manually toggled
through iMonnit online interface
• LED indicators for each relay
• Available in 900, 868 and
433MHz Frequencies
• AC powered


In this issue


Monnit Wi-Fi (MoWi) Analog Voltage Sensor

The Monnit Wi-Fi analog voltage sensor is capable of measuring the voltage from another device, battery, or sensor, up to 1.2 DCV. Interface with strain gauges, pressure transducers, photoresistors and any kind of variable resistor or sensor that outputs low voltage. If the device being measured is passive, the user must supply their own excitation voltage, as the Monnit Analog Voltage sensor is really just a "voltage observer". Cannot be used for AC voltage measurement.



Monnit Wi-Fi Analog Voltage Sensor Features
• Interfaces with other devices up
to 1.2 VDC
• Works with 802.11 b/g Wi-Fi
networks
• Supports Open, WEP, WPA and
WPA2 Wi-Fi security protocols
• Up to 250 ft. device range*
• Data logging feature if Wi-Fi
networks are un-available.
• Status / Activity LED
• 2 replaceable 1.5V "AA" batteries
• Batteries last up to 5 years.**

* Actual range varies depending on
environment. Sensor performs
typical to standard Wi-Fi devices.
** Battery life is affected by reporting frequency (heartbeat),
sensor type, Wi-Fi security type, distance from Wi-Fi
router and other variables.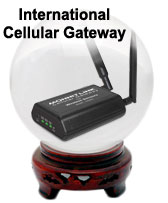 Let's take a look in our crystal ball to see what the future holds at Monnit?
Monnit's development team is always hard at work developing new wireless sensing products and enhancing our existing products based on customer feedback. With the increase of International customers, we are seeing the demand for a cellular gateway that can be activated and used on Internationally preferred carriers. The new International cellular gateway will be available in a variety of cellular technologies, starting with a CDMA version that works with Sprint Wireless (available in the next few weeks). If you would like to learn more about this product or be notified when it becomes available, please email us at sales@monnit.com.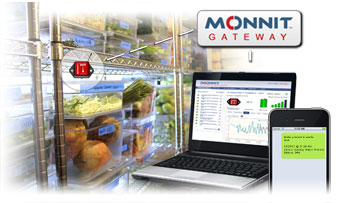 Remotely Monitoring
Walk-In Cooler Temperatures
Maintaining an optimal temperature in your walk-in coolers is important for keeping your food or floral products fresh. If the temperature falls above or below the optimal range, costly spoilage can occur. Monnit has saved restaurants, food distributors and florists hundreds of thousands of dollars in spoilage when using our low-cost, wireless temperature sensors to monitor their walk-in coolers.
Monnit provides a low-cost, reliable, wireless monitoring solution that allows you to track and receive alerts for the following types of applications:
All Monnit wireless sensors come with free basic online monitoring, allowing you to view sensor information anytime from anywhere. Receive instant notifications via email or SMS text if a set sensor condition is met or exceeded.
Protect Your Walk-In Coolers and Contents with Monnit Wireless Sensors!
Learn More About Remote Monitoring Walk-In Coolers »


by The WiSe Guys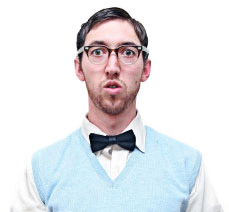 Walk-In Cooler Wireless Sensor Installation
This tech-tip is meant to give to give some suggestions for installing wireless sensors for applications involving walk-in coolers or freezers. For product documentation and additional help visit www.monnit.com/support.

Monnit wireless sensors communicate via RF (radio frequency) and it is important to note that the metal construction of most coolers and freezers can interfere with radio signal. It is also important to note that the temperatures inside of coolers and freezers can often be below the recommended operating temperature of the batteries used in Monnit wireless sensors. Due to these facts we recommend installing the wireless sensors outside of the walk-in cooler to ensure proper operation.
Wireless Temperature Sensor Installation

To install wireless temperature sensors, we recommend mounting the sensor just outside the door and running the sensor probe through the door seal or cooler wall. Alternately for temporary use, you can run the probe wire over the door seal but this will not allow for a tight door seal. To install through the seal or cooler wall, start by drilling a hole just larger than the size of the temperature probe in the seal or wall. Push the temperature probe through the hole and use clips or twist ties to secure the probe wire to the interior wall or shelving. When you have the sensor mounted outside and the probe ran to it's desired location, use silicone caulking to seal the hole around the wire.

To prevent false notifications in the cooler we also recommend using a capsule containing a substance that will slow the heating and cooling of the temperature probe. This will allow the probe to report temperatures consistent with the contents of the cooler verses any immediate introduction of warm air when the cooler door is opened.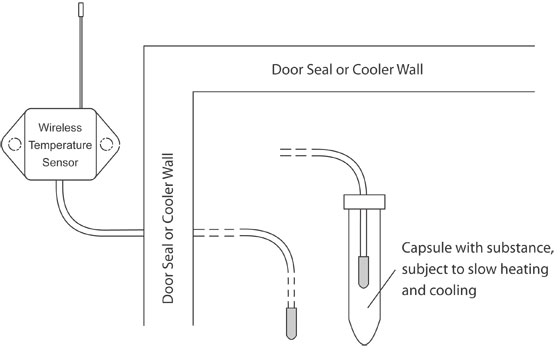 Wireless Door Sensor Installation

To install a wireless open/closed sensor on the door of a walk-in cooler or freezer simply mount the sensor, using the included screws or double sided tape, just above the cooler door. Next you will need to attach the sensing element (screws or double sided tape) to the door frame as close to the door as possible, making sure that it does not interfere with the door opening or closing. With the door closed, attach the magnet to the door directly below the sensing element. The magnet must be within 1 inch of the sensing element in order for it to function properly, so try to keep the magnet as close as possible without interfering with the door opening or closing.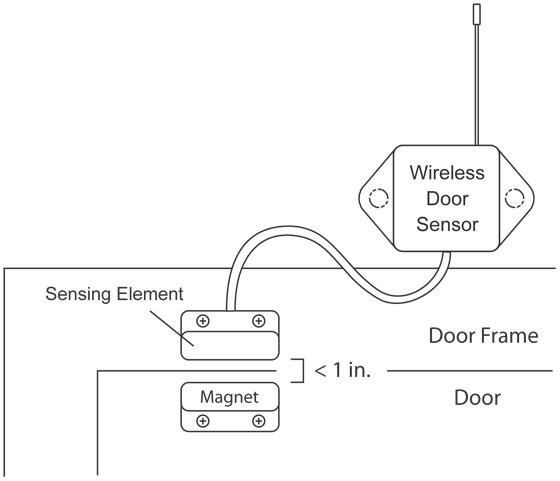 In order to get the best performance out of your Monnit Wireless Sensors, it is important to note proper antenna orientation and sensor positioning. Antennas should all be oriented in the same direction, pointing vertically out of the sensor. If the sensor is mounted flat on it's back on a horizontal surface, you should bend the antenna as close to the sensor housing as possible giving you the most amount of antenna pointing vertical. You should make the antenna wire as straight as possible, avoiding any kinks and curving of the wire.



For more information on using Monnit wireless sensors, visit the support section of our website.

All trademarks are property of their respective owners. © 2014 Monnit Corp. All Rights Reserved.
Monnit Corporation / Phone: 801-561-5555 / www.monnit.com