Having trouble viewing this email? View it in your browser.

New ALTA Sensors
IoT SENSING UNCHAINED

With the release of its ALTA sensors, Monnit shattered existing industry benchmarks and expectations of wireless range, battery life and IoT security. ALTA sensors were specifically designed to meet higher-demanding enterprise requirements. ALTA wireless sensors are able to communicate readings over eight times the distance of standard sensor platforms while offering significantly longer battery life. The sensors also feature Monnit's new Encrypt-RF™ bank-level security.



In this issue
ALTA - Leading Enterprise Grade "Internet of Things" (IoT) Solutions

Best-in-class remote monitoring solutions for business.

Superior Wireless Range

1,000+ ft. non-line-of-sight through 12-14 walls.

Long Battery Life

10+ years powered by 2 AA batteries.

Monnit Encrypt-RF™ Security

Integrated bank level security (256-bit exchange and AES-128 CTR on all messages).

Onboard Data Memory

Store up to 5,000 readings per sensor.

Future Proof

Over-the-air updates allow products to be updated remotely.

FCC / CE Certified Module

Highest performing RF module for OEMs providing diverse enterprise IoT applications.

100% Comprehensive Solution

No additional hardware, software or subscriptions are required. No Monthly Fees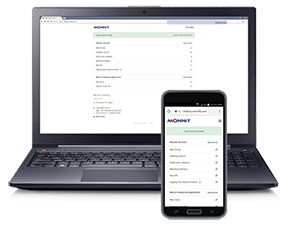 New iMonnit STATUS
System Status and Updates
We have recently released a new feature that allows users to see the current status of the iMonnit sensor monitoring portal. The system also allows users to subscribe to be notified via email if the monitoring service has a temporary outage.

To view the current status of the system at anytime, visit https://status.monnit.com from anywhere (on any computer or web-enabled device). If you would like to be notified of service issues, click the "Subscribe" button at the top right and enter your email address.
Recent Awards and Recognitions




"Enterprises want what Monnit is offering with ALTA. ALTA sensors improve four-fold on what was available before, allowing businesses to connect, monitor, and control almost every conceivable element of their businesses. It's game changing in the world of enterprise sensor solutions."
– Peggy Smedley
President / Editorial Director
Specialty Publishing Media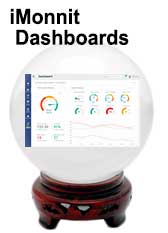 Take a look in our crystal ball to see what the future holds at Monnit
Monnit's development team is always hard at work developing new products and features, or enhancing our existing ones based on customer feedback. Our software development team has been working hard to create new customizable dashboard features for iMonnit. The new dashboards will allow users to customize the way they want to visualize their sensor data. Also in development along side of dashboards are advanced logic and analytics features that will provide advanced notifications and behaviors within the system. If you would like to learn more about the development efforts of our new software dashboards features or be notified when they become available, please email us at sales@monnit.com.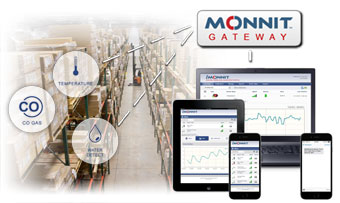 Monitoring Warehouse Operations and Conditions

Damaged inventory and employee safety issues occur everywhere; from small business storage areas to million-square-foot best-in-class warehouses. Identifying issues in these facilities is part of the process to decrease or eliminate problems altogether.

Let's face it, running a warehouse takes a lot of time and energy. Warehouse management is confronted with various challenges that many companies fail to embrace fully. Imagine having to locate hundreds upon thousands of products that you have to ship to your customers within a timely manner, while preventing damage to stored goods and the building infrastructure, and monitoring the performance and safety of your facility and team. In the past, these obstacles were difficult to manage, but thanks to Monnit, that has changed.
Monnit enables warehouse managers to monitor and track various conditions of their equipment, building, and stock. For a long time, available solutions were very limited, expensive and difficult to use. Monnit's affordable remote monitoring system makes it easy for owners and managers to keep track of their business from anywhere, at any time via computer, smartphone or tablet and receive alerts via text, voice, email, or through a local alert system the moment there is an issue.
Temperature Sensors
Protect workers and inventory from heat-related issues.
Water Detection Sensors
Prevent mold, mildew and water damage to building and inventory.
Open-Closed Sensors
Be alerted if shipping bay doors are left open.
Carbon Monoxide Sensors
Keep your employees safe from CO poisoning.
Average Cost
$500-$600 for a gateway and 4-6 sensors.
Typical Setup Time
Less than 15 minutes.
Battery Life
Up to 10 years.
Benefit
Knowing about issues in your warehouses as they happen.
Protecting your employees from hidden dangers.
Peace of Mind!
All Monnit wireless sensors come with free basic online monitoring, allowing you to view sensor information anytime from anywhere. Receive instant notifications via SMS text, email or voice call if a user-defined condition is met or exceeded.
Protect Your Warehouse and Employees with Monnit Wireless Sensors!
Learn More About Solutions for Warehouse Monitoring »



by The WiSe Guys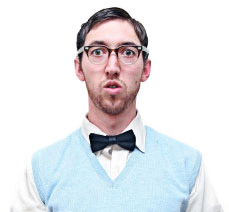 Connect to Your World Like Never Before
This tech-tip is meant to give to give some suggestions for installing and using Monnit wireless control. For product documentation and additional help visit www.monnit.com/support.

Monnit Wireless Control allows a user to control either two separate 10-amp or two separate 30-amp relays, all through the iMonnit online sensors portal. Each of the unit's two relays (controls) can be toggled on/off by any wireless sensor or group of sensors on the same network, or directly by the user through the iMonnit.com web portal.
Adding Monnit Control to Your Sensor Network

The control unit is added to the network like a sensor is. Do not power it on until it has been assigned to a network. From the iMonnit portal enter the ID and the Code.

• Choose "Manage" from the main navigation.
• Select the network you would like to add the control unit to.
• Find the bottom of the section "Sensor List / Assign Sensor".
• Enter the ID and Security Code from the back label of the control unit.
• Press the "Assign Sensor" button.





Once the control unit has been added to your network and before connecting the relay wires to any equipment, power on the control unit. Check that the bottom two LED indicators are illuminated green. In the iMonnit online software, verify that data is being received by viewing the history tab in iMonnit.





Connecting the Relays

The relay acts as a switch on the line for your power source. The relays are by default NORMALLY OPEN, so there is no connection. (Indicator lights for the relays will be off to indicate this). Return to the edit page if you want the default state to be NORMALLY CLOSED. The relay is just allowing the current to pass through, so it will be installed inline on the power wire. It is not connected to power and ground.





Controlling Relays with Wireless Sensors

Each of the unit's two relays can be controlled by any Monnit wireless sensor (currently over 50 types) or group of sensors on the same network. Controlling the two relays is done through the "Notifications" settings. You can add a control function to any existing sensor notification, or create a new notification specifically for control.

From the Notifications section, click on the notification you want to assign a control action to. If a control device is on the same network, you will see a tab that says "Devices to Notify". From that tab you will see a list of any devices on the network that can receive information when the notification conditions are met. Simply click the icon of the device you want to use to turn it on (the icon will change to green when active). Once active, all of the options for control will show up to the right. Click the action icon until the action you want is displayed (Relay On, Relay Toggle, or Relay Off). You can also click the timer icon to set an automated amount of time to the function if you like. The control device will continually listen for messages from the iMonnit software, and will change as soon as a command is sent from the notification being triggered.





On Demand Relay Control

You can also manually control the two relays as well. To do this, click on the control unit from the sensors overview page to expand its settings, then click the "Control" tab.





Use the drop down to select which relay you want to control, then click the action icon until the action you want is displayed (Relay On, Relay Toggle, or Relay Off). You can also click the timer icon to set an automated amount of time to the function if you like. When you are ready, click the "Send Control" button to send the command to your control device. It will take the combined time of the gateway heartbeat and the poll interval to affect the relay. To speed up the process, force the gateway to communicate with the server and/or lower the poll rate (in the Edit tab).

If you would like additional information on using the Monnit Wireless Control, please view the User's Guide.
For more information on using Monnit wireless sensors, visit the support section of our website.

All trademarks are property of their respective owners. © 2017 Monnit Corp. All Rights Reserved.
Monnit Corporation / Phone: 801-561-5555 / www.monnit.com