Having trouble viewing this email? View it in your browser.

ALTA Industrial Solar Sensors
NEW - Optimized for Indoor Use

Monnit's engineering team has designed in some new hardware improvements that allow ALTA Industrial sensors with the solar power option to work more efficiently when used under typical indoor lighting. Testing shows that indoor lighting present for 25% of the day yields 125% of the sensor's required daily operating power at 10-minute heartbeats. The optimized solar cell hardware, coupled with the included rechargeable battery and ALTA's recent firmware enhancements, allow for seemingly endless battery life (only limited by the degradation of the battery cell).

Features of ALTA Industrial Wireless Sensors
with Solar Power Option

5VDC/30mA Solar Panel
600mAh Rechargeable 3V Battery
Solar Efficiency Optimized for High and Low Light Operation
(Outdoor or Indoor Use)

In this issue



New Family of ALTA Wireless Air Sensors

Monnit is excited to announce the release of a new family of ALTA Air Sensors. Among the new wireless sensors are; air quality PM2.5 (particulate matter) sensors, air velocity sensors, and differential air pressure sensors. The sensors were designed to meet the demands of Monnit's facilities and property management customers, providing them with powerful insight into the air quality, flow and pressure within their buildings.

Features of the ALTA Air Quality PM2.5 Sensor

Measures particulate matter concentrations in the air
Measurement range

PM1: 3 to 1.0 um
PM2.5: 1.0 to 2.5 um
PM10: 2.5 to 10 um

Learn more about ALTA Wireless Air Quality (PM2.5) Particulate Meters

Features of the ALTA Air Velocity Sensor

Determines the speed at which air is moving in a system
Measurement range: -500 Pa to 500 Pa
Calibrated and temperature compensated

Learn more about ALTA Wireless Air Velocity Sensors

Features of the ALTA Differential Air Pressure Sensor

Measures the pressure difference between two input ports
Measurement range: -500 Pa to 500 Pa
Calibrated and temperature compensated

Learn more about ALTA Wireless Differential Air Pressure Sensors

"Monnit's wireless sensors have done an outstanding job helping us monitor the temperatures in our store coolers. With their help, we were able to identify and fix several issues we were having. The sensors were easy to install and setup, and Monnit's team has been absolutely amazing to work with!"
– Karen S., Store Manager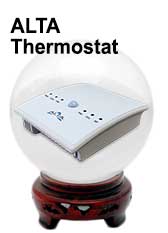 Take a look in our crystal ball to see what the future holds at Monnit
Monnit's development team is hard at work developing new products for our customers. One of the new products nearing completion is the ALTA remote thermostat, which will be available in the next few weeks. The ALTA remote thermostat is designed specifically for remote configuration. There will be no manual adjustment buttons which prevents the cooling or heating system from being tampered with or left in an energy wasting state. It will also feature an integrated motion sensor to auto detect if the area is occupied or not. The system will allow you to set a max and min temperature range for both occupied and non-occupied states as well as standard time settings. This is a perfect solution for remote buildings that are typically unoccupied, to auto adjust comfort levels when personnel arrive and automatically return to normal when they leave. It is also great for corporate buildings, schools and churches to prevent random adjustments by unauthorized people and auto detect occupants to adjust comfort levels. It also provides cost savings by allowing the cooling or heating system go into a power saving mode if an area is not in use. If you would like to learn more about this product or be notified when it becomes available, please email us at sales@monnit.com.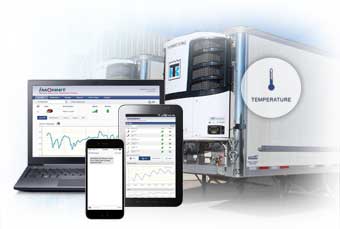 Refrigerated Trailer (Reefer) Temperature Monitoring

Maintaining an optimal temperature in refrigerated trailers is important for keeping food products fresh. If the temperature falls above or below the optimal range, costly spoilage can occur. Monnit has saved transportation companies and food distributors hundreds of thousands of dollars in spoilage when using our low-cost, wireless temperature sensors to monitor their refrigerated trailers.
Monnit enables food distributors to monitor and track temperatures in their refrigerated trailers, ensuring that proper temperatures are maintained at all times. Monnit's reliable and affordable remote monitoring solutions make it easy for owners and managers to keep track of their trailers from anywhere, at any time via computer, smartphone or tablet and receive alerts via text, voice, email, or through a local alert system the moment there is an issue.
Temperature Sensors
Receive alerts if trailer temperatures fall out of optimal range.
Open-Closed Sensors
Be alerted if a trailer door is opened or left open.
AC Current Meters
Monitor power usage of cooler systems and even predict failures.
Average Cost
$500-$800 for a gateway and 2-4 industrial grade sensors.
Typical Setup Time
Less than 15 minutes.
Battery Life
Up to 10 years.
Benefit
Knowing instantly about issues with your trailer refrigeration systems.
Protecting trailer cargo from spoilage and temperature related issues.
Peace of Mind!
All Monnit wireless sensors come with free basic online monitoring, allowing you to view sensor information anytime from anywhere. Receive instant notifications via SMS text, email or voice call if a user defined conditions are met or exceeded.
Protect Your Trailers and Their Cargo with Monnit Wireless Sensors!
Learn More About Solutions for Refrigerated Trailer Monitoring »



by The WiSe Guys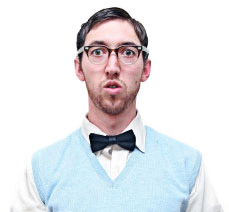 Using Monnit Wireless Sensors to Remotely Monitor HVAC Systems
To get started, we suggest a Monnit HVAC Monitoring starter bundle as it will include all the devices needed to monitor one HVAC system remotely. Bundles can be purchased here. Alternately you can purchase the devices separately if you wish to use a different gateway or different versions of some sensors for the indoor portion of the installation.

The devices we recommend are:
1 - Wireless Gateway
1 - Industrial Wireless Quad Temperature Sensor
1 - Industrial Wireless AC Current Meter (150 Amp)
1 - Wireless Duct Temperature Sensor
1 - Wireless Temperature Sensor

AC System Installation

Before starting any part of this installation process, shut the power off to both the condenser unit and the inside air handler unit. For the indoor portion of the HVAC monitoring system, start by installing a Monnit wireless gateway. The gateway can be located anywhere in the building where it has access to power and a decent cellular signal (for Cellular gateways) or access to an internet router (Ethernet gateways) or PC (USB gateways). For indoor sensors, we recommend using a wireless duct temperature sensor to monitor the output ventilation air that is being sent from the air handling unit back to the building and a wireless temperature sensor that can be installed near the thermostat or air return, to track ambient room temperature.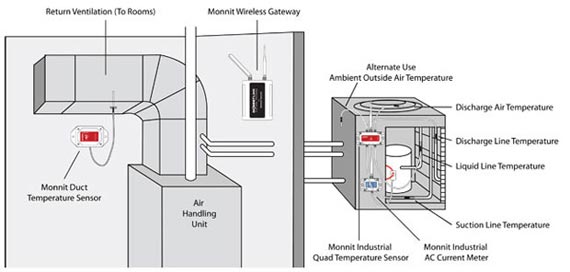 For the outside condenser unit, we recommend using a Monnit industrial wireless quad temperature sensor as it comes in a weather proof enclosure suitable for outdoor use. The quad temperature sensor has four independent temperature probes that can monitor and collect temperature readings for the key areas of the condenser unit. Each temperature probe is labeled 1 through 4.

Start by connecting one of the temperature probes to the suction line, one to the liquid line and another one to the discharge line making note of which probe you are connecting to each. When connecting a temperature probe to any of these refrigerant lines, we recommend using a zip tie to fasten the probe securely against the bare metal tube. After securing the temperature probe use thermal tape to wrap the probe entirely to the refrigerant line, this provides a thermal barrier allowing the sensor to get a more accurate reading of the refrigerant line temperature. For the remaining probe, we recommend fastening one to the fan grate to capture the discharge air temperature. Alternately you can use any of the probes to capture outdoor ambient temperature if you prefer.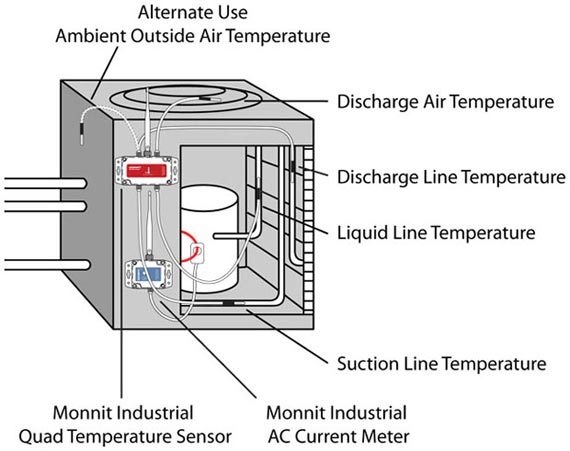 We also suggest using a Monnit industrial wireless AC current meter (150 Amp) to track the current draw of the compressor. The AC current meter uses a clip-on current transformer that should be clipped around the "hot" power wire feeding the compressor.

With the sensors installed, you can restore power to the condenser and air handling units. The system will begin tracking data for you. If your AC system is cooling efficiently you should see an average difference of 16-19°F (in humid areas) and 19-22°F (in dry areas) between the intake air and outgoing air returning to the building. When monitoring current consumption of the compressor, an increase of current being used signifies that the compressor may need to be serviced or replaced.
For more information on using Monnit wireless sensors, visit the support section of our website.

All trademarks are property of their respective owners. ©2018 Monnit Corp. All Rights Reserved.
Monnit Corporation / Phone: 801-561-5555 / www.monnit.com