Having trouble viewing this email? View it in your browser.

Internet of Things' First Open Software Platform for Integrating Low Cost Sensors and Gateways

Monnit is pleased to announce the release of Mine, an open software platform that provides the ability to integrate Monnit wireless sensors and gateways with your own software system. Monnit wireless gateways can be unlocked, allowing them to be directed to a custom host or IP address, where an installation of Monnit Mine works as a translation application between Monnit wireless sensors networks and existing or custom software applications.

Monnit Mine Features:

• API in multiple languages for easy integration (.Net / Java)
• Can be setup and receiving data in just a few minutes
• Fully functional sample application with source included
• Designed to work with Monnit's diverse set of more than 48
different wireless sensor types, wireless control and robust,
reliable wireless gateways
• Can implement broad range of sensors and gateways into
existing monitoring solution instead of having to implement
one sensor at a time
• Brings true low cost hardware to existing monitoring
infrastructure
• Worldwide hardware offering with single software
implementation

Learn More About Monnit Mine »




In this issue


Monnit Has a New Website and We're Moving to a New Location!

If you've had a chance to visit www.monnit.com in the past few weeks, you may have noticed the website has a new look. We recently launched our new, redesigned website. The new site features an improved user interface, better organized content and a comfortable user experience across computers and mobile devices.

Visit the New Monnit Website »

We are also pleased to announce that after 5 plus years at our original location, we are moving. With the growth and success Monnit has seen over the past few years we have been able to expand our staff and manufacturing processes to the point where our current location no longer has the space we need. The new location provides the much needed space and room for Monnit to continue growing into the future. As of August 10, 2015 our main operational offices will be located at:

4403 S. 500 W.
Murray, UT 84123

All shipping and correspondence should be addressed to Monnit at this new location.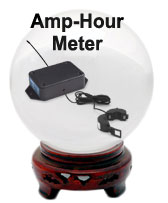 Let's take a look in our crystal ball to see what the future holds at Monnit?
Monnit's development team is always hard at work developing new wireless sensing products and enhancing our existing products based on customer feedback. We are working on a new wireless amp hour meter. The new wireless amp hour meter will use a clamp-on current transducer to measure the AC current through a single wire of an AC current system and calculate the amps being used over time. The sensors will also be able to be calibrated depending on the application. If you would like to learn more about this new product or be notified when it becomes available, please email us at sales@monnit.com.

Remote Monitoring
Solutions For Machines, Motors and Equipment
Do you know when there are issues with production machines or other mechanical equipment? Do you want to have an automated way of tracking machine statistics remotely. Monnit has wireless sensors that allow you to monitor machines, motors and other equipment for run times, voltage fluctuations, motor or mechanical failure, temperature issues, current usage over time and much more.
Monnit provides a low-cost, reliable, easy-to-use wireless monitoring solution that allows you to track and receive alerts for the following types of applications:
Temperature Sensors
Monitor and track motor and machine temperatures and receive notifications if they are outside of set limits.
Voltage Detection Sensors
Detect and track when machines, motors or equipment is running.
Voltage Meters
Monitor and track voltages.

Amp Hour Meters (coming soon)

Monitor and track amps used over time (current transducer).
All Monnit wireless sensors come with free basic online monitoring, allowing you to view sensor information anytime from anywhere. Receive instant notifications via email or SMS text if a set sensor condition is met or exceeded.
Protect Your Machinery and Production Equipment with Monnit Wireless Sensors!
Learn More About Remote Monitoring Solutions for Machines, Motors and Equipment »



by The WiSe Guys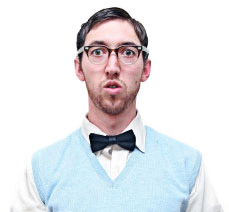 Did You Know That Monnit Has a Searchable Knowledgebase?
While we try to make our products as easy-to-use as possible, we know that sometimes things may not be as simple as expected and you might have a question about using your Monnit products. Monnit provides a searchable knowledgebase full of articles, links, videos and help files to assist you in using our products and software. To access the knowledgebase, simply open your browser and go to www.monnit.com/support or click on the "Support" link in the navigation menu from any page on the Monnit website.

The main page of the support area on our website is the searchable knowledgebase. From there you will be able to search for information and articles, as well as select from a list of quick areas such as documentation, downloads, FAQs and How-To-Videos. We've even supplied some links to our most popular support topics.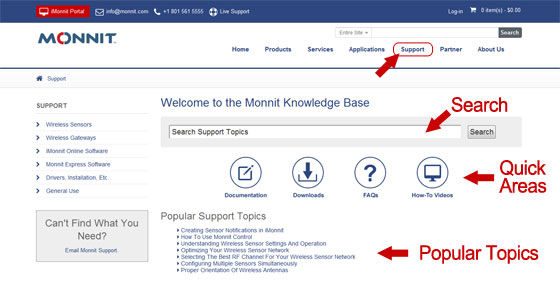 The documentation page contains quick start guides, user's guides, technical data sheets and several other helpful documents that can assist you in learning about and setting up Monnit products and solutions.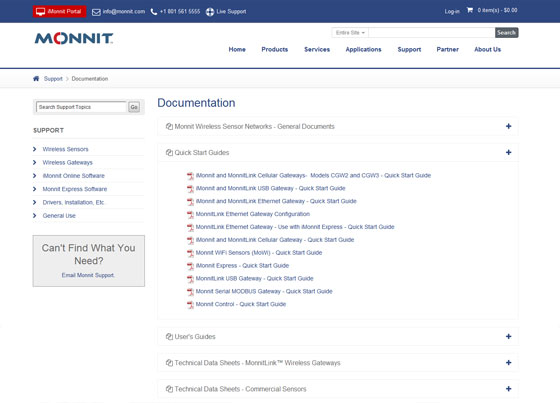 All of our knowledgebase articles are written to be easily understood and contain images (if appropriate) that aid in demonstrating the processes be explained. As most common issues are covered in our knowledgebase, we encourage you to use this tool prior to contacting a Monnit support representative.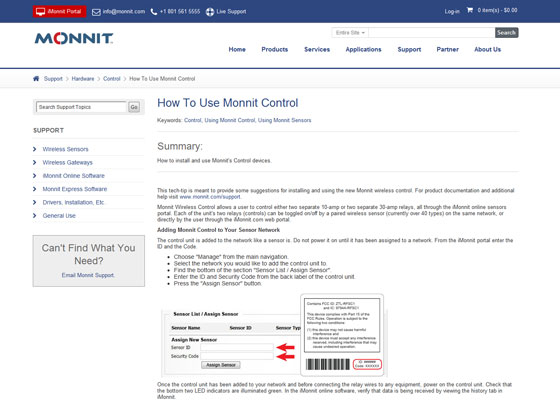 For more information on using Monnit wireless sensors and other products, visit the knowledgebase in the support section of our website.

All trademarks are property of their respective owners. © 2015 Monnit Corp. All Rights Reserved.
Monnit Corporation / Phone: 801-561-5555 / www.monnit.com