Having trouble viewing this email? View it in your browser.

Water Rope and Water Detect Plus Sensors

The Monnit Wireless Water Rope Sensor detects conductive liquids anywhere along the length of the detection rope by using two wires covered with conductive polymer. When water or any other conductive liquid contacts the rope, the sensor will immediately turn on the RF radio and transmit the data to the wireless gateway and iMonnit Online Sensor Monitoring and Notification System, allowing the user to immediately receive an alert by SMS text, email or voice call. The sensor rope dries quickly allowing the sensor to reset for its next use. The wireless water rope sensor comes with 10 feet of detection rope and can be expanded up to 100 feet by simply clicking additional 10 foot sections of water detection rope together.

The Monnit Wireless Water Detect Plus Sensor uses a spot detection probe to detect the immediate presence or non-presence of water or other conductive liquids. The spot detection probe can be positioned and mounted a set distance above the ground eliminating false alarms.


Features of Monnit Wireless Water Detection Sensors:
• Ultra-low power and small size
• FCC, IC and CE certified
• Available in global wireless frequencies (900, 868 and 433 MHz)
• Free and premium online monitoring with alerts via SMS text,
email or voice call


In this issue


New Industrial Wireless Quad Temperature Sensor!

Monnit's industrial wireless quad temperature sensor uses four individual sensor probes to measure and track temperatures with reliable accuracy. Perfect for monitoring a variety of temperature critical applications such as food coolers, HVAC systems and data centers. User customization allows you to set the frequency of readings and thresholds that will trigger text or email alerts from the system.

Features of Monnit Industrial Wireless Quad Temperature Sensors:
• 4 individual 3 ft. external temperature probes
• Comes standard with high gain puck antenna for external mounting
• IP66 NEMA 4X, CE rated, sealed, weatherproof enclosure
• FCC, IC and CE certified
• Available in global wireless frequencies (900, 868 and 433 MHz)
• Free and premium online monitoring with alerts via SMS text,
email or voice call

Learn More About Monnit Industrial Quad Temperature Sensors »



New iMonnit Multi-Sensor Support

With the release of our new Quad Temperature Sensor, the iMonnit Online Sensors Portal will support notifications for sensors that provide multiple data points. Some sensors that you already own may support new notifications. For example; Monnit humidity sensors can now send alerts based on temperature readings as well as relative humidity, accelerometers can send alerts based on a single axis' data point and multi-pulse counters can send alerts based on a single counter in the group, just to name a few. The updates to iMonnit will be going live this coming Monday, September 7th. We encourage you to look through the available sensor notifications on your account after this coming Monday to see if any of your sensors support new multi-sensor notifications.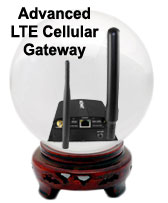 Let's take a look in our crystal ball to see what the future holds at Monnit?
Monnit's development team is always hard at work developing new wireless sensing products and enhancing our existing products based on customer feedback. We are preparing to release a new, advanced LTE Cellular gateway in the coming month. The new gateway takes advantage of the latest cellular technologies to provide reliable and timely cellular connectivity. If you would like to learn more about this new product or be notified when it becomes available, please email us at sales@monnit.com.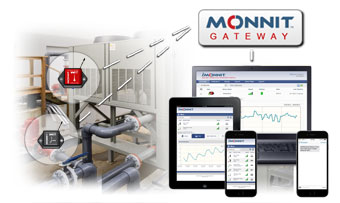 Using Wireless Sensors For Monitoring and Testing HVAC Systems
Are you monitoring your heating and cooling systems for efficient operation and predictive maintenance? Do you know how often your HVAC system is running and if it is running within its correct specifications? Deviations from specified parameters if left unchecked can cause expensive repairs and downtime.
Using Monnit Wireless Sensors to test, track and remotely monitor your HVAC systems, allows you to maintain efficient operation and schedule maintenance or other actions to avoid the consequences of failure, before the failure occurs. Monnit wireless sensor systems can help you monitor equipment to help you detect issues before they become serious and costly. We recommend using the following sensors to track and monitor the operation of your HVAC equipment.
All Monnit wireless sensors come with free basic online monitoring, allowing you to view sensor information anytime from anywhere. Receive instant notifications via email or SMS text if a set sensor condition is met or exceeded.
« Learn More About Wireless Sensor Solutions for Heating and Cooling System Monitoring
Detect HVAC issues before costly failures occur with Monnit Wireless Sensors!


by The WiSe Guys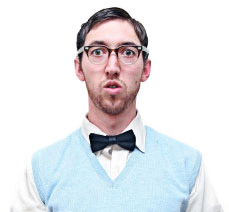 Pausing or disabling notifications for a single sensor or group of sensors
While sensor alerts are one of the primary reasons for using Monnit wireless sensors, there may be times when you need to temporarily stop notifications from being sent from a sensor or group of sensors.

Temporarily disable notifications from a single sensor.

To temporarily disable notifications from a single sensor, click on "Overview" in the main navigation, then click on the sensor you want to work with to expand its detail view.

With the detail view open, click on the "Notifications" tab to view the notifications settings for the sensor.

The second section down provides a way to temporarily disable notifications from the viewed sensor. To stop notifications choose from the options provided. You can pause notifications until a set date and time, you can pause notifications for one hour or you can disable notifications until you choose to re-enable them.

Remember, this function only applies to notifications being sent from the viewed sensor. This will not affect notifications from other sensors even if the notification is shared across multiple sensors.

If you want to pause a notification across all sensors that share it, you can click the "On/Off" switch to the left of the notification in the assigned notifications area.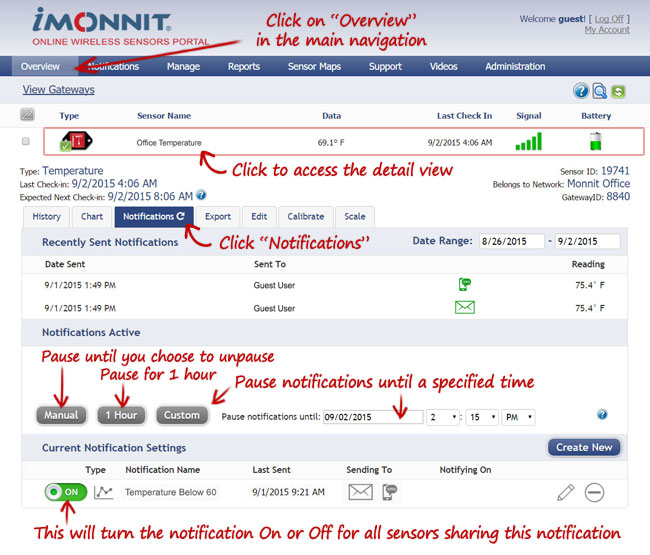 Alternately, you can disable a notification for all sensors that share it, by turning it off in the main notifications section of the portal. To do this, click on "Notifications" from the main navigation and click the "On/Off" switch next to the notification to toggle the notification on or off.




For more information on using Monnit wireless sensors and other products, visit the knowledgebase in the support section of our website.

All trademarks are property of their respective owners. © 2015 Monnit Corp. All Rights Reserved.
Monnit Corporation / Phone: 801-561-5555 / www.monnit.com