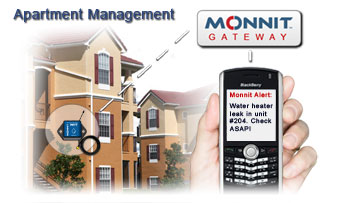 Using Wireless Sensors for Apartment Property Management
Managing apartment properties efficiently, yet cost effectively is challenging. In large and small apartment complexes there's plenty to worry about without having to spend time and money to manually monitor areas of a building that could be monitored by sensors. Monnit has a low-cost, easy to use wireless sensor solution for apartment property management.
Using Monnit Wireless Sensors for apartment property monitoring allows property managers to be notified immediately if any issues occur that could cause damage. Know instantly about water heater leaks, plumbing issues, AC unit failure, and many other things critical to maintaining safe living areas for residents. Monnit wireless sensors track conditions for you, sending the information to the iMonnit Online Sensor Monitoring and Notification System where custom alerts can be sent via SMS text or email. We recommend using Monnit's affordable wireless water sensors to monitor for plumbing issues. We also recommend using Monnit's wireless temperature sensors to monitor temperatures inside or outside of tenant apartments and common areas.
Detect issues before costly damage occurs with Monnit Wireless Sensors!
Learn More About Using Wireless Sensors for Apartment Property Management »