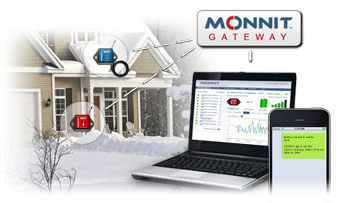 Using wireless sensors to monitor winter conditions.

Are you ready for the next "Polar Vortex"? How do you keep track of your business or home during the winter months? What happens if a heater or boiler goes out when nobody is around? How long does it take for the temperature in your building or home to drop below freezing creating the possibility for frozen pipes and water damage?
With Monnit Wireless Sensors you can remotely monitor your business or home and be notified immediately if there is an issue. Enjoy the peace of mind that comes from using Monnit wireless sensors to remotely monitor your business or home.
Monnit provides a low-cost, reliable, wireless monitoring solution that allows you to track conditions and receive alerts for the following types of applications:
All Monnit wireless sensors come with free basic online monitoring, allowing you to view sensor information anytime from anywhere. Receive instant notifications via email or SMS text if a set sensor condition is met or exceeded.
Protect your business or home from the winter months!
Learn More About Winter Monitoring Solutions »