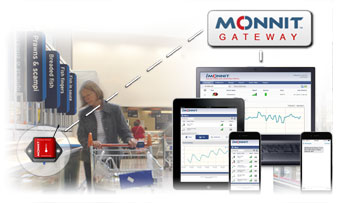 Using Wireless Sensors to Monitor Grocery and Food Cold Chain

Maintaining an optimal temperature in your grocery coolers and freezers is important. If the temperature falls above or below the optimal range, costly spoilage can occur. From meat or produce display coolers to ice-cream freezers, Monnit wireless sensors continuously and automatically monitor and track temperatures and will alert you in real-time if temperatures go outside a safe zone or if a cooler door is left open.
Monnit provides a low-cost, reliable, wireless monitoring solution that allows you to track conditions and receive alerts for the following types of applications:
All Monnit wireless sensors come with free basic online monitoring, allowing you to view sensor information anytime from anywhere. Receive instant notifications via email or SMS text if a set sensor condition is met or exceeded.
Value Priced Solutions with No Recurring Fees!
Protect your food inventory and reduce costs with Monnit remote monitoring solutions!
Learn More About Grocery and Cold Chain Monitoring Solutions »