Having trouble viewing this email? View it in your browser.

Did You Know That Monnit Products
Can be Customized?


Monnit is proud of the extensive line of products that we offer, comprised of over 50 unique sensor types in both commercial and industrial platforms. While we try to offer our products in a way that meets the majority of our customer's needs, we understand that some of our customers may need slight modifications to make the products fit their specific application.

Custom Lead Lengths
Unique Labelling
Custom Configurations

Don't hesitate to reach out to a Monnit representative. We are always happy to help!

In this issue




New ALTA Water Detection Puck Sensors

Monnit is excited to introduce the new ALTA Wireless Water Detection Puck Sensor. The water detection puck sensor detects when water is present by completing the circuit between the two probe points on the bottom of the puck sensor. The sensor can be set to detect either the presence or non-presence of water. The convenient water tight puck design allows the sensor to be placed anywhere needed whether dry or wet and can be fully submerged in water without damage to the internal electronics. When water is present, the sensor will immediately transmit the data through an ALTA wireless gateway to the iMonnit Online Sensor Monitoring and Notification System, allowing the user to receive an SMS text, email, and/or phone call to let them know. The data is also stored in the online system and can be reviewed and exported as a data sheet or graph.

Learn More About the ALTA Water Detection Puck Sensor »
"They say you never know when disaster will strike. Well now we do! Monnit's remote monitoring system is such a valuable tool when it comes to protecting our buildings and everything in them. The installation was quick and easy. Everyone that uses it loves it! You really can't beat the value of this system!"
– Leroy R., Property Management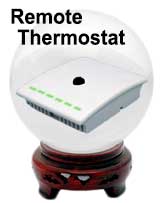 Let's Take a Look into Our Crystal Ball to See What the Future Holds at Monnit
Monnit's development team is hard at work developing new products for our customers. One of the new products nearing completion is a remote thermostat, which will be available in the next few weeks. Monnit's thermostat will be different than typical thermostats found today, as it is designed specifically for remote configuration. There will be no manual adjustment buttons which will prevent the cooling or heating system from being tampered with or left in an energy wasting state. It will also feature an integrated motion sensor to auto detect if the area is occupied or not. The system will allow you to set a max and min temperature range for both occupied and non-occupied states as well as standard time settings. This is a perfect solution for remote buildings that are typically unoccupied, to auto adjust comfort levels when personnel arrive and automatically return to normal when they leave. It is also great for corporate buildings, schools and churches to prevent random adjustments by unauthorized people and auto detect occupants to adjust comfort levels. It also provides cost savings by allowing the cooling or heating system go into a power saving mode if an area is not in use. If you would like to learn more about this product or be notified when it becomes available, please email us at sales@monnit.com.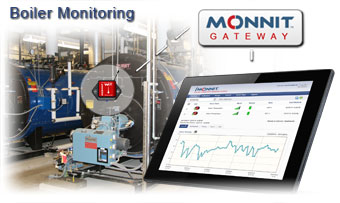 Using Wireless Sensors to Monitor Boiler Efficiency.
Boilers must maintain a certain temperature level for safe, reliable, and efficient operation. Overheating boilers may lead to damage and broken boilers decrease efficient output causing operational issues.

Boiler efficiency monitoring can help improve the performance and lifespan of your boilers. Monnit's wireless monitoring solution provides information about the performance, condition and operating efficiency of your boilers by using wireless sensors to monitor and track various aspects of boiler operation. This not only helps save operational costs such as fuel, but also provides alerts for proactive response to issues before they cause unpredicted shutdowns.

In environments that demand effective and undisturbed operation, your boilers need to maintain their best possible performance. We recommend using Monnit's affordable wireless temperature sensors to monitor and track boiler input and output temperatures. Wireless water detection sensors can help detect leaks in boilers and plumbing so you can know immediately if there is a broken pipe. Wireless pressure sensors can track output line pressure to ensure that no damage occurs to the boiler system in the event of overheating. Wireless vibration meters can detect issues with pumps and motors and predict failures before they occur. There are no wires to worry about, and the setup process is amazingly simple.

Ensure your boilers are running efficiently with Monnit wireless monitoring solutions.
Learn More About Wireless Sensor Solutions for Monitoring Boilers »



by The WiSe Guys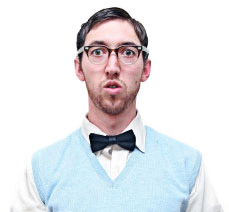 Updating Gateway Firmware
There may be a time when it makes sensor to update your gateways firmware. Please note that the Ethernet gateway has two microprocessors and each microprocessor has firmware on it. One microprocessor handles the radio operations for interaction with the sensors. This firmware is NOT upgradable over the air!

The upgrade described here is for the firmware on the microprocessor responsible for interacting with the server and those types of operations.

If using iMonnit Premier or Basic (Express):
Cell Gateways:

Click the gateway
Click the "Edit" Tab
"Update Gateway Firmware" is the last option on the page
Click the blue "Update" button to apply the update
Ethernet Gateways:
Keep in mind that updating the gateway will remove any and all configurations you have made to the gateway settings, including Static IP Addresses and interface settings.

Click the gateway
Click the "Edit" Tab
Click the "Commands" tab on the right-hand side
"Update Gateway Firmware" is the second to last option on the page
Click "Update to X.X.X.X" to apply the update
Note: Updating the gateway will reset to factory defaults. This includes the heartbeats. Factory heartbeats for an Ethernet gateway are 5 minutes and for a Cellular gateway are 60 minutes. For the Ethernet gateway, if there is a static IP Address or similar setting, it will revert to DHCP. It will then need to be taken to a network with DHCP to be configured with the static IP Address again.

After you press the upgrade link the server has to wait until the gateway checks in (see your heartbeat setting). Then the upgrade process takes about 30 seconds to download the new firmware and then it will reboot and be ready to go.

If you are using MINE or other software with APIs, you can view additional gateway firmware update procedures in our Knowledgebase.
For more information on using Monnit wireless sensors, visit the support section of our website.
All trademarks are property of their respective owners. ©2017 Monnit Corp. All Rights Reserved.
Monnit Corporation / Phone: 801-561-5555 / www.monnit.com