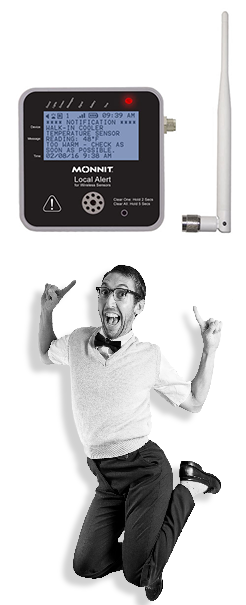 Using Monnit Local Alert
The Monnit Local Alert is a device capable of receiving notifications and sensor readings from your iMonnit sensor network, and alerting you where someone is most capable of responding to a critical condition. When the Local Alert receives a notification, it can set off an audible or visible alert, or a combination of the two. Options include: a loud 90 dB buzzer, an ultra-bright red flashing LED, and an LCD capable of showing a custom message.

In addition to alerting, the Local Alert can also display recent sensor readings from any sensor on the same account. Sensor readings, unlike notifications, do not cause alarms to trigger, do not display automatically, and cannot override notifications already saved in memory. The Local Alert can save up to 10 notifications or sensor readings in memory at any given time. If it exceeds 10 notifications, the oldest notification is deleted.

Notifications take priority over sensor readings in the memory—when memory is full and a new notification is received, sensor readings are deleted before deleting notifications. If the memory is full of notifications, sensor readings will be ignored until there is an unoccupied memory slot or a slot with an older sensor reading.

After the alarm sounds, the user can view the notification message and clear the alarm by pressing the button. The button can also be used to clear notifications and reset the device.

Adding the Local Alert to your wireless sensor network

The Local Alert can be added to your sensor network through the iMonnit online sensor monitoring software the same way wireless sensors are.

Do not power the Local Alert on until it has been assigned to a network and a wireless gateway on the same network is already active.

Steps to add a wireless Local Alert to your sensor network

From Home, click "Add Device"
Select the network, you want to add the Device to (this is only necessary if you have more than one Network)
Click on "Add One Device"
Enter the Device ID and Security Code and click "Add Device"
On page refresh click "Finished Adding Devices"



Label on device with the Device ID and Security Code highlighted

You now have the ability to configure your Local Alert Device to meet your needs. By navigating to the "Settings" tab (as shown in the image below) you can choose to customize your device. The steps below walk you through this process

Once the Local Alert has been added to your network, power cycle your gateway to ensure that it will recognize the Local Alert
Power the Local Alert by attaching and plugging in the power supply or inserting batteries, then turn the power switch to on
The LCD will display the message, "LINKING…"
If the LCD displays the message "LINK FAILURE", then press the button after the message disappears to force the Local Alert to retry linking or cycle the power using the power switch
Once linked to a gateway, in the iMonnit online software, verify that data is being received by viewing the device's history tab



Settings available for the Local Alert device from within iMonnit
Find out more about the Monnit Local Alert
For more information on using Monnit wireless sensors, visit the support section of our website