Having trouble viewing this email? View it in your browser.

Monnit Enterprise is a wireless sensor monitoring solution available for large organizations. It provides the same feature set as the iMonnit Premiere Online Software but allows the organization to host and maintain their own sensor data.

Monnit Enterprise Features
• Keep & control all of your own sensor data
• Unlimited number of gateways and sensors supported
• Support for up to 21 (and growing) different sensors types
• Receive SMS text & email notifications (requires SMTP server)
• Unlimited user accounts and networks supported
• Aggressive, entry level pricing for small & medium
sized businesses



In this issue
Monnit Enterprise Pricing
| | | |
| --- | --- | --- |
| Network Size | Purchase Price | Annual Site Cost |

Up to 200 Sensors
$599
$99
Up to 2,000 Sensors
$4,495
$749
Unlimited Sensors
Call
Call
To order contact a Monnit Sales Representative at 801-561-5555 or sales@monnit.com.
Monnit Enterprise installation support available. Call for pricing.

New Pressure Sensor

Monnit introduces a new pressure sensor to our line of low cost wireless sensors. Behind temperature, pressure is the second most important factor to be monitored. The Monnit 0-200 PSI wireless pressure sensor can be used anywhere a pressure gauge is needed (gas, liquid or vapor).

High quality pressure sensors like Monnit's can range between $600-$1,000. Monnit's new pressure sensor is sold at an industry leading $299.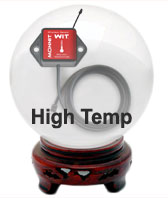 What does the future hold at Monnit?
Monnit's development team is always hard at work developing new wireless sensors. Based on feedback and requests that we have gotten from our users, we are almost done with a NEW High Temperature Wireless Sensor that can be used for extreme temperature monitoring up to 500° C. Keep your eye on our website to find out when the new sensor will be available. As always, if you would like to request a new sensor, we are always excited to hear from you. Please email us at sales@monnit.com.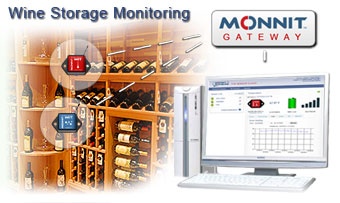 Personal and Commercial
Wine Storage Monitoring
If you collect fine wine, you know that extreme heat or temperature/humidity fluctuations can rapidly damage your valuable wine collection. What happens when your cooling system fails or you lose power while your storage area is unattended?
Using Monnit wireless temperature and wireless humidity sensors can ensure that your wine collection environment is maintained correctly. Monnit wireless sensors measure and track the environmental conditions of your storage area and send instant notifications via email or SMS text if a set condition is exceeded. The system tracks and stores your storage areas climate, providing a detailed sensor data report as well as spreadsheet export functionality. Ensure that your wine collection is kept safe by using Monnit wireless sensors. « Learn More
Use Monnit Wireless Sensors Anywhere You Want To Monitor Temperature or Humidity.

by The WiSe Guys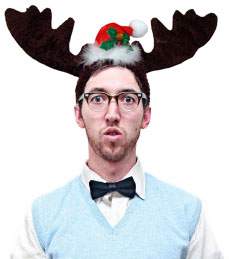 Get Optimal Range From Your Wireless Sensors Through Network Reset
Getting the best range from your sensors can require a bit of trial and error. In this Tip, we discuss resetting your sensor network to assure your system is operating on the most optimal RF frequency in your region, giving you the most range possible. Once you have completed this process, you may also want to look at the following FAQs:

- Optimizing Your Wireless Sensor Network
- How To Orient Antennas for Optimal Range

Prior to Monnit shipping your wireless network, your sensors are tested in our lab. This means we form and operate the network in-house. Upon set-up, the sensors and gateway lock onto the most clear RF channel for our facility and begin communicating. The next time the sensor network is plugged in (presumably when you are installing the sensors), your network is still locked onto the same channel that was optimal in our test facilities. However, that may not be the optimal channel for YOU in YOUR location. Thus, we recommend you reset the network prior to deploying the sensors. This will help you achieve the best range for your sensor deployment.

For USB Gateways Using iMonnit Online Software
1. Start the iMonnit gateway software
2. Insert the USB dongle and wait for the network to go active
3. Select "Reset Network" from the gateway software and wait until the status again says
"Network Active"
4. Begin putting the batteries in the sensors





For USB Gateways Using Monnit Express Software
1. Start the Monnit Express software
2. Insert the USB dongle and wait for the network to go active
3. Go to the pull down menu titled "File" and select "Reset Network," and wait until the
status again says "Network Active"
4. Begin putting the batteries in the sensors





For Ethernet Gateways Using iMonnit Online Software
1. Install your Ethernet gateway as per the instructions from your Quick Start Guide
2. Select "My Account" from the main header





3. From the Sensor Network list, select the edit pencil of the gateway you wish to reform the network.





4. From the options below, select "Reform Network" and wait until the Ethernet gateway has
processed the command and reset itself. You will know this is complete once all three LEDs
on the Ethernet gateway are green again.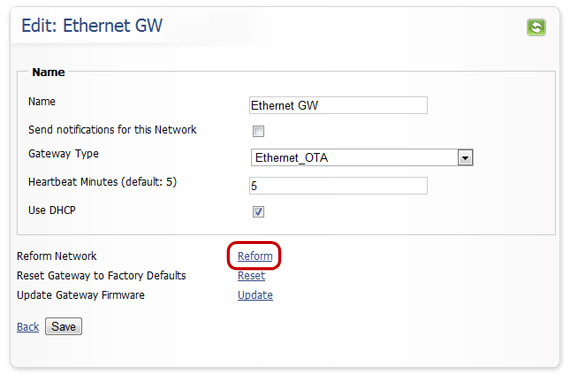 5. Begin inserting the batteries into your sensors.

Your sensor network is now operating on the most optimal RF channel available in your area.


« Read Other Tech Tips from the WiSe Guys

All trademarks are property of their respective owners. © 2011 Monnit Corp. All Rights Reserved.
Monnit Corporation / ph 801-561-5555 / www.monnit.com