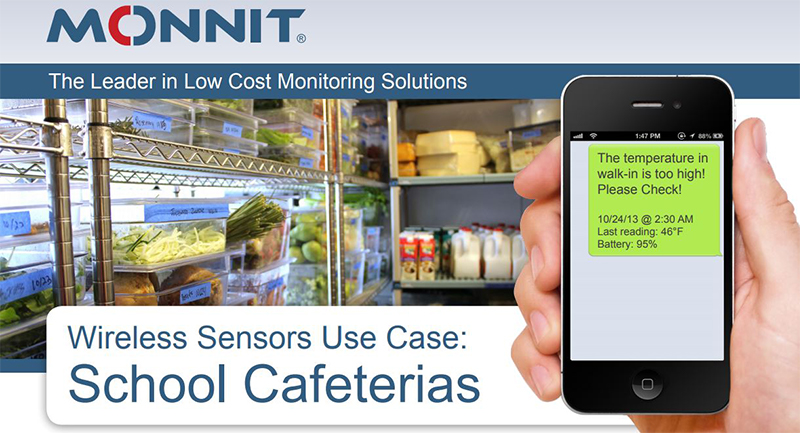 Did you know Monnit has a collection of Use Cases for potential customers to browse through when deciding if Monnit is the right option for their needs? We have created these documents to show how real-world environments are affected and protected by Monnit wireless sensors. All of these use cases come from actual customers who are either installing a Monnit system because a recent incident took place, or are providing insights as to how their Monnit network is preventing avoidable disasters.
Monnit products cover the needs for countless applications and industries. The main purpose at Monnit, is to provide IoT technology for everyone! Whether monitoring a school or church, looking after foods stored in coolers and freezers, or tracking conditions of expensive wood flooring, Monnit wireless sensors have you covered.
Monnit use cases are actual stories from our customers that describe an issue they were having, what Monnit products were implemented, and how those products have helped the customers since. For example, Monnit was contacted by the manager of a large corporation's internal data center that had a water issue during a weekend. While their existing system monitored for temperatures and humidity, there was nothing set up to detect water intrusion. A toilet ended up leaking outside of the data center, which caused water to cover the floor and seep into the server room. The water caused an electrical short which took down several server stacks and damaged a handful of servers.
This is not the way anyone wants to start a Monday morning!  This example perfectly illustrates how Monnit wireless sensors can help protect any business from unexpected disasters. No one could have predicted a toilet issue several yards away from the data center could cause such significant damage. A typical unexpected disaster can results in thousands of dollars in damage, while Monnit wireless sensors start at just $49. For only a few hundred dollars, this company was able to implement a solution to safe-guard against this type of unforeseen incident in the future.
Learn more about Monnit wireless sensors and be sure to view our Use Cases to see how Monnit can positively impact your business.