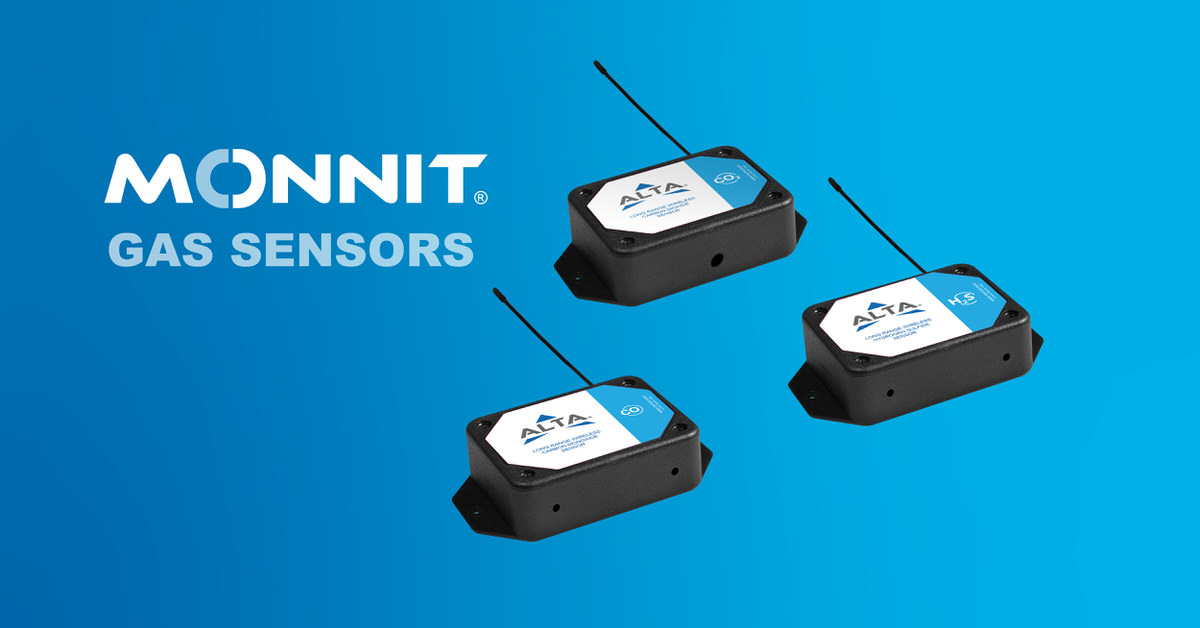 SALT LAKE CITY – February 19, 2019 – Monnit has developed three new air quality sensors which determine the level of harmful gases at any work site, office, or residential complex.
"We have added these gas sensors to our existing air sensors so customers can monitor more air-borne threats," said Brad Walters, Monnit CEO. "Monnit has the flexibility to rapidly develop new sensors when customers request them. As we chart our roadmap, we always consider the number of customers each new sensor would impact. It is especially satisfying to create devices which keep our customers' employees and tenants healthy and safe."
New Monnit Gas Sensors
Monnit's MEMS-based gas sensors monitor the concentration of gases in the surrounding air. The sensors return gas readings to iMonnit or users' websites, and notifications can be set up to alert via email, voice, or text when levels have exceeded user-defined specifications.
NEW—CO Sensor
The danger of carbon monoxide (CO) poisoning is a growing concern, and the tragic effects of CO poisoning are featured far too often in the news.
NEW—CO2 Sensor
Maintaining an optimal air mixture can be a simple process. Monnit's ultra-low-power, high-performance wireless carbon dioxide (CO2) sensors are efficient and effective.
NEW—H2S Sensor
OSHA classifies Hydrogen Sulfide (H2S) as a hazardous gas and warns that concentrations over 700 parts per million (PPM) can cause rapid unconsciousness or instantaneous death. Though H2S has a distinct odor, exposure to H2S deadens the sense of smell. The H2S Sensor detects and measures H2S in the surrounding environment.
"Air quality sensors have been a focus for us because they aid our customers in every industry and every region of the world," said Nick Mecham, VP of Business Development, Monnit. "These new gas sensors utilize Monnit's superior range and battery life to make it easier than ever to ensure air quality in any work, or residential environment."
Clearing the Air
Concern over the degradation of air quality is growing, but with Monnit's available sensing technology, there has never been a better time to improve air quality, safety, and regulatory compliance of work sites, offices, and residential complexes. The new gas sensors join Monnit's family of existing air sensors:
PM 2.5 Sensor
The ALTA Wireless PM 2.5 Sensor measures PM 1, PM 2.5, and PM 10 concentrations in the air. Readings are available in iMonnit or on users' websites, and notifications can be set up to alert via email, voice, or text when levels have exceeded user-defined specifications. The sensor intakes air and samples it to determine the concentration and size of particulate matter.
Air Velocity Sensor
The Monnit Air Velocity Sensor measures the pressure difference between two input ports. Users can optimize their air refresh cycle with the Monnit Air Velocity Sensor. The sensor also gives vital metrics for air-dependent processes when ensuring a specific flow volume or maintaining consistent air pressure is imperative. Sensor measurement range is -50 m/s to 50 m/s. The device is fully calibrated and factors temperature into velocity calculations.