Having trouble viewing this email? View it in your browser.

Monnit 2017 – Message from our CEO

When Monnit started in 2009, we were committed to providing the lowest cost, highest value remote monitoring solutions in the marketplace. Through close collaboration with our customers and partners we have grown to be the leading provider of remote monitoring solutions for businesses. We have been connecting business owners with the "things" they want to know about, using the Internet – even before it was popularly called the Internet of Things. It is a great time to be involved in the next evolution of technology.

As we look forward to this new year, we are especially excited about our transition from a startup to an established market leader. The growth is due to our dedication to leading edge technology, best and ethical business practices and an empowered and caring Monnit team.

We invite you to stay tuned as we are about to bring the next wave of advanced technology wireless sensors to the Enterprise Internet of Things market. We have been working on this for over 4 years and early customer engagements with the technology show that it is, indeed, exactly what is needed. Also, 2017 will bring a completely new monitoring software feature set. Finally, we know that the remote monitoring marketplace is extremely diverse and in order for Monnit to continue to lead the charge, we must provide our partners with the best solutions, services and support possible. We will be releasing a new Monnit Partner Program to coincide with our new platform. CRN (Computer Reseller News) named us, for the 2nd year in a row, one of the best partner solutions for IoT and for good reason. We are committed to, and appreciative of, the diverse and committed partners that we have and look forward to adding to the ranks.

From all of us at Monnit, we wish you a happy and prosperous New Year. As always, if there is anything we can do for you, just ask. We value customer feedback and appreciate the frequent emails and calls we receive telling us how happy our customers are with Monnit solutions.

Best to you,

Brad Walters
CEO, Monnit Corp.

In this issue

HVAC and Boiler Monitoring Bundles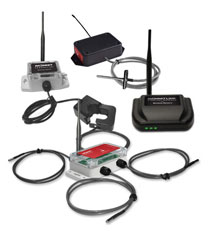 Making sure that your building's HVAC or Boiler systems are operating properly can be a large task. Monnit provides a solution for monitoring multiple aspects of these systems and will alert you of any issues in real-time, helping you maintain effective, optimized operation. Preventive maintenance can save you thousands in costly damage and repairs!

Monnit's HVAC and Boiler Monitoring starter bundles include everything you need to get started:

• 1 - MonnitLink™ Wireless Gateway
• 1 - Monnit Industrial Wireless Quad Temperature Sensor
• 1 - Monnit Industrial Wireless AC Current Meter
• 1 - Monnit Wireless Duct Temperature Sensor (AA)
• Free online monitoring with alerts via SMS text, email or
voice call

View the Monnit Ethernet HVAC Monitoring Starter Bundle »
View the Monnit Cellular HVAC Monitoring Starter Bundle »





New White Papers




Are you interested in learning how the Internet of Things and Monnit Remote Monitoring Solutions can help you manage and protect your business? Download our new white papers on Remote Monitoring for HVAC and Refrigeration, and Data Centers, Closets and Server Rooms. We will be adding additional whitepapers for other popular applications and industries, so make sure to check back.

Get The New White Papers Here »

"Coming out of our past experience, we were very excited to start using Monnit wireless sensors. We use them in all of our vacant units now, and every time I get an alert, I am relieved to know we can take care of any issue before it disrupts our other tenants. I love these little sensors!"
– Carl F., Property Manager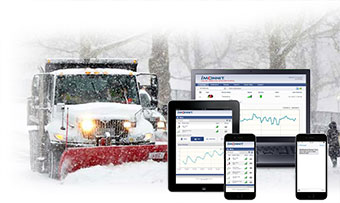 Winter Weather Property Monitoring
As we are in mid-winter season here in the United States, Monnit receives many calls requesting solutions to protect properties from winter weather.
Cold weather can cause several issues within buildings or homes. As temperatures drop, heating and boiler systems need to maintain proper temperatures to protect against damage. Maintaining an optimal temperature inside the building and around plumbing is essential to preventing water lines from freezing and breaking. If a property is vacant, there is also a risk of unwanted guests that can cause a lot of damage as well.
The Monnit Remote Monitoring System helps maintain proper temperatures inside your building and around plumbing, by placing affordable wireless temperature sensors in strategic locations to monitor temperatures and alert you if they fall below, or rise above a safe level. Wireless water detection sensors let you know immediately if there is a broken pipe leaking. Wireless AC current meters can monitor the power draw from heaters and boilers to maintain proper function and reduce wear.

You can also detect movement if someone enters the building by using wireless motion detection sensors, and wireless open/closed sensors can detect if windows or doors have been opened. There are no wires to worry about and setup is simple and quick. You can monitor everything, from anywhere via any Internet-enabled computer, tablet or smart phone.

Quick Stats:

Enjoy the winter months without worrying about the potential for winter weather damage.
Learn More About Wireless Sensor Solutions for Winter Weather Protection »



by The WiSe Guys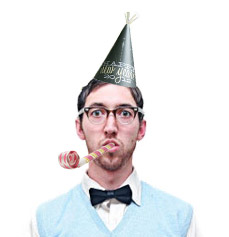 Using Monnit Wireless Sensors to Remotely Monitor Vacant Properties
Wether you need to monitor a vacant commercial property or a vacant home, the winter months seem to add a another level of frustration. Cold weather can cause several issues within buildings or homes. As temperatures drop, heating and boiler systems need to maintain proper temperatures to protect against damage. Monnit provides an easy to use remote monitoring solution to track heating and cooling systems for efficiency and preventive maintenance.

We recommend the following products for monitoring a vacant property during the winter months:

Wireless Gateway
Wireless Temperature Sensors (with Probe)
Wireless Motion Detection Sensors
Wireless Open/Closed Sensors

Monitoring Temperatures

Start by installing a Monnit wireless gateway. The gateway can be located anywhere in the building where it has access to power and an Internet connection (for Ethernet gateways) or a decent cellular signal (for Cellular gateways).

We recommend using Monnit wireless temperature sensors near any heating system thermostats, then adding as other sensors in areas of the building that are prone to temperature sensitive issues.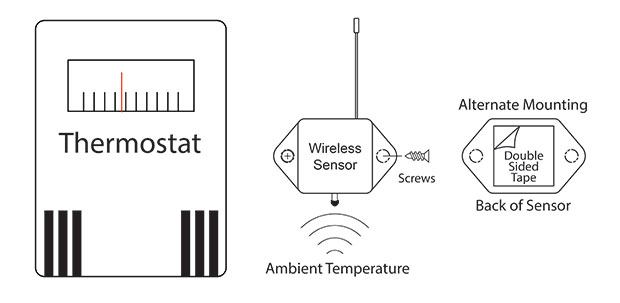 We also recommend using wireless temperature sensors (with probe) to monitor any plumbing that is succeptible to freezing. When connecting a temperature probe to plumbing, we recommend using a zip tie to securely fasten the probe tight against the bare metal pipe. After securing the temperature probe use thermal tape to completely wrap the probe to the pipe to provide a thermal barrier allowing the sensor to get a more accurate reading of the pipe temperatures.





Monitoring Access to the Building

Monnit wireless open/closed sensors and wireless motion detection sensors can be used to monitor access to the building. Open/closed sensors are mounted next to the door or window with the magnet mounted to the door or window adjacent to the sensor with 1 inch or less gap. When the door or window is opened, the sensor detects the magnet moving away and sends an immediate alert. Motion detection sensors use passive infrared technology to detect human movement. They can be mounted to any surface and have a viewing angle of 50° each direction from center and detect movement within 16 feet of the sensor.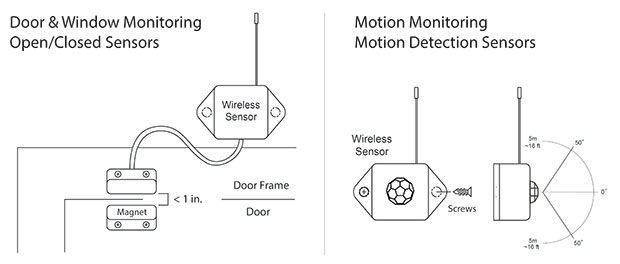 For more information on using Monnit wireless sensors, visit the support section of our website.

All trademarks are property of their respective owners. © 2017 Monnit Corp. All Rights Reserved.
Monnit Corporation / Phone: 801-561-5555 / www.monnit.com