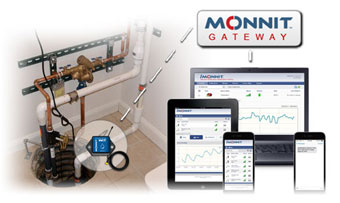 Monitoring Sump Pumps and Pits for Proper Operation
Basement and crawl space water problems can be caused by a multitude of issues ranging from high ground-water tables to thawing snow leaking through windows or the foundation. When these problems arise, it is common to have a sump pump and pit installed in a building to remove water as it accumulates. However, pump motors can burn out and pump triggers can stick. How do you know if there is an issue with your
pump before it's too late?
Monnit provides a cost effective way to monitor the water level in a sump pit as well as sump pump operation. By using Monnit wireless sensor at the sump pit, you can be notified immediately via email or text message if water levels are too high in the sump pit, and when the pump motor turns on or off.
Monnit provides a low-cost, reliable, wireless monitoring solution that allows you to track and receive alerts for the following types of applications:
All Monnit wireless sensors come with free basic online monitoring, allowing you to view sensor information anytime from anywhere. Receive instant notifications via email or SMS text if a set sensor condition is met or exceeded.
« Learn More About Monnit Wireless Sensor Solutions for Sump-Pump Monitoring
Enjoy peace of mind and stop worrying about potential water damage.