Having trouble viewing this email? View it in your browser.

ALTA Wireless Sensor Adapters

The ALTA wireless sensor adapter allows ALTA long range wireless sensors to communicate with local or online wireless sensor monitoring systems by connecting to a PC or 3rd party IoT gateways via USB connection.

Features easy plug & play support for PC use. If the PC has an active internet connection and you wish to use it with the iMonnit online software, install the free Monnit Gateway application to pass sensor data to the online system. If you wish to use your wireless sensors locally (collect and store sensor data on your PC), purchase and install the Monnit Express standalone software and all sensor data will be stored within the standalone software's database. The Monnit Express software allows you to export sensor data in a .csv format spreadsheet, and is also capable of sending SMS text and email alerts if the host computer has an active Internet connection.

Available for ALTA 900, 868 and 433MHz sensors.
Uses standard FTDI driver so no driver installation required.
Powered via USB cable (no batteries needed).
Can be used with compatible 3rd-Party IoT gateways.
Internal memory stores messages if Internet connection is disrupted.

In this issue


New iMonnit Online Portal



We have been working diligently on a new interface for the iMonnit online monitoring system. We recently released a preview to all of our customers. If you haven't had a chance to use the new system, please log into your iMonnit account and click the "New Look!" button in the menu bar. You can always switch back after you preview, and as always, we would love to hear your feedback on the new system so we can make it even better.

A few features of the new system are:

More streamlined startup
Intuitive interface
Full feature support for mobile
And many new features coming soon!

If you have any feedback on the new system, please email it to softwarepreview@monnit.com

"We are so glad we found your products! The system was easy to install and does exactly what we need. We couldn't be happier!
By the way, your support team rocks!"
– Victor K., South Carolina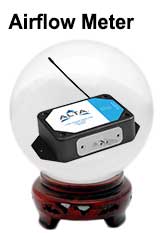 Let's take a look in our crystal ball to see what the future holds at Monnit
Monnit's development team is always hard at work creating new wireless sensing products and enhancing our existing products based on customer feedback. We are currently working on a new airflow meter. The airflow meter will be able to measure air velocity in HVAC duct work helping building maintenance crews understand and trouble shoot issues within the building heating and cooling systems. Users can set thresholds and be alerted if airflow levels are outside of the set range. If you would like to learn more about development of our airflow meter or to be notified when it becomes available, please email us at sales@monnit.com.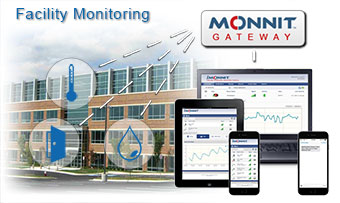 Remote Monitoring Solutions For Facilities Management
No matter the size of your facility, it is critical to understand things as they happen! Whether monitoring doors and windows for unauthorized access or toilets and faucets for water leaks, it is important that you know immediately giving you time to respond before costly damage can occur. Monnit wireless sensors provide an easy-to-use, robust, remote monitoring solution that alerts you immediately if something is wrong.
Monnit provides a low-cost, reliable, wireless monitoring solution that allows you to track and receive alerts for the following types of applications:
All Monnit wireless sensors come with free basic online monitoring, allowing you to view sensor information anytime from anywhere. Receive instant notifications via email or SMS text if a set sensor condition is met or exceeded.
Protect Your Facility with Monnit Wireless Sensors!
Learn More About Remote Monitoring Solutions for Facility Management »



by The WiSe Guys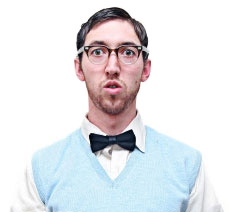 Creating "Events" in the New iMonnit portal
With the recent introduction of the new iMonnit online portal, the "Notifications" section has now been changed to "Events". The reason for this, is that the iMonnit system is capable of much more than just notifications when sensors detect certain conditions. This tech tip will guide you through setting up a sensor notification through the new "Events" feature.


Creating an Event

In the left menu, click on "Events", then click on the "Add Event" button.

Event Settings
Choose "Sensor Reading" from the Event Type dropdown.
Choose the "Sensor Type" that want to create the alert for.
Set the conditions that will trigger the event then click save.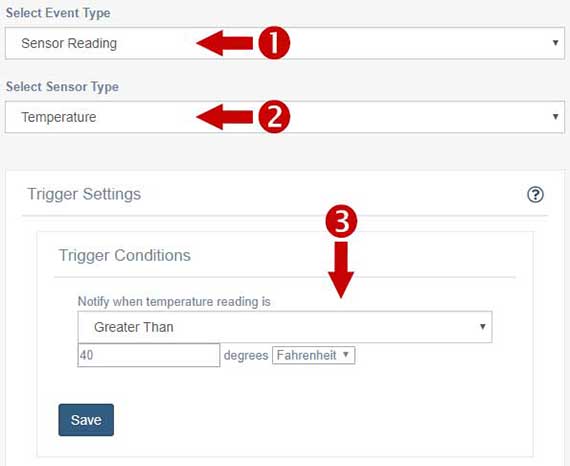 Select Trigger Sensors
The system will populate a list of all sensors that can be used for the current event.
Click on any sensors that should trigger the event (they will change to green if selected).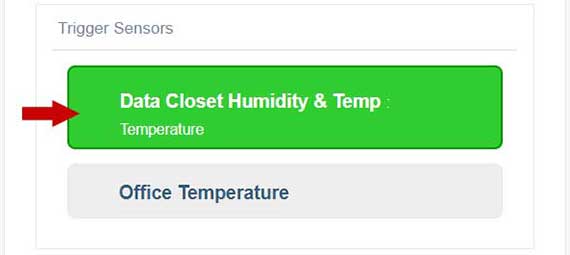 Create the Action
Click on "Actions" to view actions for the current event.
Click the "Add Action" button, then choose "Send Notification" from the dropdown.
User Notification Settings
The system will populate a list of all users that can be notified.
Click on the email, text or phone call icons to activate them (they will change to green if selected).
When selected, you can choose to apply a delay to the notification if you like. (For example, you can be notified by text message immediately and receive an email 5 minutes later, or have certain people notified before others. If a person acknowledges an alert before the delay period ends, the delayed notifications will not be sent.)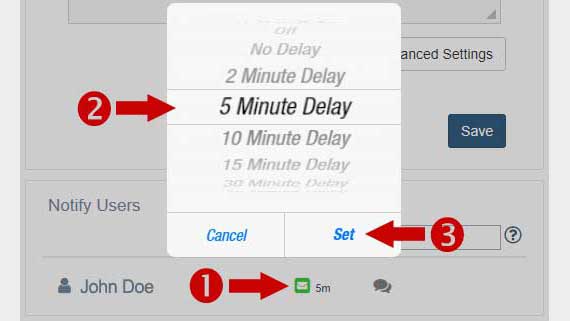 For more information on using Monnit wireless sensors, visit the support section of our website.

All trademarks are property of their respective owners. ©2018 Monnit Corp. All Rights Reserved.
Monnit Corporation / Phone: 801-561-5555 / www.monnit.com