Having trouble viewing this email? View it in your browser.

Low Cost Temperature Monitoring

Did you know that with Monnit, you can start remotely tracking and monitoring temperature for as little as $98?

Monnit has a variety of temperature sensors for monitoring a wide range of temperatures and specialized sensors for monitoring things like HVAC ducts or water temperatures. Monnit temperature sensors are perfect for monitoring a variety of temperature critical applications such as food coolers, HVAC systems and industrial equipment monitoring. User customization allows you to set the frequency of readings and thresholds that will trigger text or email alerts from the system.

Features of Monnit Temperature Sensors:
• Monnit wireless temperature sensors start at $49
• Commercial and industrial sensors are available
• Temperature range from -200°C to +370°C
• Available in global wireless frequencies (900, 868 and 433 MHz)
• Free and premium online monitoring with alerts via SMS text,
email or voice call

Learn More About Monnit Wireless Temperature Sensors »
Learn More About Monnit Wireless Gateways »



In this issue


New Grid Eye Motion Sensor Available This Month

We are nearing completion of our new Grid-Eye motion sensor which will be available in the coming weeks. Based on thermopile technology, Grid-EYE can detect the direction of moving people and objects – up, down, left, right and diagonally. Its coordinated array of sensing elements can even detect multiple people or objects moving in different directions.

Features of Monnit Grid-Eye Motion Sensors:
• 8x8 (64) pixel array infrared detection sensor
• Detects thermal presence, direction and temperature
• 60 degree viewing angle

If you would like to learn more about the Grid-Eye motion sensor or want to be notified when it becomes available for purchase, please email us at sales@monnit.com.






"As a facilities manager, I take pride in knowing that our guests have a wonderful experience at our resort. Having a heating issue on one of the coldest nights of the year is never a good thing. One of the best decisions we made was to install a Monnit remote monitoring system. We no longer fix things after they break down. We fix them before they break down!"
– James D., Facilities Manager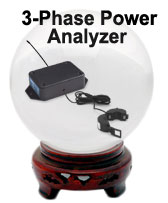 Let's take a look in our crystal ball to see what the future holds at Monnit
Monnit's development team is always hard at work developing new wireless sensing products and enhancing our existing products based on customer feedback. We are currently working on a new wireless three-phase power analyzer that can help you locate, predict, prevent and troubleshoot problems in power distribution systems. This easy-to-use power analyzer will be a "must have" for any person who maintains or troubleshoots three-phase power and wants to be able to monitor and track power conditions remotely. If you would like to learn more about the development efforts of our three-phase power analyzer or want to be notified when it becomes available, please email us at sales@monnit.com.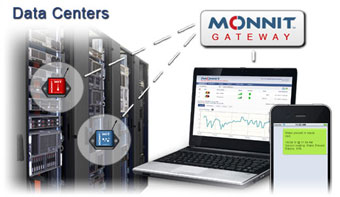 Monitoring Data Centers, Servers and Data Closets
Data centers, server rooms and data closets are full of expensive computers and networking equipment that are designed to operate within specified temperature and humidity ranges. Monnit wireless sensors provide a low-cost, highly reliable way to monitor these temperature critical environments.

With Monnit wireless sensors you can be notified immediately if any area of your data center becomes too warm, if humidity levels are too high or if there is any water detected under the subfloor. The system also tracks and stores your sensor data providing a detailed report as well as spreadsheet export functionality.
Monnit provides a low-cost, reliable, wireless monitoring solution that allows you to track and receive alerts for the following types of applications:
Temperature Sensors
Monitor data center, server and data closet temperatures.
Humidity Sensors
Monitor humidity levels around server racks.
Water Detection Sensors
Detect and notify if water is detected under the subfloor
Water Rope Sensors
Detect and notify if water is detected under the subfloor
(covers a larger area for water detection)
Average Cost
$500-$700 for a gateway and 4-8 sensors.
Typical Setup Time
Less than 15 minutes.
Battery Life
Up to 5 years.
Cost Savings
Thousands of dollars by detecting a simple issue in the data center.
All Monnit wireless sensors come with free basic online monitoring, allowing you to view sensor information anytime from anywhere. Receive instant notifications via email or SMS text if a set sensor condition is met or exceeded.
« Learn More About Monnit Wireless Sensor Solutions for Data Center Monitoring
Ensure the proper environmental conditions are maintained in your
data centers by using Monnit wireless sensors.


by The WiSe Guys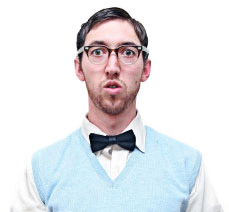 Using Monnit Control
This tech-tip is meant to give to give some suggestions for installing and using the new Monnit wireless control. For product documentation and additional help visit www.monnit.com/support.

Monnit Wireless Control allows a user to control either two separate 10-amp or two separate 30-amp relays, all through the iMonnit online sensors portal. Each of the unit's two relays (controls) can be toggled on/off by a paired wireless sensor (currently over 40 types) on the same network, or directly by the user through the iMonnit.com web portal.
Adding Monnit Control to Your Sensor Network

The control unit is added to the network like a sensor is. Do not power it on until it has been assigned to a network. From the iMonnit portal enter the ID and the Code.

• Choose "Manage" from the main navigation.
• Select the network you would like to add the control unit to.
• Find the bottom of the section "Sensor List / Assign Sensor".
• Enter the ID and Security Code from the back label of the control unit.
• Press the "Assign Sensor" button.




Once the control unit has been added to your network and before connecting the relay wires to any equipment, power on the control unit. Check that the bottom two LED indicators are illuminated green. In the iMonnit online software, verify that data is being received by viewing the history tab in iMonnit.





Connecting the Relays

The relay acts as a switch on the line for your power source. The relays are by default NORMALLY OPEN, so there is no connection. (Indicator lights for the relays will be off to indicate this). Return to the edit page if you want the default state to be NORMALLY CLOSED. The relay is just allowing the current to pass through, so it will be installed inline on the power wire. It is not connected to power and ground.





Naming and Pairing Control Relays with Wireless Sensors

Each of the unit's two relays can be paired with any Monnit wireless sensor (currently over 40 types) to activate the relay when the sensor detects user defined conditions (using the "Aware" state). To pair a relay with a wireless sensor, enter the sensor's ID from it's bottom label.

The control device will listen for messages from the iMonnit software, if a sensor reading meets the "Aware" state conditions, the control relay will automatically switch to the non-default state. When the sensor reports a reading outside of the "Aware" state conditions, the relay will switch back to it's default state.





On Demand Relay Control

To test the functionality of the relays when connected to equipment, go into the iMonnit portal, click on the control unit information bar from the overview page, then click the "Control" tab:





Use the drop down to elect to turn the relay ON (close it), OFF (open it) or toggle the state. Once a selection is made, another field will appear allowing you to set a duration of time in seconds that the relay should be activated as commanded, after which it will switch back. If you want to simply switch the relay without a set time to switch back, leave the field empty. Once the Send Control command is sent, it will take the combined time of the gateway heartbeat and the poll interval to affect the relay. To speed up the process, force the gateway to communicate with the server and/or lower the poll rate (in the Edit tab).

If you would like additional information on using the Monnit Wireless Control, please view the User's Guide.
For more information on using Monnit wireless sensors, visit the support section of our website.

All trademarks are property of their respective owners. © 2016 Monnit Corp. All Rights Reserved.
Monnit Corporation / Phone: 801-561-5555 / www.monnit.com