Having trouble viewing this email? View it in your browser.

3G Cellular Signal Booster

3G cellular radio bands can be troublesome in certain areas. Are you experiencing weak cellular signal when trying to connect your Cellular Gateway? The Monnit 3G Cellular Signal Booster provides a stronger, more reliable cellular data signal for successful data transfer, reducing data resends. The cellular signal booster works by amplifying the cellular signal and providing a long antenna wire, allowing it to be installed in a location that gets a clearer signal.

For a limited time, Monnit 3G cellular signal boosters are $10 off. So, pick one up today!

In this issue



New iMonnit Enterprise Trial



Are you interested in testing iMonnit Enterprise to make sure it meets your needs prior to purchasing a full license? Monnit now provides our iMonnit Enterprise software solution with a limited use trial license so your team can evaluate and test on your company's server environment. For more information, view the iMonnit Enterprise product page on our website or contact a Monnit sales associate at info@monnit.com.

Minimum System Requirements:

Windows Server®, 2 GB RAM, 2.0GHz Processor, ASP.NET Framework v4.5
Web Server, IIS 7, ASP.Net MVC Framework v4.0
SQL Server® 2008 or Newer (Database Server)

"Exactly what we needed and they didn't break the bank.
Very reliable and the Monnit team is so great to work with!
We'll definitely be a returning customer!"
– Kevin, T., Facilities Administrator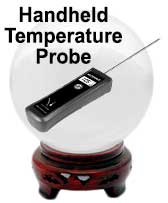 Let's take a look in our crystal ball to see what the future holds at Monnit
We are proud of the relationship we have developed with our customers and partners. These relationships allow us to continually improve our products and services based on our customer's needs. Due to a number of recent requests, the Monnit team has begun development on a new handheld, food-grade temperature probe. The new handheld temperature probe will provide the ability to take on demand temperature readings with the push of a button, and display the temperature on an LCD screen while simultaneously sending the temperature data to the online monitoring system for tracking and analytics purposes. If you would like to learn more about the development efforts of our team on this new product or to be notified when it becomes available, please email us at sales@monnit.com.

* Image is not indicative of actual product.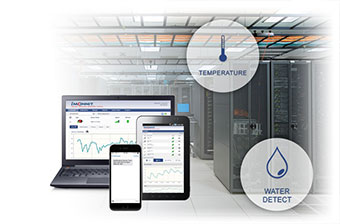 Monitoring Data Centers, Servers and Data Closets
Data centers, server rooms and data closets are full of expensive computers and networking equipment that are designed to operate within specified temperature and humidity ranges. Monnit wireless sensors provide a low-cost, highly reliable way to monitor these temperature critical environments.

With Monnit wireless sensors you can be notified immediately if any area of your data center becomes too warm, if humidity levels are too high or if there is any water detected under the subfloor. The system also tracks and stores your sensor data providing a detailed report as well as spreadsheet export functionality.

Monnit provides a low-cost, reliable, wireless monitoring solution that allows you to track and receive alerts for the following types of applications:
Temperature Sensors
Monitor data center, server and data closet temperatures.
Humidity Sensors
Monitor humidity levels around server racks.
Water Detection Sensors
Detect and notify if water is detected under the subfloor
Water Rope Sensors
Detect and notify if water is detected under the subfloor
(covers a larger area for water detection)
Average Cost
$500-$700 for a gateway and 4-8 sensors.
Typical Setup Time
Less than 15 minutes.
Battery Life
Up to 5 years.
Cost Savings
Thousands of dollars by detecting a simple issue in the data center.
All Monnit wireless sensors come with free basic online monitoring, allowing you to view sensor information anytime from anywhere. Receive instant notifications via email or SMS text if a set sensor condition is met or exceeded.
« Learn More About Monnit Wireless Sensor Solutions for Data Center Monitoring
Ensure the proper environmental conditions are maintained in your
data centers by using Monnit wireless sensors.


by The WiSe Guys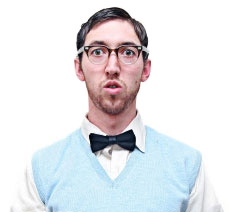 Using Monnit Wireless Sensors to Remotely Monitor Refrigerated Trailers
To get started, we suggest the following devices:

1 - Wireless Gateway
1 - Industrial Wireless Temperature Sensor for Each Trailer

Additional devices to consider:

1 - Industrial Wireless AC Current Meter (150 Amp)
1 - Industrial Wireless Open/Closed Sensor
This tech-tip is meant to give to give some suggestions for installing wireless sensors for applications involving refrigerated trailers. For product documentation and additional help visit www.monnit.com/support.
The Solution at a Glance

Monnit's wireless sensors and remote monitoring solutions can monitor and track temperatures in refrigerated trailers, ensuring that proper temperatures are maintained at all times. Monnit wireless sensors communicate via RF (radio frequency) and it is important to note that the metal construction of most trailers can interfere with radio signal. It is also important to note that the temperatures inside of refrigerated trailers can often be below the recommended operating temperature of the batteries used in Monnit wireless sensors. Due to these facts we recommend installing the wireless sensors on the outside of the trailer on the top or side (close to the top) of the trailer to ensure proper operation. This requires the industrial grade sensors, as they are in NEMA 4X rated enclosures which are weatherproof. If there are no obstructions and the devices are properly installed, the wireless solution should allow for a range of up to 1,000 feet between the sensors and the gateway antenna.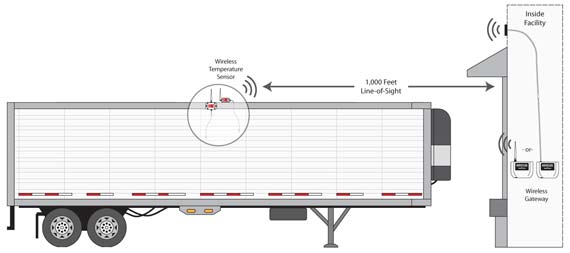 Wireless Temperature Sensor Installation

To install wireless temperature sensors, we recommend mounting the sensor to the roof or high on the side of the trailer to allow for best antenna positioning. To install through the trailer ceiling or wall, start by drilling a hole just larger than the size of the temperature probe and push the temperature probe through the hole. The sensor can then be fixed to the trailer using two sheet metal screws. When you have the sensor mounted outside and the probe ran to its desired location, use silicone caulking to seal the hole around the wire. For best wireless transmission, the antenna should be vertically oriented and visible above the roof line of the trailer.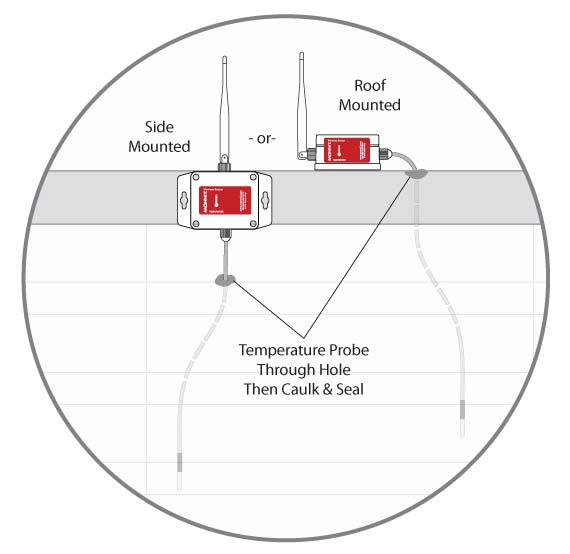 Wireless Gateway Installation

The wireless gateway can be kept inside of the facility with the preferred installation consisting of an outdoor antenna that can be mounted to the exterior of the facility. An antenna extension cable can be used to connect the antenna to the gateway. It is recommended to keep the antenna at a height just above that of the trailer(s) to allow for the best RF signal. If you have multiple trailers to monitor, one wireless gateway will work with up to 100 wireless sensors.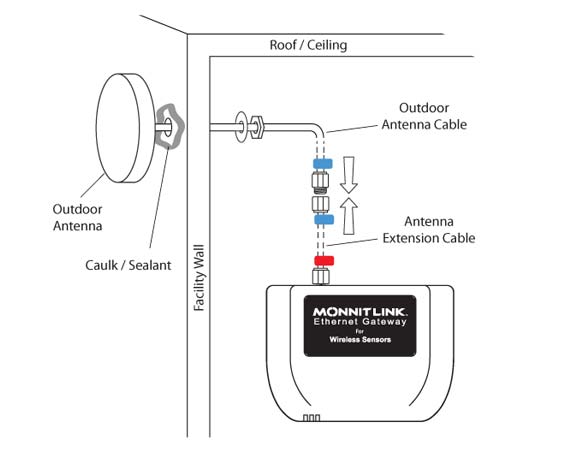 For more information on using Monnit wireless sensors, visit the support section of our website.

All trademarks are property of their respective owners. ©2018 Monnit Corp. All Rights Reserved.
Monnit Corporation / Phone: 801-561-5555 / www.monnit.com